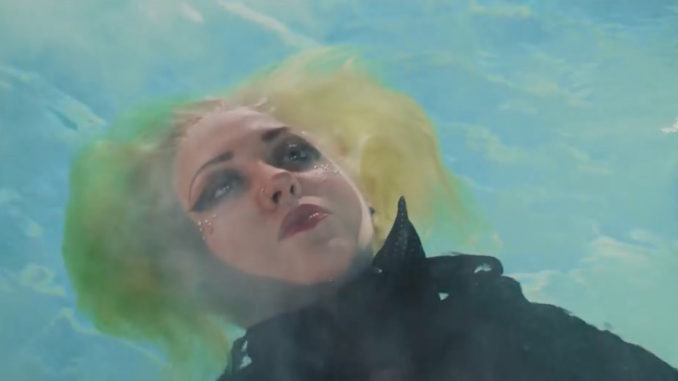 By Patrick O'Heffernan
We caught up with the South Carolina-based Electropop Duo Glass Mansions  – vocalist Jayna Doyle and multi-instrumentalist Blake Arambula – on their 13th USA tour for a Q and A. A far way from home, we met up in the middle of the New Mexico desert. The duo and their friend and co-manager, Erin, were in a van stuffed with their equipment on their way to Albuquerque for a concert promoting their new EP Ritual.
Patrick. In listening to your music from the early album Gossip to Ritual, it seems like your sound is evolving fast. How do you think your music has changed in the past 2 years?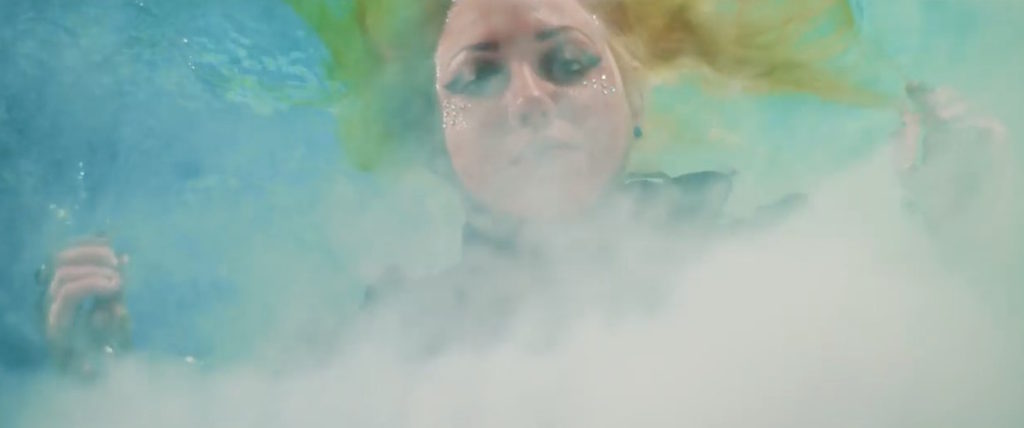 Jayna. Since Blake and I started this band we have had several lineups and different players in the band. Our sound started out heavily influenced by the 90s and dance music and electronic music  We wanted to be more electronic but kind of got away from that.  When we went into the studio for the Gossip EP we were still kind of finding our footing and our producers Zack Odom and Kenneth Mountack were like "your synths are awesome and you need to make that more of a focus".
Patrick. So you did?
Jayna. Yes. They guided our sound in what they thought was our sound.  Blake is a DJ back home and is super influenced by the music he is playing.  And we have been writing a lot more in the past couple of years so we starting writing more electronically.  It came around full circle to where we were in the first place.  We are super pumped in how our sound has evolved.
Patrick. You have had pushback from the music industry, especially with "Matches" . They did not know where to put you —  you were in a crack between genres.  Has that changed? Do you care?
Jayna.  You know,  for us it doesn't matter anymore.  It used to be, especially back in South Carolina, that we were in a strange spot there because we don't really sound like any other band around and we have had some pushback from our own town.  They say we don't really sound like South Carolina.  But we say "we're from there".  We got some weird opinions like you are too pop for rock stations or you're too rock for pop stations. We could argue what we are all day, but we have embraced who we are and people can take it or leave it – they seem to like it. We stopped worrying about where we fit – we just exist.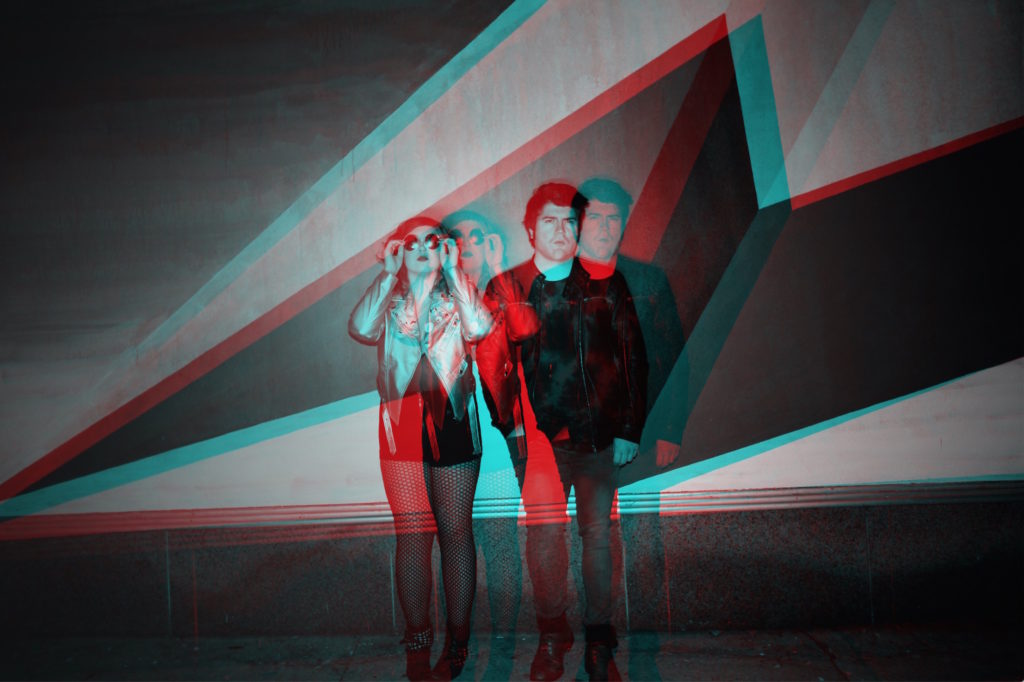 Patrick. Where does Ritual stand now – is it out?
Jayna. We have physical copies on sale at our shows –you can get a copy at our merch table before anyone else.  It will be available April 6 for digital download.  We are doing a pre-sale campaign on Spotify and it will be available everywhere next week.
Patrick. I love the poetry in your lyrics in "Just Friends".  You sing It was a curse, to always put you first/Covered in trials, soften the blow with smiles  and then you get right to the point with We can't, I can't be just friends/Not with you babe.  Is that song from personal experience? Fantasy? Inspired by an event?
Jayna. All of the above. Sometimes I write weird lines and figure out what they mean later and sometimes it comes out exactly how I meant them.  That song was inspired by fantasy and events and crossing paths with someone and maybe could have been with then in another life, but I am an all-or-nothing person, so it didn't happen.
Patrick. Your song "Landmine" has that  quality of making the personal universal and vice-versa. The chorus in "Landmines" goes Love me while you can, I'm a landmine/Stand here like you mean it or we'll both die.  What an image…it makes me glad I am not in the car  with you because you could go off any second.  Is that you – was that ever you?
Glass Mansions video, "Nightswimming"
Jayna. You know, yes. I am an Aries, that is pretty much me. But the thing about landmines is that they don't trigger until you step off of them so that is the reason for the chorus- everything is ok but if you do anything wrong it is not going to be great.
Patrick.  I know you have talked forever about changing the band's name from Death of Paris to Glass Mansions after the Paris club attack, so I won't ask you about it. But I saw that one of  you said that the name change actually invigorated the band. How so?
Jayna. When the name change came about – or when the time came to make that decision, our sound was in a bit of a flux, we were in that transition to more electronic. It was like a clean slate for us to  really pull things back and start over again.
Patrick. The new name, Glass Mansions, evokes both strength and vulnerability – strong buildings with delicate walls.  Is that what you meant to convey…is that a good description of who you are ?
Jayna. Yeah.  In our songwriting and as a band we are resilient in everything we carry with us. When we were coming up with a new name, we liked the visual of glass mansions – like a big   sturdy structure that is also glass and transparent and it is vulnerable and breakable. And that is kind of what our lyrics are – very aggressive in your face, but when you dive in you much more exposed raw vulnerability there.
Patrick. You wanted to be a performer since you were a kid in Myrtle beach.  how did that desire manifest itself in an alt rock band…how did you get here from there?
Jayna. It is weird – I was 4 years old and there is a video of me telling my parents I wanted to be in a band.  I was really into Mariah Carey and No Doubt and I was enamored with performing – I was a ham as a child and got up in front of people.  I went to school for film then I met Blake and accidently joined a band he was in and the rest is history. I am glad I wound up in a band.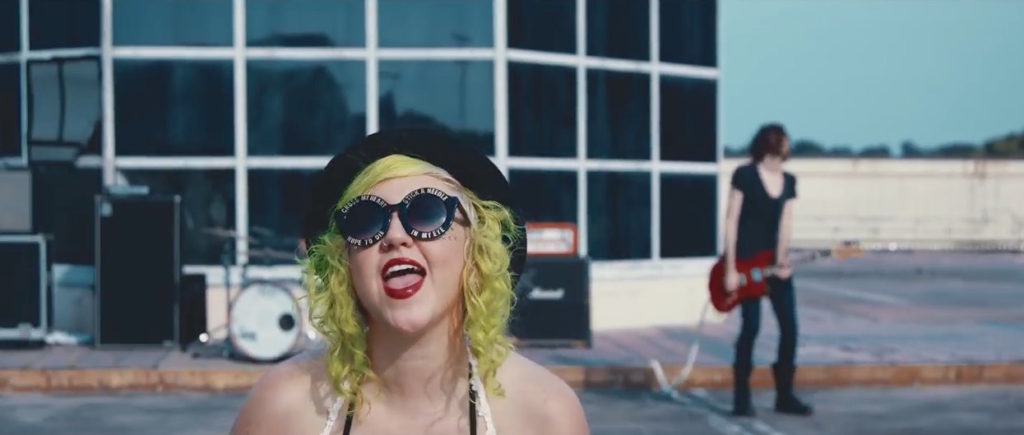 Patrick. In the video you made for "Night Swimming" you look like you were underwater. Were you really underwater for parts of it?  Was it cold?
Jayna.  Yeah.  I was.  I was floating around in a pool for a couple of hours.  I didn't mind it because we were shooting in the summer. I didn't mind it at all.
Patrick. When you are not in a swimming pool, but up onstage, you ae wild.  Are your live shows cathartic or exhausting.
Jayna. They are 100% cathartic.  I would lose my mind if I didn't get to play music live all the time. Probably one of the reasons we tour so much is that I need that outlet.  Our live shows are really fun.  Some people hear our music and they think we are a clean cut little pop band, but our live shows are very much rock shows.  They are just raw rock and roll vibe and a lot heavier and super fun. Every show is different and everyone has a good time.
Patrick. I look forward to being in one of those cathartic live shows.  Jayna thank you and tell Blake to drive carefully
Jayna. Thank you.