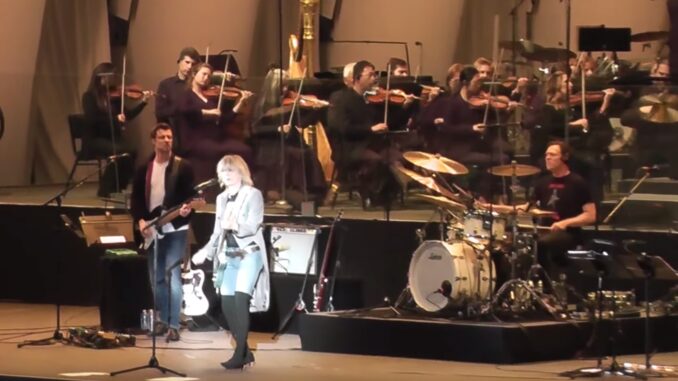 By DAN MACINTOSH
Chrissie Hynde's recent interest in vintage jazz music and the standards songbook has resulted in the upcoming solo album Valve Bone Woe, a full-length she describes as a jazz/dub project. Most the first half of Hynde's Hollywood Bowl debut — where she was backed by an orchestra, a band or both – and much of the post-intermission portion was dedicated to live performances of these recent recordings. The final eight selections of the night, though, were all Pretenders songs. Due to tonight's wide ranging setlist, it's difficult to imagine a more eclectic Chrissie Hynde performance.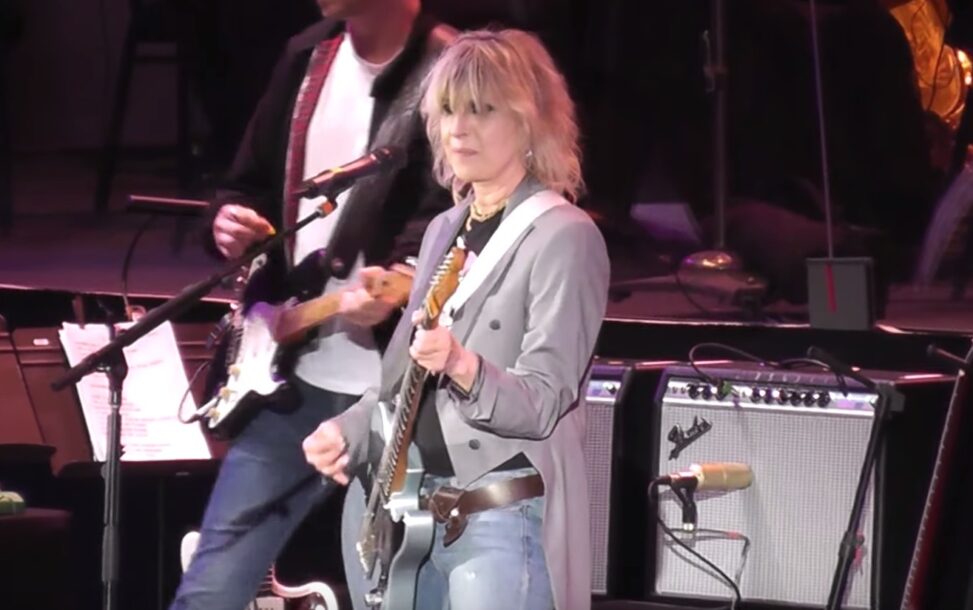 Hynde may not be a natural jazz vocalist, but she certainly didn't embarrass herself when stretching out vocally with these pre-rock selections. It took guts to sing "Absent Minded Me," a song primarily associated with Barbara Streisand. "She sings it better than me," Hynde remarked, sheepishly introducing her performance before singing it with true bravado and passion. Earlier in the evening, she dedicated the Cali-inspired Beach Boys song, "Caroline No," to this SoCal audience.  All throughout the early parts, the orchestra backed Hynde with lush strings, while her accompanying band added slightly nosier rock elements – including a little reggae dub – in places. Although uncredited in the program, trombonist Reggie Pace was the clear instrumental star – Hynde even introduced him as such – during this concert's jazzier moments.
Before Hynde took the stage dressed casually in ripped jeans and a t-shirt, Thomas Wilkins conducted the Hollywood Bowl Orchestra through a few noteworthy instrumentals. The first and second pieces were each written by Duke Ellington and were the last works this musical genius composed. The first, "King of the Magi," sounded like a lovely cinematic score, which must have surprised many when Wilkins credited it to Ellington. The next Ellington piece, "Martin Luther King," swung similarly to more familiar Ellington compositions. After bringing on Hynde's band, her band and the orchestra performed John Coltrane's lovely "Naima."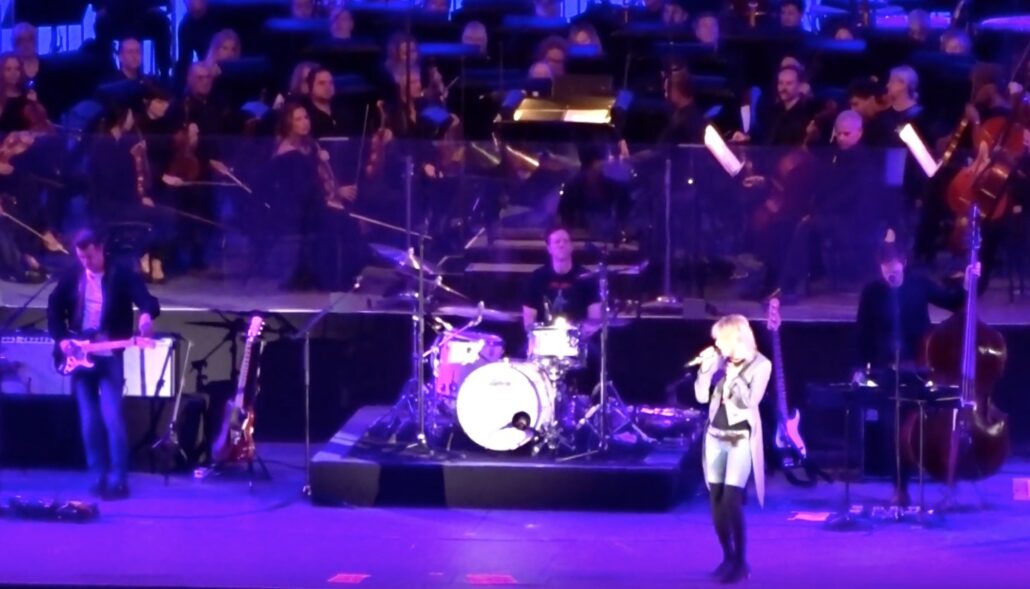 Hynde's adventurous early setlist, which was only interrupted by the first-half-ending "Brass In Pocket" (Pretenders), only accentuated the singer's rock vocal skills, once she finally strapped on an electric guitar to play the Pretenders' "Talk of the Town" (sans orchestra). Although this audience patiently and politely listened to Hynde's newfound retro obsession, they were up and dancing for the artist's six-song rock and roll section. This segment was a boisterous reminder of the Pretenders' inventiveness. Kudos to lead guitarist James Walbourne, who skillfully nailed these familiar riffs, many of which were created by the band's original guitarist, James Honeymoon-Scott. There wasn't enough time for Hynde to get through all the Pretenders' hits, let alone any of that group's deep cuts. Everything she played, though, was golden. This included the deep, slightly funky "My City Was Gone," the complicated "Message of Love," to the jangly "Kid."
An orchestrated performance of "I'll Stand By You," which Hynde introduced as a shameless attempt (and one that worked, as history proves) to get on the radio, closed the concert. With its encouraging lyrics and anthemic rhythm, the performance of this last song felt like an "All the Young Dudes" moment. Back when Hynde was a dark eye makeup wearing punk rocker, it would have been hard to picture her leading an amphitheater in this sort of lighters/phone lights-raised sing-along. She still wears dark eye makeup, by the way, but her artistic range has increased oh so significantly since then. Therefore, don't expect to see Chrissie Hynde regurgitating hits during one of those 80s music revival lineups anytime soon because she's still one restlessly creative artist.
Chrissie Hynde – I'll Stand By You – SoCalLiveitLive