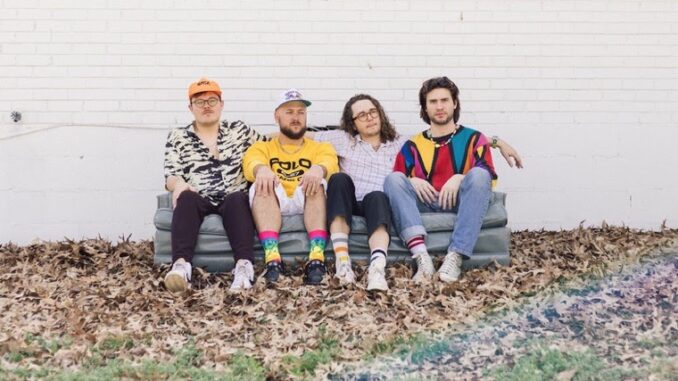 Release – Nashville-based band, Arts Fishing Club releases "heart will remain" today from their first full-length album, Rothko Sky due this Friday, June 16. The new single was written the night after a first date, walking in the snow, a giddy fever dream of feelings and futures, spoken and sensed.
In discussing the single, frontman Christopher Kessenich said, "'heart will remain' is the story of a snowy first date. It is that inexplicable feeling of knowing that 'this is going to last… there is something different here and it's going to be alive forever.'"
WATCH / SHARE "HEART WILL REMAIN"
The album charts the autobiographical yet hugely relatable arc of a passionate, volatile romance. Twinkling with cultured musicality, innate melodicism, and resonant imagery, its ten alt-flecked tracks dance, cry, and ultimately surrender to our universal love of falling in love.
"It starts with a surge of starry-eyed passion, then hits a wall and gets ripped back to reality," Kessenich explained. "Then the second half of the record fluctuates back and forth between love, sex, pain, and self-reflection."
The new single, "heart will remain" follows previously-released tracks "foster falls," "space cow," "doug song," and "hello heartbreak" on this album.
Tracked live, with minimal overdubs, by producer Thad Kopec at his Nashville studio, Rothko Sky (a reference to abstract artist Mark Rothko) for the first time captures Arts Fishing Club's irresistibly energized live shows on record, with every listener feeling like part of the performance and the band's seasoned musicianship strictly serving the songs. Restrained yet vivacious arrangements frame the nuanced grain of Kessenich's vocals, his storytelling embroidered with taut guitars, tastefully propulsive beats, and acoustic instruments flickering in and out of focus.
"Our favorite line on the record is "I hope you lay yourself down between a lover and a Rothko Sky," says Kessenich. "It's a line of letting go, giving thanks for a relationship but truly hoping that the other person finds complete and utter bliss between a lover and a Rothko Sky.  The image of a Rothko Sky is powerful.  His paintings carry weight but they aren't so far from reality.  It's almost possible to witness a Rothko Sky. The line hopes that the ex-lover finds peace and beauty."
U.S. Tour Dates:
06/16 – Manchester, TN @ Bonnaroo Music & Arts Festival
07/12 – Vienna, VA @ Jammin Java
07/13 – Philadelphia, PA @ Milkboy
07/14 – New York, NY @ Mercury Lounge
07/15 – Cambridge, MA @ Middle East – Upstairs
08/03 – Appleton, WI @ Mile of Music
08/04 – Appleton, WI @ Mile of Music
08/05 – Appleton, WI @ Mile of Music
08/09 – Chicago, IL @ Shubas
08/10 – Davenport, IA @ Raccoon Motel
08/12 – Minneapolis, MN @ Nershfest