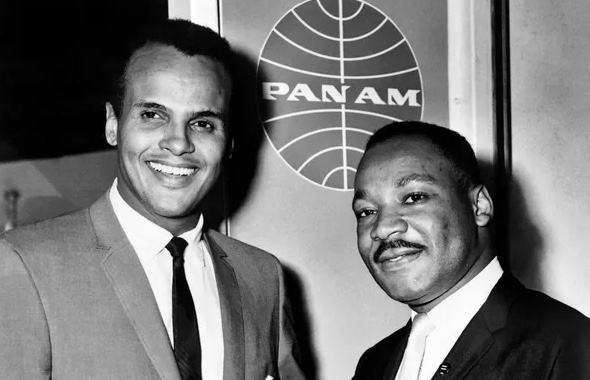 By JOHN DALY
Harry Belafonte, the legendary singer, actor, and civil rights activist, passed away Tuesday at the age of 96.
Belafonte was born in Harlem, New York, in 1927, and rose to fame in the 1950s and 60s with hit songs such as "Day-O (The Banana Boat Song)" and "Jump in the Line (Shake, Senora)." He was the first artist to sell more than 1 million copies of an album, Calypso, and his unique blend of calypso and folk music made him a global sensation.
In addition to his music career, Belafonte was a prominent civil rights activist, working closely with Dr. Martin Luther King Jr. and other leaders of the movement. He was a vocal critic of racism and segregation in America, and his activism helped to inspire social change and progress in the United States. He was won multiple awards and founded The Gathering for Justice to help fight childhood incarceration and inequity in the justice system.
Belafonte was a force in coordinating the single "We Are The World," which brought together musicians to raise money for Africa. He has also been involved in prostate cancer advocacy.
Belafonte was considered a pioneer in music, breaking down barriers and bringing Caribbean rhythms to a global audience. He was also a tireless advocate for justice and equality, using his platform to raise awareness about issues such as poverty, racism, and police brutality.
In his later years, Belafonte continued to be an influential figure, mentoring young artists and activists and advocating for causes close to his heart. Belafonte's hits "Day-O" (Calypso) and "Jump In The Line" (Jump Up Calypso) reached new fans when they were featured in the movie "Beetlejuice" in 1988.
Belafonte's death is a profound loss to the music world and to American culture, but his legacy will continue to inspire future generations to use their voices and talents for good.