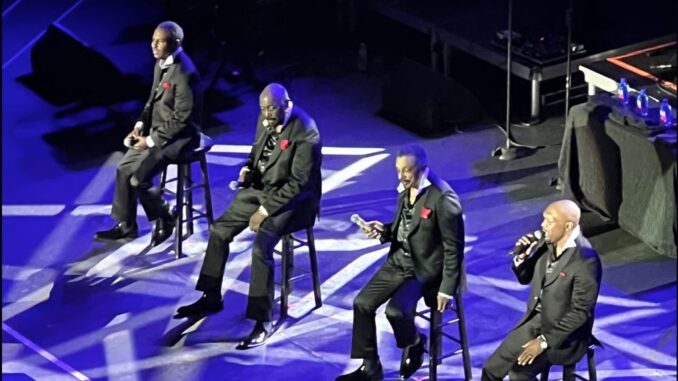 The Temptations, the legendary group, led by founding member, Otis Williams are kicking off their summer and fall concert seasons this month with fan favorites such as, "My Girl," "Just My Imagination (Running Away With Me)," "Ain't Too Proud To Beg," "Papa Was a Rollin' Stone," and more.
The group is taking on a worldwide tour to promote their new 60th Anniversary album, Temptations 60, available now via stream and as a CD edition. See the link HERE. The Temptations will be performing the single from the new album, "Is It Gonna Be Yes or No," written and produced by the legendary Smokey Robinson, during their concerts.
Hitting the road with original Temptations' member, Otis Williams, will be longtime lead vocalists, Ron Tyson, and Terry Weeks, and recently new to the group, Grammy nominated vocalist Anthony "Tony" Grant, and new member, Jawan M. Jackson, from the original cast of the Tony Award-Winning Broadway musical, Ain't Too Proud: The Life and Times of The Temptations. Jackson played in the starring role as beloved, original Temptation, Melvin Franklin.
Jawan M. Jackson will be making his debut with The Temptations this month as the bass vocalist. Born and raised in the heart of Motown, Jackson is a native of Detroit. Jackson made his professional debut starring in Broadway's Motown: The Musical. In Broadway's Ain't Too Proud: The Life and Times of The Temptations, he originated the leading role of Melvin Franklin and earned a Grammy nomination for the musical's cast album.
Anthony Grant, a Grammy-nominated vocalist joined the legendary Temptations earlier this year as a lead vocalist. Born in Cleveland, Ohio and raised in North Carolina, Grant achieved his initial fame in the music industry as the lead vocalist for Az Yet (LaFace Records).
Ron Tyson, first tenor and a lead vocalist for the Temptations, has been a member of the group for 39 years, beginning in February 1983. Born in Philadelphia and raised in Monroe, NC, Ron was a big Temptations' fan growing up and idolized Eddie Kendricks and his style.
Terry Weeks, a lead vocalist for the Temptations, has been with the group for 25 years, since 1997. Terry grew up in Bessemer, AL near Birmingham listening to gospel, blue grass, and country music. Weeks spent eight years in the Air Force, from 1982 to 1990, serving in Korea and in the U.S. at McConnell Air Force Base in Wichita, KS and Gunter Air Force Station in Montgomery, AL. He would often sing locally around the Montgomery base, and performed in Tops in Blue, an Air Force ensemble, made up of active-duty members, that toured globally performing for airmen and their families.
"With the launch of our new album and our 60th anniversary celebration continuing throughout the year, I am thrilled to have such talented vocalists as Tony Grant, and now Jawan Jackson, join our lineup," said Dr. Otis Williams. "Just as The Temptations' music has been passed between generations, it's exciting for me, Ron and Terry to share the stage with new generations of vocalists. We have an exciting concert tour planned for the summer and fall, and we look forward to seeing fans at our shows here and abroad."
The Temptations are scheduled to headline concerts around the country this summer and then abroad this fall in the United Kingdom, France, Germany, Belgium, and the Netherlands. For concerts details, see the link HERE.