The Rolling Stones put on a performance for the ages at the Fonda Theatre in Hollywood.
Playing the entire Sticky Fingers album plus more, the rock legends delivered a strong performance for about 1200 people at the Fonda Theatre, concert attendees said.
Some of those on hand included Bruce Willis, Jack Nicholson and a list of other notable and not-so-notable celebs.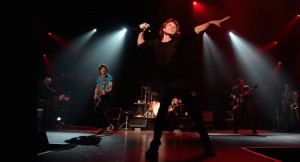 Last Friday, CaliforniaRocker.com broke the story and confirmed the news of the surprise Fonda Theatre performance.
"This was something I've been waiting for for many years," said Angie Elise, who brought her son, Ryan to the show.
Fans were given a chance to buy tickets to the show at 12 p.m. on Wednesday, but tickets were sold out within moments, leaving some questioning how many tickets were actually available to the fans.
As celebs took up the balcony seats, much of the general admission standing floor positions were taken up by models, young actors and a few fans.
The Fonda holds 1200 people, but only an estimated 100 tickets were available through AXS.com online, sources said.
Meanwhile Rolling Stones fans — tickets or not — came from near and far to get a glimpse of the elder statesmen of rock, who put on a smooth performance that was filmed for a DVD to accompany the release of digitally enhanced Sticky Fingers album.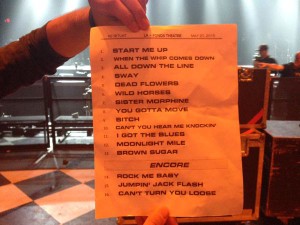 Bjornulf Vik, who operates the chat room-fan site It's Only Rock N Roll, who made a special trip to see the show, was pleased he made the effort.
"As for the performance, they are better than ever," Vik wrote on IORR.  "I think it is because the whole total unit works better than ever."
The Zip Code Tour continues in San Diego at Petco Park Sunday, and stops in 14 other cities, including Atlanta, Dallas and Washington, D.C.
— photos by Kevin Mazur.