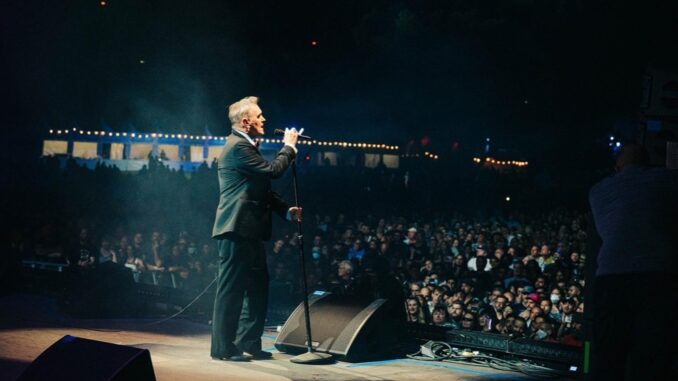 By DAN MACINTOSH
PASADENA, Calif. – With temperatures reaching up into the 90s, Mother Nature put a lot of 'cruel' into the 'worlds' of the many Goths gathered for the Cruel World festival, which took place on the greens in the shadow of the Rose Bowl. Consisting of a lineup of brimming with many wonderful legacy New Wave artists, as well as a few newer faces, it was a day where most attendees didn't mind braving the extreme elements.
Morrissey headlined the festival and dressed up for the occasion with a suit and bow tie. As always, Moz mixed it up with solo songs and a sprinkling of Smiths favorites. Smiths songs tonight included "Never Had No One Ever," "Half a Person" and "Sweet and Tender Hooligan" as the set's finale. Some walked away disappointed that Morrissey didn't perform an encore. He oftentimes sings The Smiths' "There Is a Light That Never Goes Out," which creates immediate audience warm and fuzzies. Not tonight, though.
Nevertheless, it's difficult to complain about a show that includes "Irish Blood, English Heart," "First of the Gang to Die," "Everyday Is Like Sunday" and "Suedehead." Morrissey looked and sounded in top form and sent most everyone home fully satisfied.
Although Morrissey/Smiths shirts probably outnumbered those for all the artists on the bill, there were plenty of other acts worth sweating for on this golf-course-turned-concert-venue. The Psychedelic Furs, for instance played their many hits powered by lead vocalist Richard Butler's wonderfully scratchy voice and theatrical stage presence.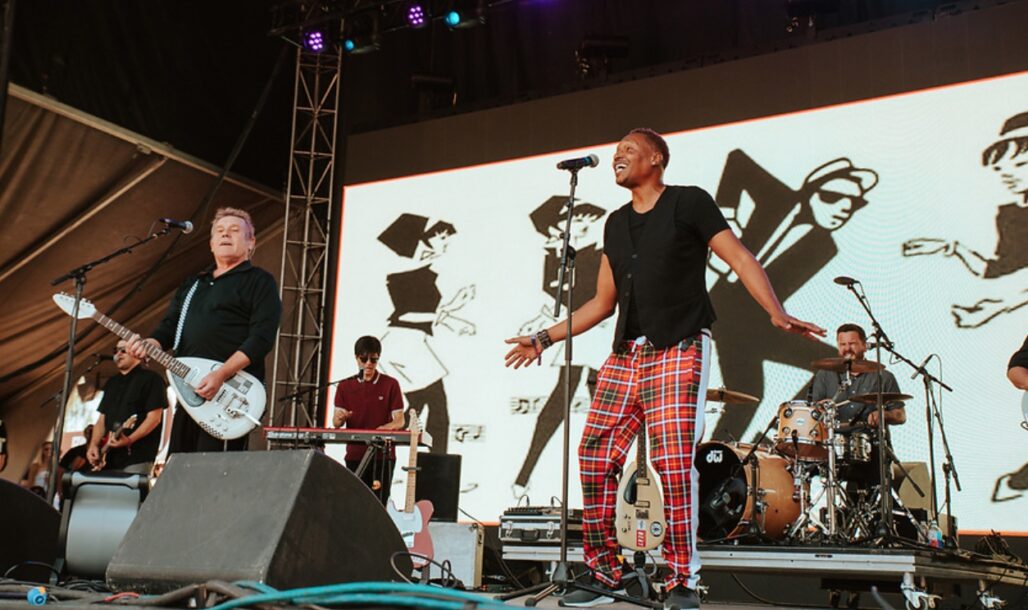 Augmented by saxophone interludes, the group performed enthusiastic versions of "Pretty in Pink," "The Ghost in You" and others to an appreciative crowd. Debbie Harry looked as cool as ever fronting Blondie, where she asked repeatedly, "Are you?" after singing the line "I'm not the kind of girl that gives up just like that" during "The Tide is High." Rockers like "Hanging on the Telephone" also provided plenty of reason to appreciate Clem Burke's fantastic drumming.
Although a reunited Bauhaus had everyone singing/moping along to "Bela Lugosi's Dead," many of the acts on this bill might be considered Goth-associated, at best. DEVO, with their humorous lyrical theories of devolution, mixed synth-pop and nervous guitar rock into its overall sound, while The Church filled the air with revived psychedelic sounds right as the sun went down. Then there's Public Image Ltd, which is credited as being one of the forebearers of post-punk. Dressed in a bright, pajama-colored suit and poorly tied tie, John Lyndon sang lyrics from a music stand while endlessly mugging for the audience. At one point, his lyrics nearly blew off the stand. Undeterred, Lydon merely commented, "The fucking wind is blowing."
Of the newer acts, Blaqk Audio's contemporary darkwave sounds came of well, while Cold Cave's set lost momentum due to some heat-related technical difficulties. The all-girl Automatic also shined with its Kraftwerk-inspired synth sounds. Many of these newer groups are obviously inspired by Goths of old, but theirs are sounds many of us will always love, so the fresh blood is always appreciated.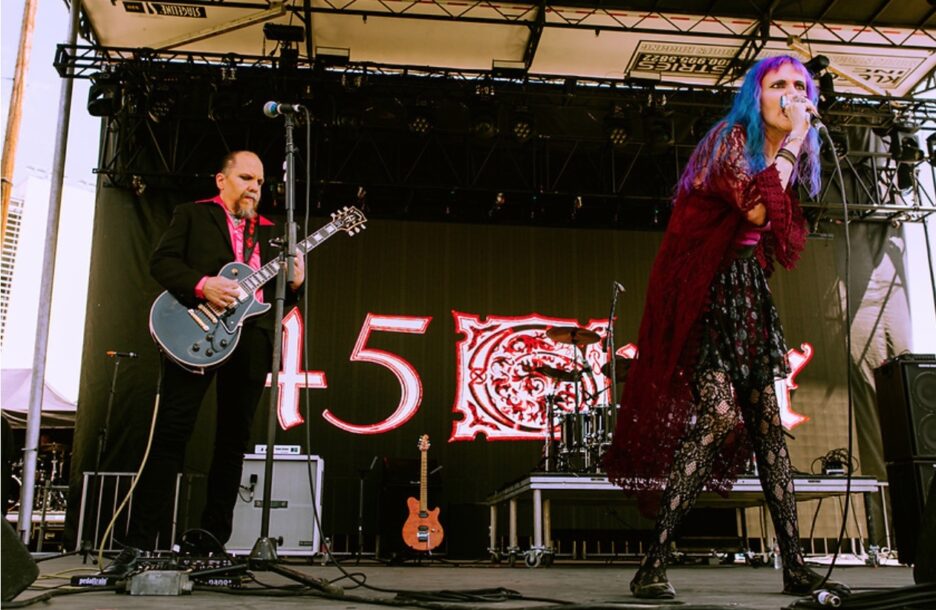 The Damned represented old school punk, but the act's sweet cover of Love's "Alone Again Or" never fails to please. Just where the soul/ska sounds of The English Beat/General Public fit into this day of sonic darkness, is anybody's guess. Maybe these Goths needed a smile break or something because there was certainly some mighty enthusiastic skanking among the throng when Dave Wakeling sang his ode to narcissism, "Mirror in the Bathroom."
As with most multi-act festivals, it was nearly impossible to catch full sets by any one artist (with the exception of Morrissey's closing performance, which was the only set at that time). It often felt like, just as one act is beginning to catch fire, it was time to jet over to another stage. Such are the negatives of seeing some of your favorites in a daylong festival setting.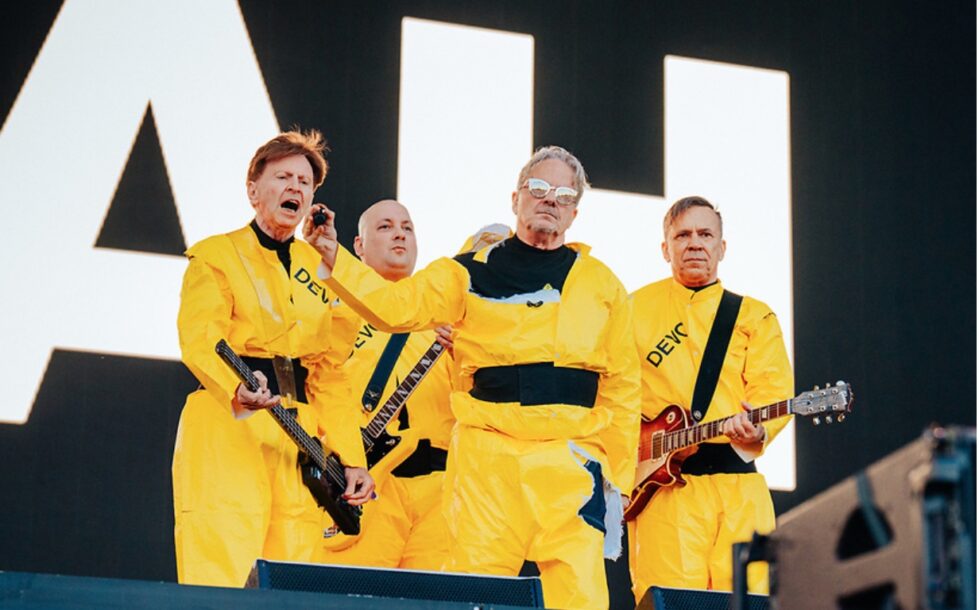 Patrons appeared to be a little on the older side, and far more nostalgic than most Coachella attendees. They were mostly there to re-live memories from youth, and that's not really a bad thing. As a side note, the security staff deserves kudos for periodically passing out free waters, while never acting overly aggressive. There's more to safety, after all, than just creating a barrier between the audience and the performers.
Yes, there were a lot of gray-haired performers (and attendees) gracing the Brookside grounds on this hot Spring Pasadena day, but everybody acted cool and none of these legacy acts came close to embarrassing themselves. To paraphrase a DEVO song, clearly there are many among us not quite ready to be through being cruel.