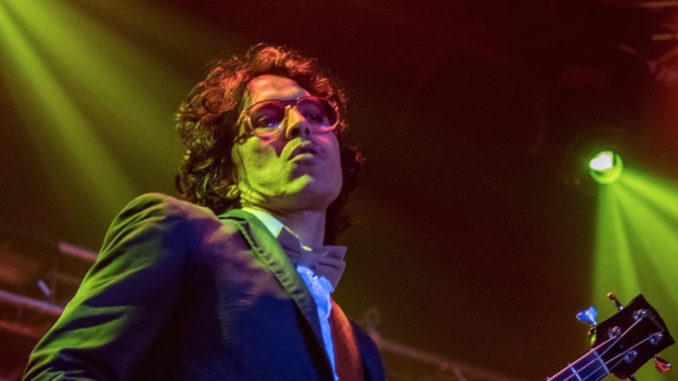 By DONNA BALANCIA
É Arenas, also known as Eduardo Arenas, the bass player for Chicano Batman, says he honored his aunt at the holiday time with the release of a special Christmas song, "Buñuelos a Monton."
The song is available now on iTunes, Spotify and CD Baby You can download the song "Buñuelos a Monton" on Bandcamp.
"I decided to write this song as a sweet memory of my aunt who won't be with us this Christmas," Arenas told CaliforniaRocker.com "But also, its a song for everyone who can relate to having to move on with the beautiful memories of our ancestors, of celebrating in memory and respect."
"We tend to get caught up in the commercialization of holidays but, no need to give gifts if your heart is open and willing to share at any time of the year," he said. "My song is in memory of those who give. Im just giving thanks back."
The song, "Buñuelos a Monton," was composed, recorded, and mixed by É Arenas. It's inspired by the '70's tropical cumbia sounds of Chico Che, Rigo Tovar, classic cumbia navideña songs like "Mi Burrito Sabanero" and all the songs that bump in Latin America where Christmas comes in what would be the beginning of their summer. They are more than just songs; the music is embedded in the culture of family celebrations.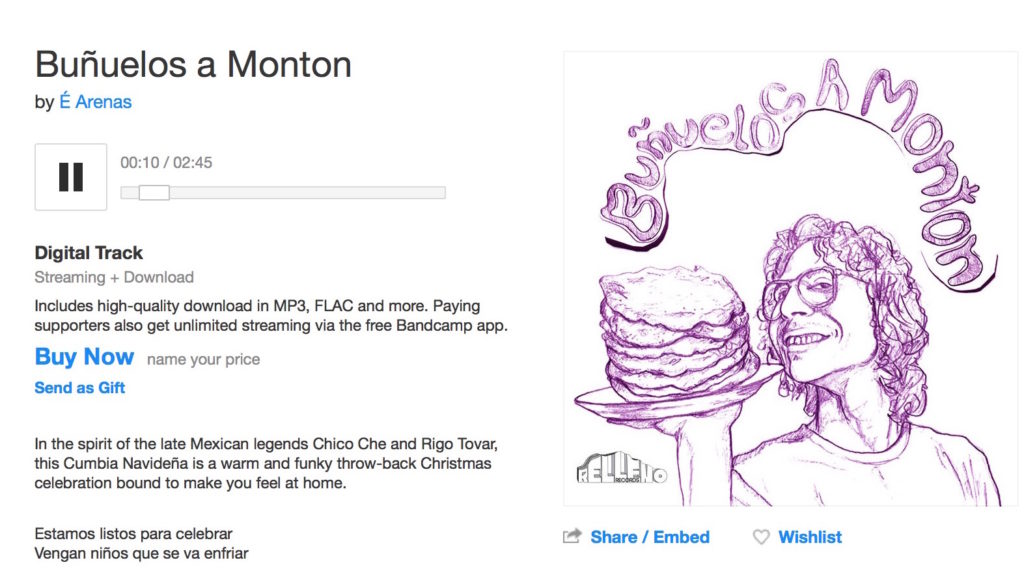 It's All About Tradition
Mostly "Buñuelos a Monton" is about the traditional food prepared and eaten as a family during the Christmas holiday. For É Arenas the song is a way to help keep some of these food prep traditions alive.
"I feel that maybe two generations from now, lots of recipes will be lost," Arenas said. "Young people will be scrambling over YouTube videos for any reincarnation of their family's old-school recipes. However, they merely need to get in the kitchen and help parents and grandparents cook. Tradition comes from helping to cook not just coming over to eat.
"This is my personal reflection of those cooking parties, and putting it into a song memorializes the message forever, for me and anyone else that itches to keep the flavor lineage alive."
New Year's Eve in Pomona
With this foodie-themed Latin Christmas cumbia É Arenas attempts to evolve the 'cumbia navideña' while keeping the classic aesthetic of the analog sound and melodies and with lyrics that Latinos, both young and old, can relate to. But of course the song is targeted to and will start with a young audience, perhaps Chicano Batman fans, and go from there.
"I wish for this track to bridge a generational gap meaning that grandma, mom, son and daughter will all take a piece of the song and relate. I wish for it to cause a resonating conversation inside of families or groups of friends about how we have more in common than we think," Arenas said.
Chicano Batman plays New Year's Eve in Pomona. Stay tuned for cumbia "Mar Iguana" set for 45 vinyl record coming in January 2018, Arenas said.