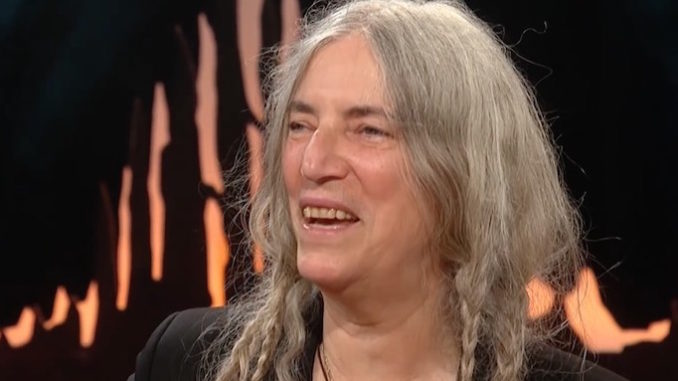 By JOHN DALY
Patti Smith said it was "love at first sight" with her husband Fred Sonic Smith, she simply "froze" during the Bob Dylan Nobel presentation, and she is a big believer in Jesus.
On the Swedish television show Skavlan last month, Smith told interviewer and host Fredrick Scavlan that the humiliating Nobel experience in 2016 actually drew a kinship with the most revered Laureates in the room.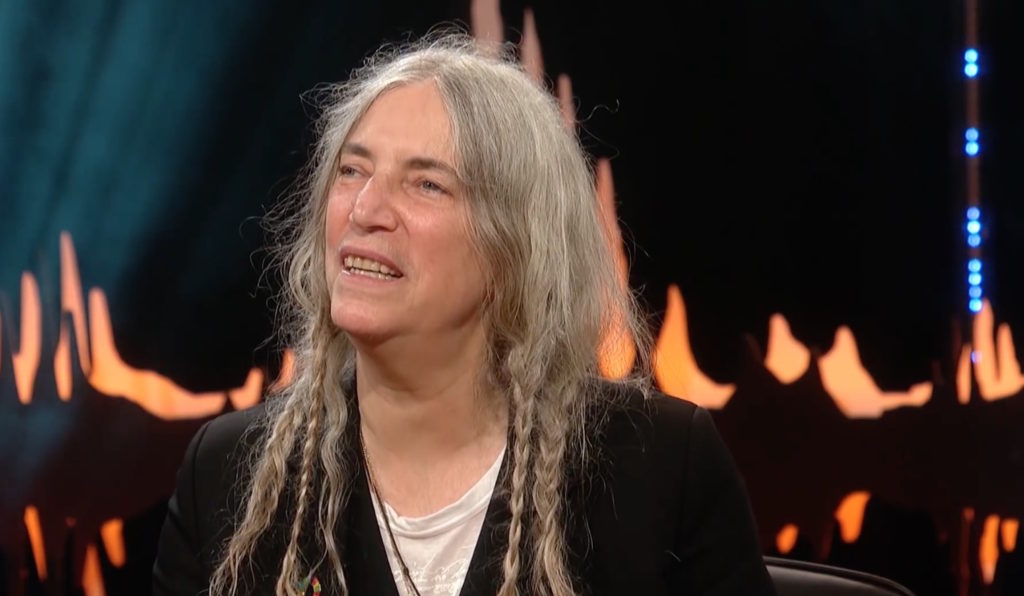 'Most Difficult Experience'
"That experience was one of the most difficult experiences of my performing life," Smith said.  "And for anyone who didn't see, I was in Stockholm at the Nobel Ceremony to sing 'A Hard Rain's A-Gonna Fall,' which is seven minutes long, to honor Bob Dylan the literary Laureate. I knew the song backwards and forwards. I've been singing it since I was a teenager. I was singing with the orchestra, I was ready I felt confident, and I don't know what happened, but the second verse I froze. Not forgot the words, I froze. When I think of it now I still do what I did, I cover my face. I was so humiliated and ashamed to fail."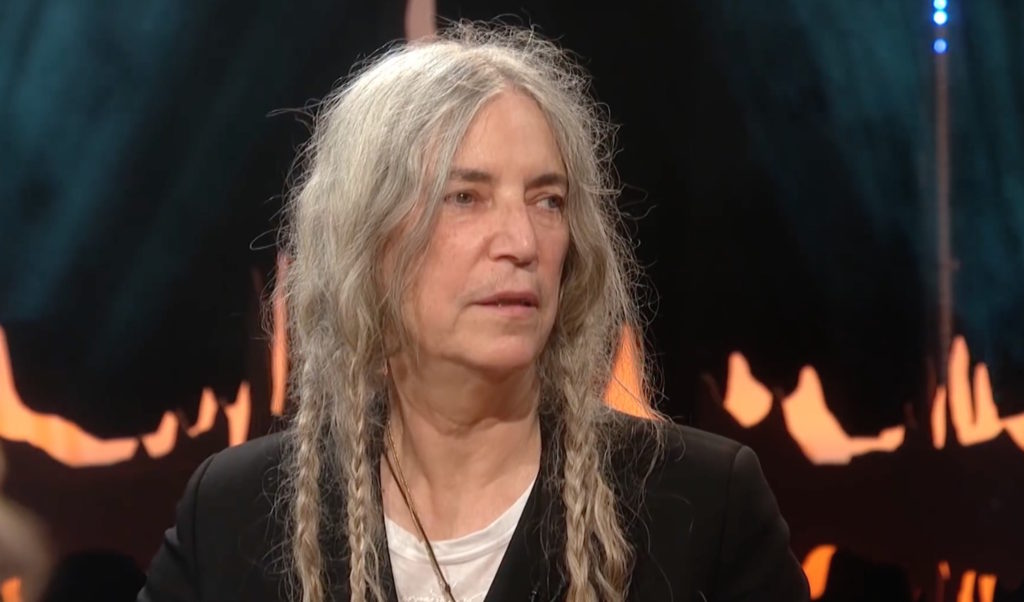 Tell The Truth
What did she do?
"I just had to tell the truth, that's one thing I've learned as a performer, if you tell the people the truth they're very forgiving and I just told them I got nervous," she said. "I never get nervous but I just asked if we could start over. And I could feel everyone with me, the king, the queen, the lords, 'Come on, you can do it.'"
And no, she did not ever talk to Bob Dylan about it, she said. But she spoke to Dylan's son who told her Bob said no one "messes up his lyrics any worse than he does."
What is the biggest misconception about her?
"I suppose because of my youth or what people's idea of what punk rock is, I imagine, they think I'm devoid of humor, that I would come on a show like this and start kicking things over and yell at everybody and start cursing," she said.  "People have preconceptions of what I might be like. If I'm on stage and I feel a certain energy I'll put my foot through my amplifier or rip off my guitar strings. But when I'm in a family situation, I'm respectful to the family situation. I'm kid friendly."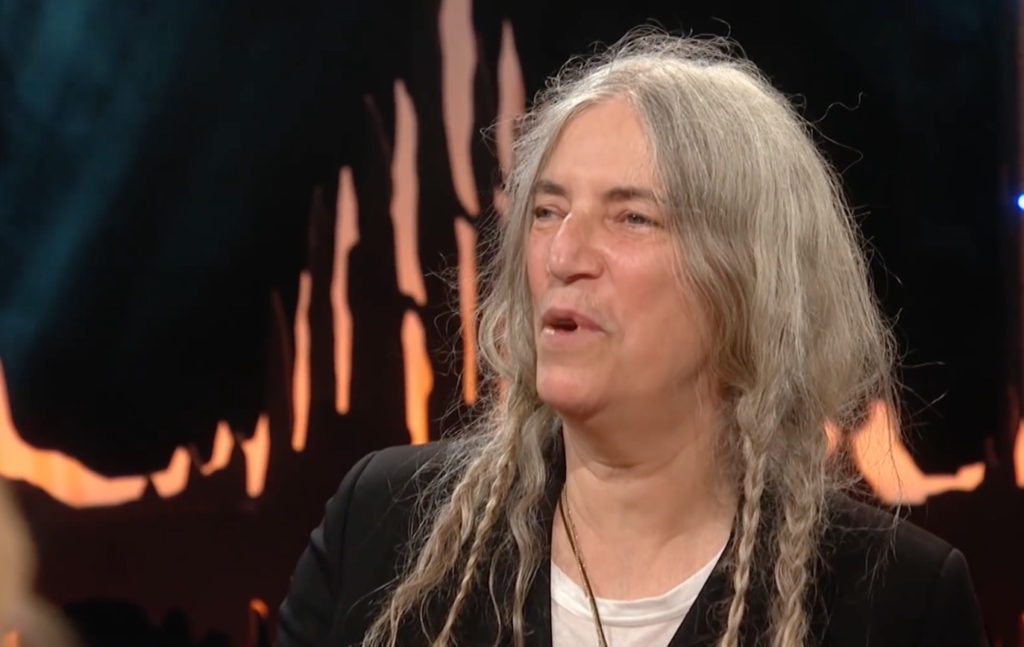 Patti Smith, Fred 'Sonic' Smith and a Hot Dog
Smith said she met her husband, Fred "Sonic" Smith after one of her gigs on the Horses tour in Detroit. Instead of having a party the group went to hot dog place.
"I go to the hot dog place … I was happy, I had my hot dog I was just about to go," she said. "I almost made it out of there when I saw this guy standing right next to a white radiator in a blue coat and he looked at me and I looked at him, and I thought 'That's the guy I'm going to marry,' and I did," she said. "I can't explain it, it's one of those alchemical things."
Lenny Kaye, Smith's guitarist, introduced the two.
Smith stayed out of the public eye for 16 years raising a family.
"Fred and I decided to leave public life and just get to know each other and raise a family," she said. "I chose the hours of five in the morning until eight in the morning and I taught myself to use those three hours to learn and study. I became more disciplined as a human being."
'Gloria' and Jesus
In recalling her songs, Smith told Skavlan that her rendition of "Gloria" drew some interesting reactions, as the first line of the song starts "Jesus died for somebody's sins but not mine."
"When that record first came out I had legions of people praying for me and telling me I was going to be struck by lightning. And of course I believe in Jesus, the first thing on my record I evoke is his name. … I was a young girl I wanted to take responsibility for my own actions … He gave us one of the best teachings: Love One Another.
On the show she plays "Beneath the Southern Cross," in honor of her friend, the late Sam Shepard.