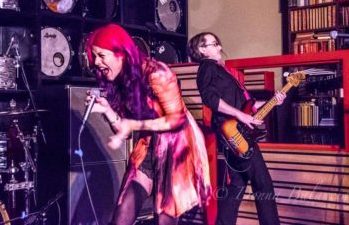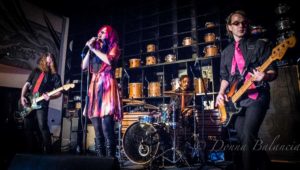 By DONNA BALANCIA – Allison Iraheta and Halo Circus are going strong. Halo Circus has a great new album 'Bunny' and as front woman Iraheta has proven she has pushed far beyond her American Idol fame and into new territory.
The former 'Idol' favorite, has taken an alternative turn, and her constituency blends together faithful from her dynamite TV appearances with fans of her new music and band.
Bunny
The new album is a mix of melancholy and rock with a range of style in between. At her record release party at Sphere Studios in North Hollywood, she gave a good crowd a sampling of the release and pulled out all the stops. Several lucky fans were winners, getting to check out the party and rub elbows with Allison's pals and musical colleagues.
Allison Iraheta and her Team
Halo Circus is Allison Iraheta, Matthew Hager, Veronica Bellino and Brian Stead; lyric booklet designed by Patty Palazzo of Punk Masters; photographs by Nick Egan; album produced by Matthew Hager; mixed by Craig Bauer and mastered by Eric Boulanger.
Check out more Allison Iraheta stories at CaliforniaRocker.com
For more information check out the Halo Circus Facebook page and the Halo Circus web page.[Best_Wordpress_Gallery id="56″ gal_title="Allison Iraheta Bunny and Halo Circus"]