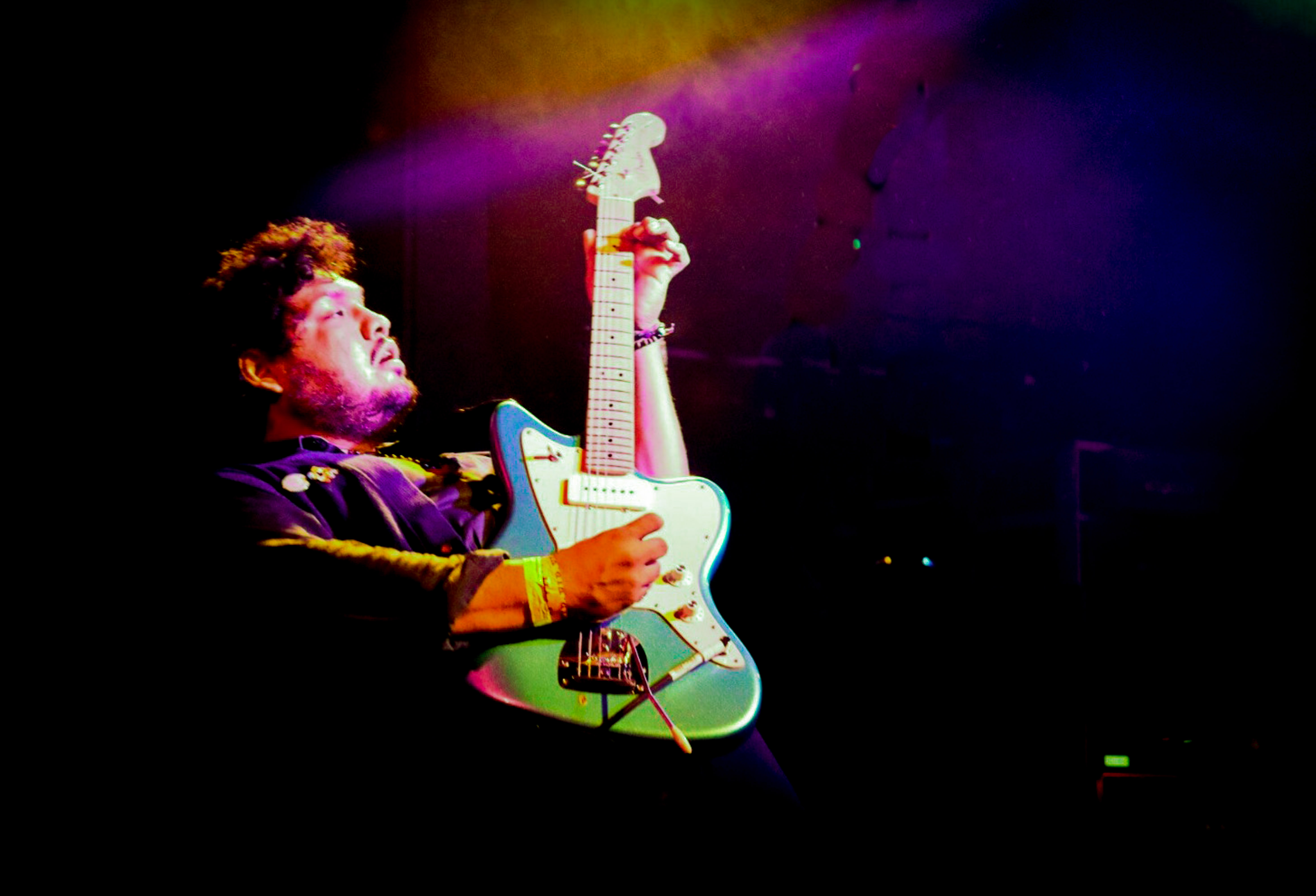 By DAVID ROMAN Photos By CELESTE CELIS
Walking into the crowded venue two things jump out at you, the hot musty smell of packed sweaty bodies in an enclosed space and the palpable excitement in the air. The famous twin disco balls of The Echo are fitting for the occasion, almost in honor of the headlining band's latest album 'Paleta Sonora' which similarly features a disco scene on its cover.
Thee Commons, a psychedelic cumbia-punk trio coming out of East LA consists of David Pacheco (lead singer, guitar), his brother Rene (drums) and their bassist Jose Rojas. Having spent the last few months on tour supporting their third LP (out on Cosmica) it was only fitting their recent homecoming show would take place at the classic Echo Park venue.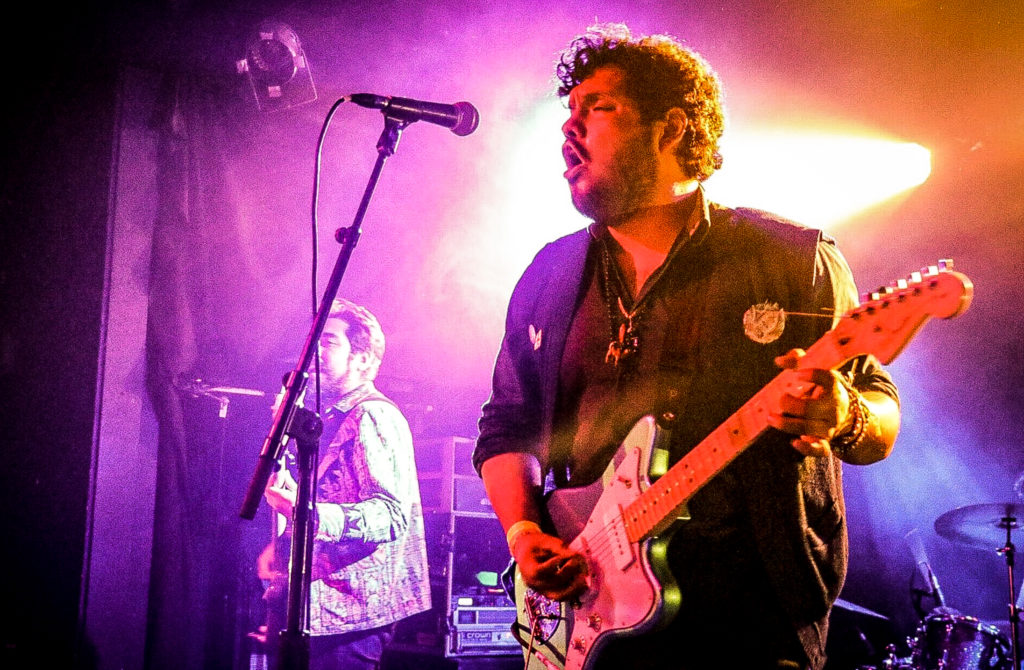 Thee Commons: New Era Punk
Understanding the popularity of this punk act is dependent on seeing them live. It's not that their recorded stuff isn't great, but their live performances are on another level.
Infusing Latin rhythms with modern punk riffs Thee Commons have managed to craft a sound that's totally original and it's been catching fire.
One of their opening tracks, "Foolish Kings" off their Burger Records backed 'Loteria Tribal' is a staple at their shows, showing off Pacheco's skill with not only performing in Spanish, but his Spanish lyricism, "Ya no mas de tus pestilencias / segues con la pinche mismas aburrencias." It's not easy to write lyrics that walk the line of such differing genres like punk and cumbia in any language yet the boys of Thee Commons do just that.
With their lead single "Work it Out" the band showcased their knack for extended instrumentals in their songs, displaying their stamina and precision as musicians. Jose and David's energy kept the show on its feet with the two of them showing off their moonwalks and party dances over every song, even keeping up with the ball of moshing teens at the center of the sold out show for the entire hour and a half set.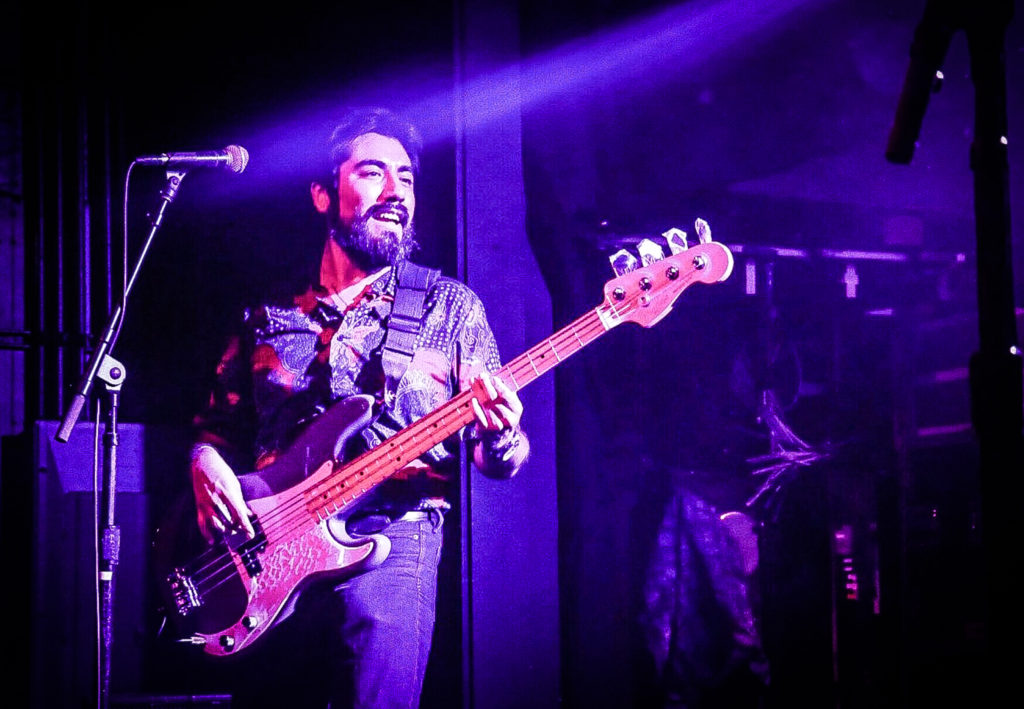 Thee Commons and Dancing Damas
The energy of the band extended to the photographers too, with show photog Celeste Celis being adamant about the struggle of balancing work and wanting to put down her camera and dance along with the rest of the wild audience.
In the back Rene Pacheco seemed to be having a party all his own, shot gunning cheap beers from his seat and smoking on stage all without missing a beat while playing. Where most drummers are fine fading into the background, Rene lets his presence be known. At one point during an intermission he gets up from behind the drums and starts orchestrating the audience like a f*cked up version of Disney's Fantasia. Later in the show a unicorn piñata filled with condoms and lube was thrown to the hungry crowd who devoured the papier-mâché unicorn in seconds.
Party Until 2 AM
Overall the show, like all of their gigs felt like one giant party, the closest thing you could describe it to is imagining of all of your drunk tios at the quince randomly picked up instruments, became twenty years younger and started getting down! Which is actually almost the exact concept to their music video for "Work it Out." And the fiesta went late into the night, despite the impressively long set lasting until 2 A.M. the crowd stayed till the very last note was played, and Thee Commons made the most of their time on stage choosing to avoid the faux walk off/encore request and just played as long as they could.
The excitement in the crowd is validated at every turn of the performance, it's how the band has had hugely successful year including cross-country tours and a spot on Coachella's brand new Sonora stage at 2017's iteration of the arts and music festival. 2018 is no doubt gonna be just as exciting for the boys of Thee Commons.
David Roman and his radio show, Roman's Records, can be heard 2-4 a.m. Fridays @kucifm 88.9 FM and he can be found on Instagram @_davidroman and Twitter at @DaavidRoman