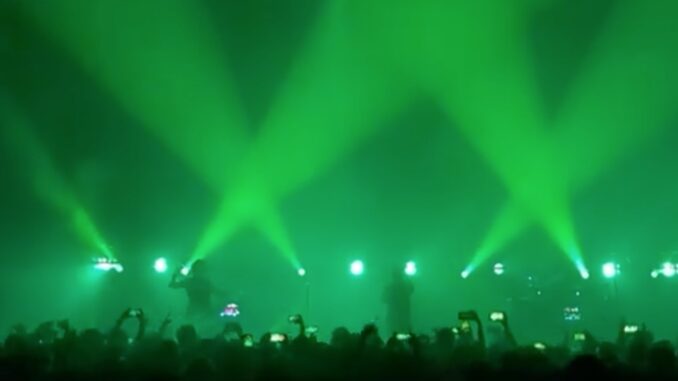 Sisters Of Mercy
The Hollywood Palladium
May 23, 2023
Review by DAN MACINTOSH
WEST HOLLYWOOD, CA – It seemed like every Goth in SoCal came to see genre veterans Sisters Of Mercy at the historic Hollywood Palladium on a Tuesday night. Well, 'see Sisters Of Mercy' is a relative term, as the stage lighting rendered the act's appearance nearly as murky as a foggy London night, at best.
However, the group's leader, Andrew Eldritch stayed in constant motion roving about the stage and giving fans from every angle plenty of chances to see this bellowing vocalist run through a healthy selection of the group's songs. As the act no longer records new music, there were no real surprises in the setlist. You know what you're going to get, so if you came to see this pioneering band perform familiar material, you were sure to hear many of your favorites. Flanked by a bassist and a guitarist, with the famed Doktor Avalanche drum machine in the back, this was one fine presentation of much beloved Sisters Of Mercy music.
One factor that was especially revealed this evening was how so many of the best Sisters Of Mercy songs are ones with girls' names in the titles. Tonight we heard "Alice," "But Genevieve" and "Marian," as examples. The band's music evolved over its short creative lifespan, from guitar-y rock to darkwave-leaning material, so attendees could alternately dance and mope throughout the evening. At times, Eldritch's singing became more akin to a growl, but this change only enhanced the overall intensity.
The show opened with "Don't Drive on Ice" and closed with – perhaps the band's most popular song – "This Corrosion." The latter was cowritten and produced by Jim Steinman, and it was refreshing, actually, to hear the song performed without all of Steinman's big production elements. Without the choir, as heard on its recorded version, it was performed tonight as a straight guitar rock song.
As good as Sisters Of Mercy is, though, it's more than a little frustrating that the group is no longer releasing new albums. Eldritch was quoted in 2016 as saying that if Donald Trump became president, "that will be reason enough for me to release another album." Well, the Trump administration came and went, but still no new album. Then again, Trump is running again, so – if he is Eldritch's negative inspiration – perhaps there's still hope.
Sisters Of Mercy still has a strong fan base, even without fresh music, so Eldritch may not feel much pressure to put out new sounds. One has to wonder, though, how such a talented songwriter keeps down that urge to create new works. For now, he remains a hero to all the Goths, both young and old. Let's just hope our hero gives us new sounds the next time around.