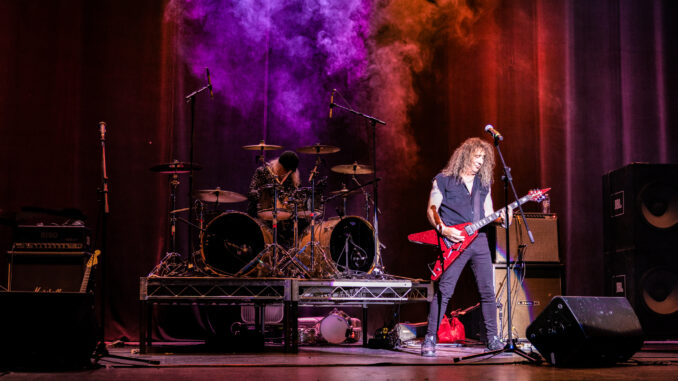 ANVIL! THE STORY OF ANVIL!
Film and Q & A
Saban Theatre
Photos + Review by LUIS MORENO
BEVERLY HILLS, Calif. – The second world premiere of ANVIL! THE STORY OF ANVIL! was held at the Saban Theatre and I wasn't sure I was ready for this anticipated metal event.
But I was happy this incredibly well-directed, produced and edited, heart-tugging story was re-released to a new generation of headbangers.
Utopia and Abramorama rereleased the 2009 documentary with a new 18-minute interview only available in theaters. The re-release is timed to the film's 13th year anniversary and features remastered picture and sound.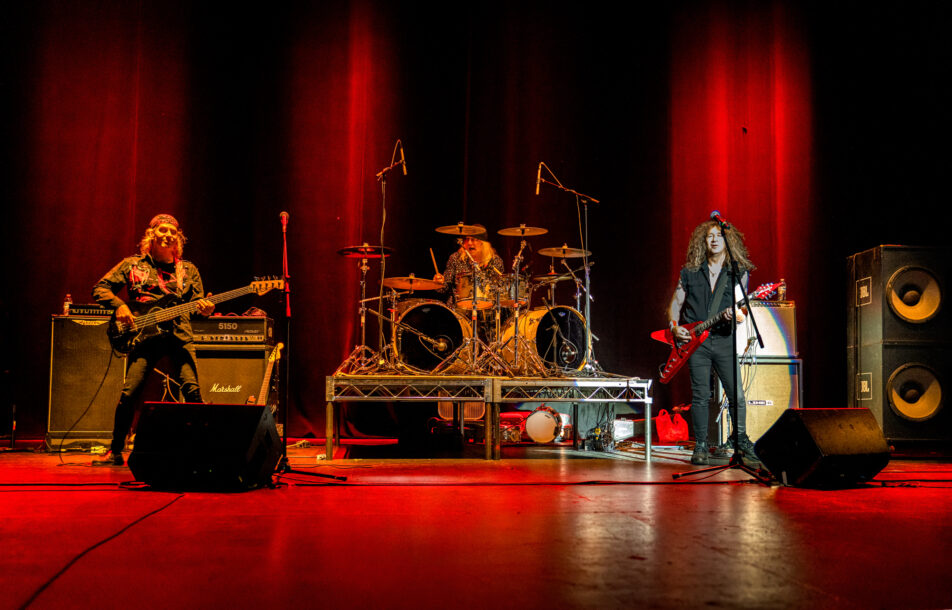 This is more than a story directed by the screenwriter and former ANVIL roadie-turned-director named Sacha Gervasi. This is a story of friendships to the sky and beyond. There are the amities between a former roadie to ANVIL.
The rapport, camaraderie, and intense closeness between ANVIL guitarist Steve "Lips" Kudlow and drummer Robb Reiner. There's the interweaving love between their incredibly understanding and supportive immediate family and friends. And there's an excruciating European tour to make the most impossible possible.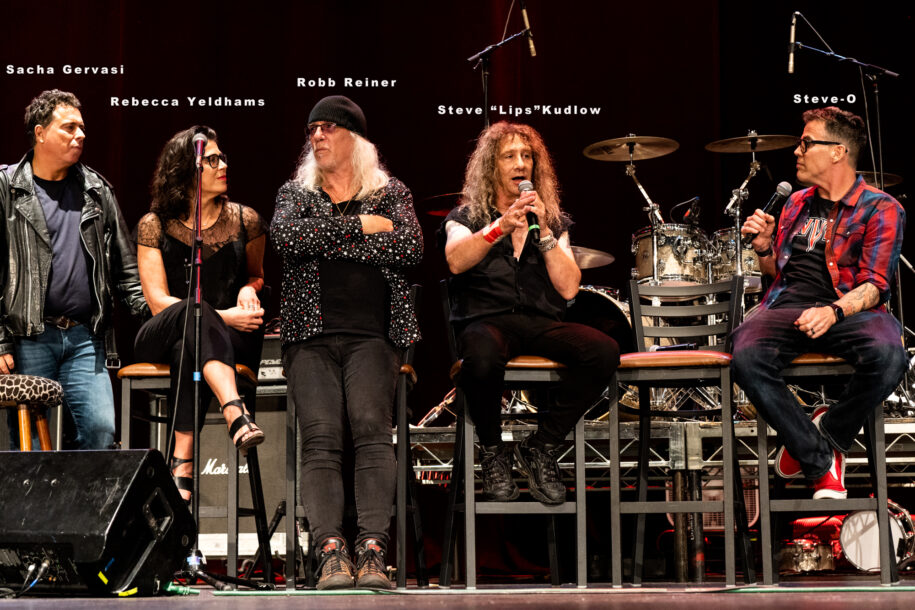 First, one must understand ANVIL started back in April of 1973 between high school friends Steve "Lips" Kudlow and Robb Reiner. The band has been cited as being a huge influence on many famous heavy metal giants including Megadeath, Slayer, Anthrax, and Metallica. ANVIL was known as a huge pioneering force of heavy metal.
The evening festivities started with the traditional red carpet walk of "who is that?" (Just kidding, kind of!) The Saban Theatre filled up mostly with fans', and sprinkles of luminaries from the headbanging industry.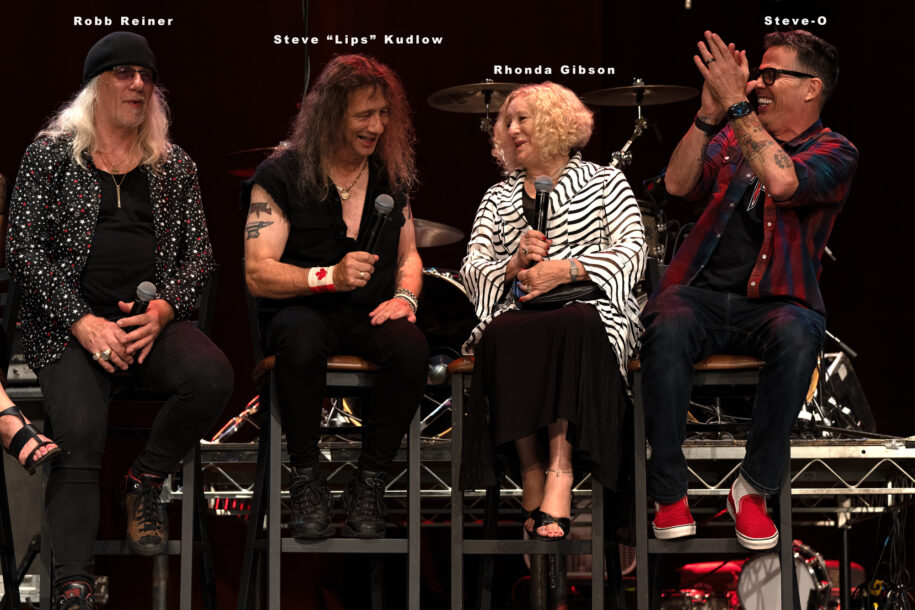 Director Sacha Gervasi, and Steve-O of the Johnny Knoxville gang stepped up to give a brief introduction and history to the process of the re-premiere of this wonderful documentary. The Saban Theatre went dark, and the only light source was the film being projected onto a big silver screen. From when the movie started to the very end of the documentary, laughter, sympathy, joy, and pain — but mostly hope — could be heard and felt throughout the eyeballs that were wrapping themselves up in this cinder-fellas story.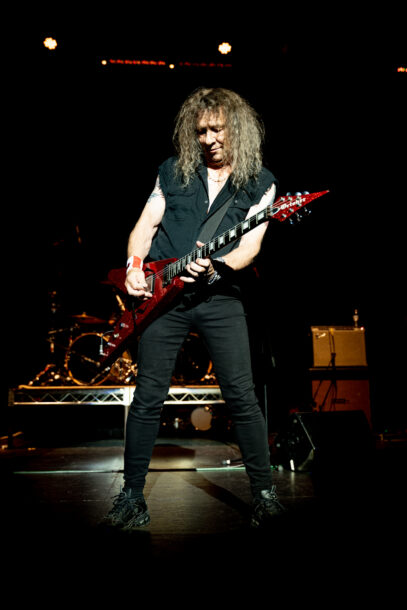 The Saban Theatre finally was fully illuminated, and the silver screen retracted to expose a stage filled with guitars, mics and drums. The fans and the entire Saban working staff were treated to four  songs by ANVIL. Guitarist Steve "Lips" Kudlow and drummer Robb Reiner gave everyone a classic ANVIL show.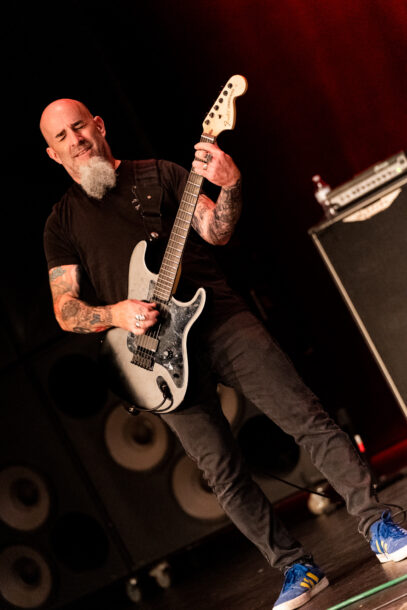 Plus, they were joined by a very special guest appearance by Scott Ian of Anthrax. And even the former child roadie turned movie director Sacha Gervasi joined on drums. There was nothing but joyous energy on the stage and in the seats.
When ANVIL! THE STORY OF ANVIL! comes to a movie theater near you, you'd be shit outta luck if you don't go watch this incredible documentary. To quote a line from the movie that sums it up "Family's Important Shit, Man!" So go get a movie ticket.