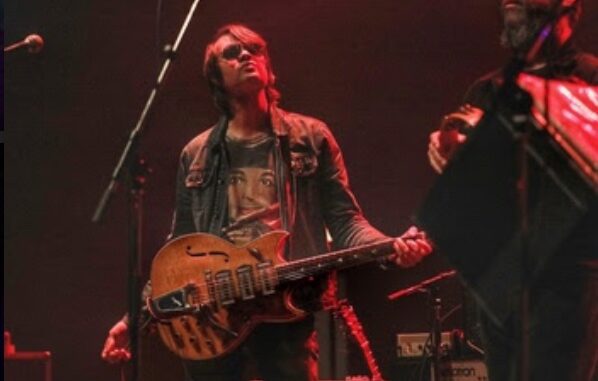 By AVA LIVERSIDGE
Brian Jonestown Massacre's return is on the horizon as the '90s rock giant's 19th studio album is scheduled for release come June. Uncompromising yet fresh, their 10-track LP Fire Doesn't Grow On Trees finds frontman Anton Newcombe and crew apt to embrace the internal fuel driving their art– after all, fire doesn't grow on trees.
In fact, it's this fire that creates the particular light over darkness triumphalism that Newcombe has cited as the record's inspiration; he invokes a quasi-puerile "fighting the good fight" influence that can be heard across Fire Doesn't Grow on Tree's straightforward rock sequencing and prescriptive lyricism.
Fire Doesn't Grow On Trees is introduced by a wall of feedback (that reads more like a siren in the context of the rest of the record). The hum opens into lead single "The Real" which is available now for streaming. The track serves as an introduction to the lo-fi production value and grainy post-punk vocals that will come to define their project. Feedback continues to function as a structural force on "Ineffable Mindfuck;" by the second track, it's clear that Jonestown Massacre won't be relinquishing their '90s blasé of old.
The top of the record lays out the group on essential 90's rock cartographies – grainy guitar solos, power choruses, and sulky verses abound. Then, they take it down, beginning with keyboard and guitarist Ryan Van Kriedt's handy synth work.
"It's About Being Free Really" feels like an obligatory acoustic track with jangly tones and petulant lyrics about one rocker's devotion, but this leads right into "What's In a Name." This spacey track can only be interpreted as one thing: an overwhelming ode to Pink Floyd. Cerebral, expansive harmonies and semi-spoken word delivery is carried into a wistful chorus by rolling drum lines and heavy-handed acoustic strumming; eventually, "What's In a Name" just floats off.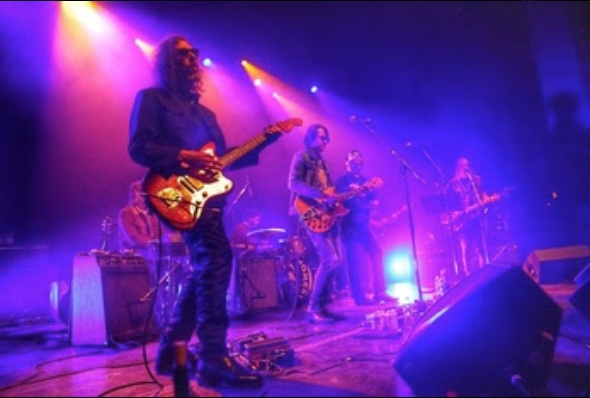 "Silenced" is another acoustic guitar jaunt; its lament of the small-town mentality is paralleled by the actual arrangement– a minimal, garage rock simplicity with an idiomatic instrumental break and a few soaring electric guitar passages quintessential of a D.I.Y. practice space.
Another wistful retrospective, "Before and Afterland" features prominent tambourine and bass vocals (a good few octaves below the other tracks) that course Newcombe's weariness; moreover, the trudging rhythm section is remarkably symmetrical, adding to the weary traveler affect until the cut picks up with some help from drummer Uri Rennert. Next, Newcombe's parched vocal delivery on "You Think I'm Joking" gives way for a twangy, cyber-cowboy drama that melds steel guitar fingerpicking with a continuous feedback line.
For the final stretch of Fire Doesn't Grow on Trees, Brian Jonestown Massacre launched back into the semi-energetic rock cuts that opened the project. "#1 LUCKY KITTY's" bright synth melody and metallic guitar tones lead into a free-form jam wherein a series of lurching drum lines take precedence in the mix; then, just as the group seems locked into a steady groove, all sound cuts, only to be picked back up a few seconds later with newfound fervor. On "#1 LUCKY KITTY," the alt-rock outfit proves something integral to the ethos of 90's rock: hyper-energetic, bubblegum melodies are not requisite for audience engagement.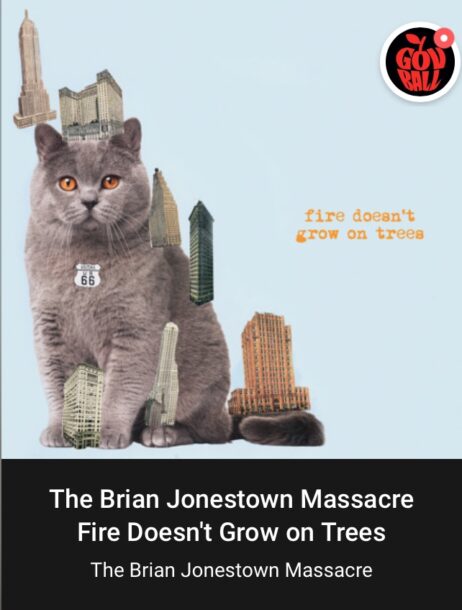 Wrapping up, "Wait A Minute (2:30 to be Exact)" quite plainly sounds like a lower energy Beatles song. The arrangement is not only repetitious but perfectly symmetrical. Adding on a sweet vocal delivery and drum paradiddle, the track is an obvious homage with an injected insouciance characteristic of the alt outfit.
Fire Doesn't Grow On Trees closes with "Don't Let Me Get in Your Way," a short track with much of the same very legible instrumental components– an almost tangible mixing of each layer– that need not end with a bang. The record closes with a shrug and a nod to who Brian Jonestown Massacre truly are as musicians.
A stubborn rock project that draws clear inspiration from the greats, their nineteenth studio album is a balancing act between both their devout reverence and undeniable cynicism for the rich musical legacy of their native United Kingdom.
The group's semi-lugubrious, wallowing instrumental passages never come off as overly dramatic; Newcombe's terse, conversational vocal delivery evokes a certain intimacy with the narratives he crafts, not a whiny posture; Jonestown Massacre's obvious inspiration from No-Wave technicality rejects sycophantism to the hyper-saturated chart-toppers of today. Fire Doesn't Grow on Trees is no-frills, exactly what it wants to be and nothing more done with the same precision that drew fans to them in their nascence.