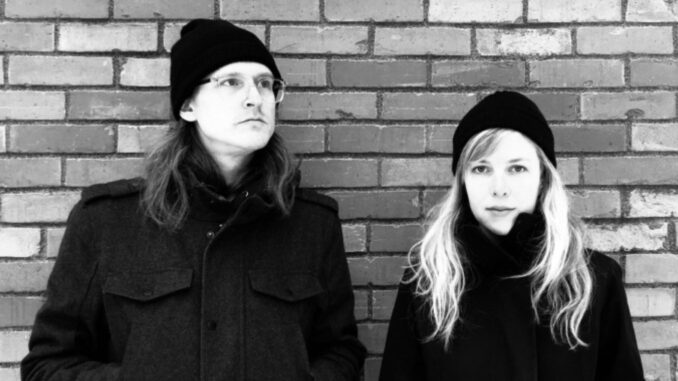 By AVA LIVERSIDGE
Fresh indie-electronic duo Slender Dan, composed of Heather Dickson and Patrick Ahern, are tackling the Seattle scene with their single "Pay With a Gift" and accompanying music video through KEXP public radio station. 
The single is the successor of their debut six-track EP, The Waking Life, released in March, whose kaleidoscopic visual component allowed the duo's art to transcend sound. Dickson mentioned the EP as an exploration of a variety of instrospections including "the fear of an unlived life." Slender Dan is certainly concerned with exploring all of life's sublime underbelly.
It seems The Waking Life is a metamorphosis broken down into six stages in six tracks: life, death, individual man, pause, community, and transcendence. The EP is founded on the two opening tracks, "Cycle" and "Fatal Vision,", which allude to both the beginning and end of life and range between droning repetition on "Cycle" and haunted, pulsing imagery on "Fatal Vision." 
Now with these time barriers set up, Slender Dan begins to explore everything that happens in between, the plight of man alone and in relationship and, finally, man in a final, central destination on "Through the Door." What doubles as a chronicle of the duo's experiences on psilocybin, this trip-hop track finishes the EP with these ringing words: "It's so simple /It's ok now/ In the middle." 
It is fitting that, after an escapade through life's most pressing concerns, Slender Dan would end in the middle — a full cycle and you're back where you started; Human existence is rife with dissatisfaction.
This brilliant culmination back in March set the stage for Slender Dan's upcoming return with their debut single, "Pay With a Gift." The eerie anatomical-oriented accompanying music video continues the outfit's fixation on the phases of being as a living, breathing form. The track's bass hauntingly mickmicks the rhythm of breath entering and exiting human lungs, made explicitly clear by the track's video that explores the intersection of nature and human organs — life-giving entities. 
While the song is lyrically centered on the giving and depleting of human emotional resources, the sonics track a watery melody that lets life flood the synth-driven atmosphere. Slender Dan are a duo operating in an intentional sonic and stylistic niche and are prepared to breathe new life into the electronic, synth-wave landscape.