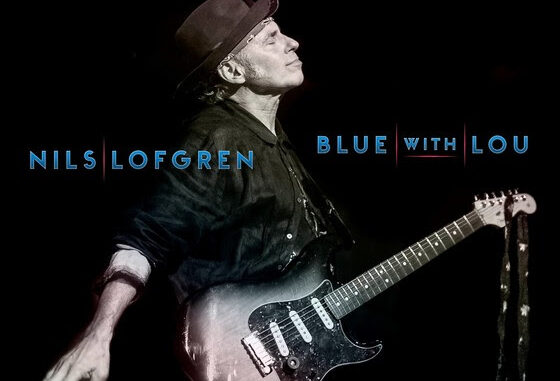 By DONNA BALANCIA
Nils Lofgren celebrated 50 years on the road last September. All indications are he will be hitting the road again with the E Street Band, as his bandleader and friend Bruce Springsteen said the group is back in the studio to record their 20th album.
But before he joined the E Street band in 1984, Lofgren was a staple in some of the best record collections and he was a favorite of the "alternative" music fans of the late 1970s. His debut album, Nils Lofgren (1975) and the popular Cry Tough (1976) earned him a following from among a range of rockers. One of them would turn out to be Lou Reed.
On Lofgren's new album, Blue With Lou, six of the 12 tracks on the album are written with Reed. These are songs that are finally getting a release.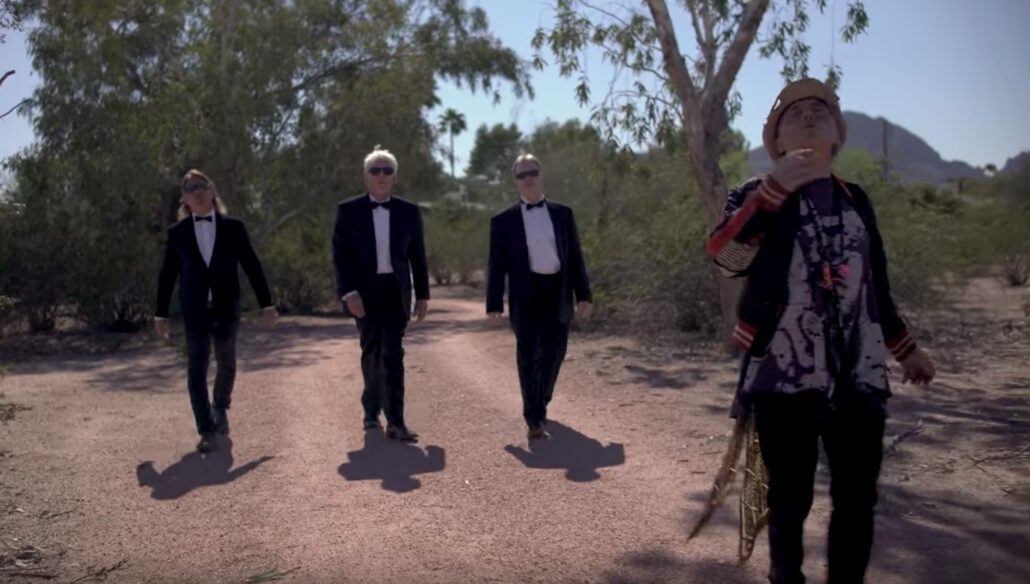 Maybe it's no coincidence that both Lofgren and E Street bandleader Springsteen have released solo albums around the same time. Springsteen's new Western Stars is a collection of Americana-style ballads in the style of Glenn Campbell and Jimmy Webb. Meanwhile, Lofgren who teamed with punk poet Reed, goes in a different direction. But for both Springsteen and himself, the solo projects have been on their minds for a while, Lofgren said.
"Bruce and I talked about his album for three or four years and I'm glad he finally decided to share it," Lofgren said. "He's had it in the can for quite a while. I'm glad for him."
Lofgren was an accomplished solo musician, part rocker, part-singer-songwriter, when he was tapped to join the E Street band. Over the years he has had the experience of being in a Rock and Roll Hall of Fame arena band, but like his friend, also takes time for his own work.
"When Bruce does his solo work he doesn't bring us along, he has a multi-faceted career," Lofgren said. "Every show the E Street band played for 35 years I've been there. It's been a real blessing. He's supportive of what we do."
Blue With Lou is another one of Lofgren's winning solo projects. Of the songs he wrote with Reed. "A Fool Like Me," "I Found Her," and "I'll Cry Tomorrow" (the last co-written with guitarist Dick Wagner) appeared on Nils, while Reed claimed "City Lights," "Stupid Man," and "With You" for his own 1979 album The Bells.
The pair's "Life" appeared on Lofgren's Damaged Goods (1995), while "Driftin' Man" was recorded for his Breakaway Angel (2001). The newly recorded Lofgren-Reed compositions are "Attitude City," "Give," "Talk Thru the Tears," Lofgren's version of "City Lights," "Don't Let Your Guard Down," and "Cut Him Up."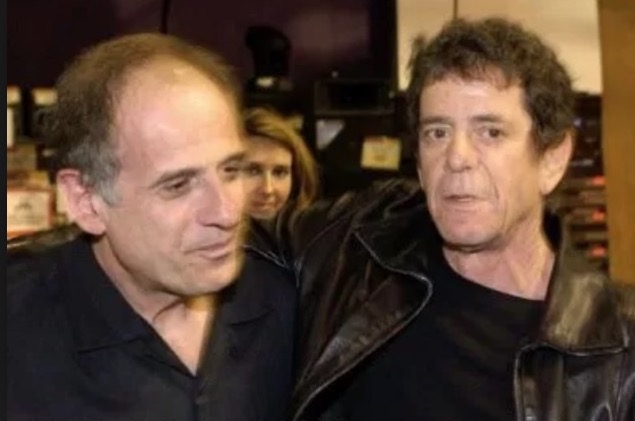 The Bob Ezrin Factor
Blue With Lou has all the qualities Lofgren and Reed fans might expect and that is to a great degree because to the involvement of prolific producer Bob Ezrin.
"Back in 1978 or 1979 I had some songs and I wanted to make an album," Lofgren recalled. "A and M, records who I was with, had a short list of producers and Bob was at the top of the list. We sounded Bob out, he said he was interested, he and I had a couple of meetings just to feel each other out. We felt we could get along great. I liked him immediately as a person.
"He was very knowledgable and creative as a producer and he is a really good musician. So we agreed that we could make a good record together and A&M hired him.
"Bob and I went on a long journey — well over a year — to make my album, Nils," Lofgren said. "It had a lot of good songs we liked, had a lot of good music, but we both agreed they were sub-par lyrics. Bob is the one who took me over to Lou Reed's studio, we met him, Lou said 'Let's get together and discuss co-writing' and the short version is, it led to 13 songs I cowrote with Lou. A lot of them got shared, but five got left behind.
"I always thought Lou might call and say 'Let's revisit these,' but when we lost Lou, which was tragic of course, I knew the next record I made I had to get those songs on it," Lofgren said. "Also the sixth song, I knew I had to do my own version of 'City Lights,' which we did together."
Lofgren whose music is a unique blend of what would now be called Americana Roots-style music with Rock N Roll, said he found a good synergy with Reed.
"Lou writes special lyrics," he said. "But they're still good rock lyrics, just comments on the planet, our state of humanity, and they're pretty timeless to me. We had 20 songs and we worked on all of them. These were the 12. The six Lou Reed songs had to be on the record. The other six, I picked the best that rose to the top as we recorded."
West Coast Gigs in Lofgren's Future?
Lofgren is refreshingly honest in his approach. He recently wrapped a tour that took him mainly back East to promote Blue With Lou and we can only continue to hope that he will add some West Coast gigs at some point.
"It's a sad function of commerce the offers in the West are so terrible," Lofgren said. "I don't begrudge anybody, they say 'We think this is all we think you're worth' and I get it. So usually I would look at coming to the West Coast as a solo artist I tour a lot by myself.
"With this album, my first in eight years, I wanted to see if I could go out with the band that made the record," he said. "We started in the midwest and it was somewhat manageable.
"The Northeast corridor there are so many cities together you can play four or five cities in a row, you can't really do that jumping from Denver to Phoenix to LA, the drives are too long," he said. "It doesn't mean you can't do that but it's different routing, I don't like leaving home so when I'm gone I want to work five or six shows a week and the Northeast is the best place to do that."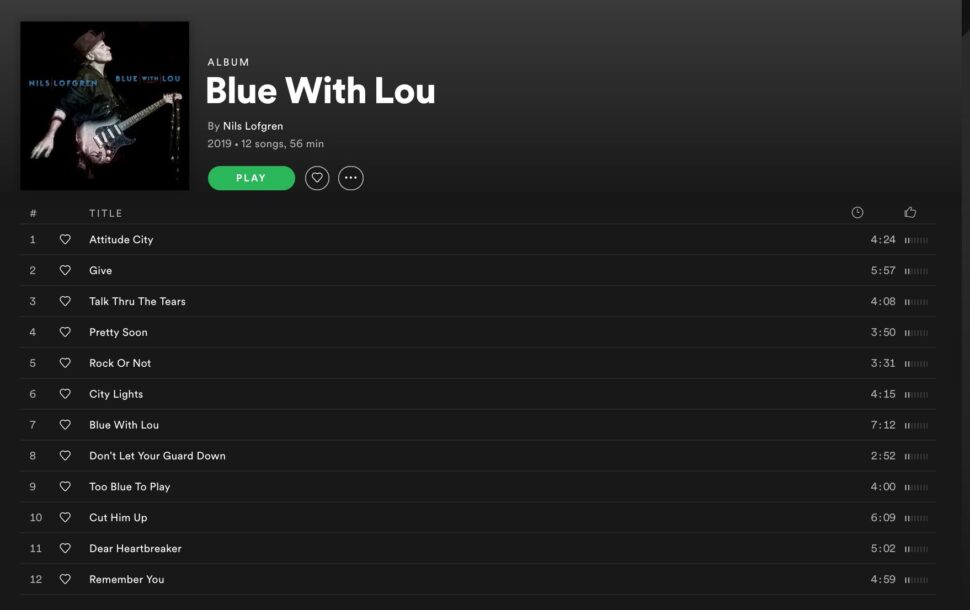 There are aspects of today's tech-driven music world that Lofgren likes and admits its a different world than when he started in 1968.
"Some people have an ability to absorb technology and be great at it," he said. "I don't happen to be one of those people. I have a distribution company, MVD, they're not a record company so they don't take 90 percent of everything and they get the music into a lot of shops all over the place. Mom and pop shops, some of the chains. I sell it at my shows I come out and sign afterwards and I'm allowed to because I own it, that all goes away with a record company. 
"So I'm at peace with what I'm doing," he said. "Some young people feel like they need to be a giant star and sell tens of million records. My only advice would be get a following, learn how to play in front of people and don't sign away years of your life unless it's a decent record deal if that's what you want.
"The freedom is something you didn't have in the 1960s," he said. "Back then the only game in town if you wanted to share music, was the record company and we all signed a lot of bad deals, but on the other hand our music was shared.
"Today I like the autonomy," Lofgren said. "My friends Dick and Linda run my website, my wife Amy is great on social media. I have the new album Blue With Lou, and even though I'm playing 300 to 500 seat night clubs, afterwards you go out, sign T-shirts and CDs that my wife Amy is designing, it's grass roots and personal and it really gets back to the roots of my job which is playing in front of people. Everyone can choose their own path, the options disappear when you sign a record deal. I would stay true to whatever your creativity and muse tells you the direction you want to head."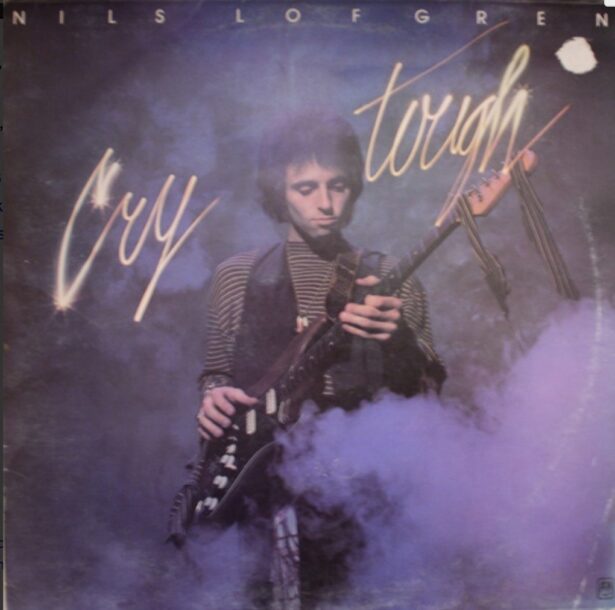 'Blue With Lou' and Memories
Blue With Lou will always live deep in Lofgren's heart. He holds on dearly to memories, good or bad. Recently he told an audience he couldn't forget an incident that bugged him for years, where he was unable to help his friend Springsteen out on stage when the two had forgotten lyrics to an impromptu 1960s rock and roll song. It's something he never forgot but managed to absolve himself on stage years later.
He holds the same clear memories for Reed, who said he was inspired by Lofgren's work.
"I felt like what we did was very special," Lofgren said. "He had a cassette I sent him for three or four weeks, I kind of forgot about it because I was respectful of whether he wanted to be involved. Then he woke me up at 4:30 in the morning on the land line there were no cell phones, and I was wondering why the call in the middle of the night. He said, 'Look I've been up for three days and nights I love this music I've written 13 full sets of lyrics, I'm inspired, if you want to get a pad and pencil and I"ll dictate them all to right now.'
"And we did, we spent two hours on the phone," Lofgren recalled. "I wanted to use three of them right away on my record, I used three of course, put two out, getting us up to eight and I always felt I owed it to myself and to Lou to share the ones left behind.
"And since he's not around to look at that with me I knew they had to be on this record," Lofgren said. "God bless him and I'm sure he'd be happy wherever he is looking down on us."
Nils Lofgren – Blue With Lou – City Lights
Lou Reed – Stupid Man
Nils Up Front with E Street Band – Because The Night