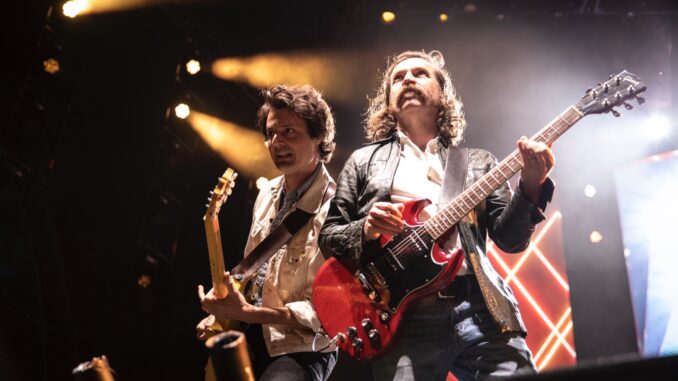 Train
With Jewel, Blues Traveler, Thunderstorm Artis
AM Gold Tour
Fivepoint Amphitheater, Irvine, CA, 07.29.22
By JULIE ANN SHAW
One of the best tours happening this summer is Train's AM Gold Tour with Jewel, Blues Traveler, and Thunderstorm Artis. I had the pleasure of seeing this tour in Irvine at Fivepoint Amphitheater, and my life is so much better for it.
Opening the night was Thunderstorm Artis, a solo artist from Oahu, a fact he was happy to emphasize with his aloha shirt. Artis stood on the stage with nothing but his guitar and serenaded the incoming crowd with his soothing voice with covers like "Blackbird," and "Ain't No Sunshine," along with his original songs like "Sedona."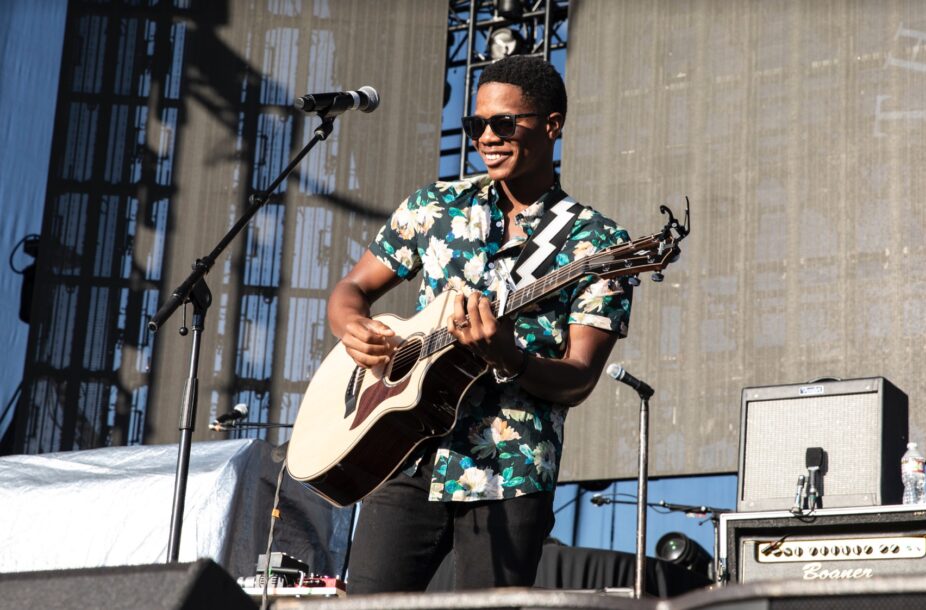 After a very short set change, Blues Traveler walked on stage. As if John Popper (vocals, harmonica), Chan Kinchla (guitar), Tad Kinchia (bass), Ben Wilson (keyboards), and Brendan Hill (drums) weren't enough of a reason to come early, they surprised the audience by playing their first song, "Carolina Blues," with the both Jewel's and Train's bassists, as well as Adam Carolla. They then continued to thrill the crowd with "Funky Bitch," their hit "Run Around," a spectacular rendition of "The Devil Went Down To Georgia," "100 Years," "But Anyway" and "Hook."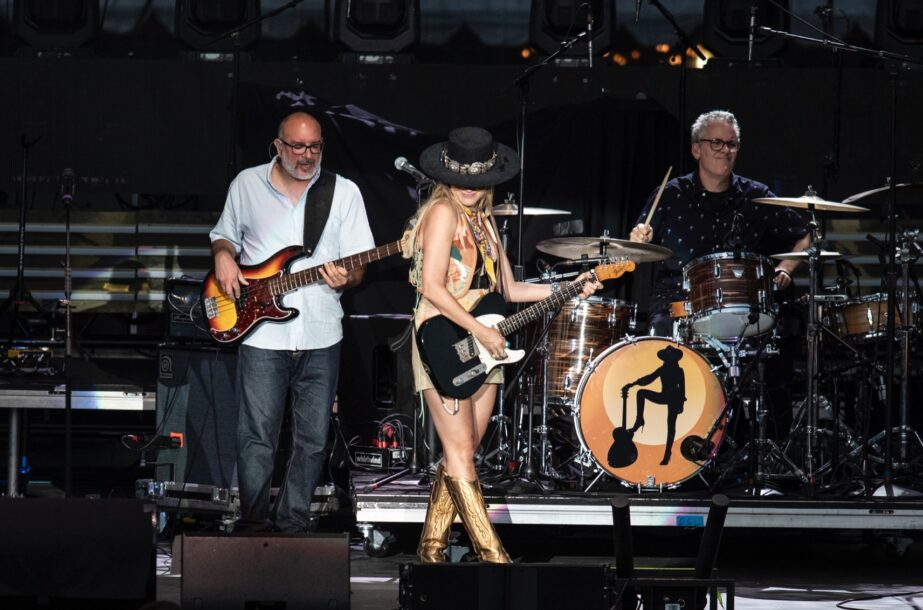 The sun went down and the stage lit up as Jewel took the mic with her guitar. She opened her set with "Standing Still," which the crowd went crazy for. She followed with one of my all time favorite songs, "Hands," which I could not help but sing along to as I photographed. She continued with "Long Way 'Round", "No More Tears", "Love Me, Just Leave Me," "Alone", "Alibis," "Intuition" and "Hate Hate". She closed her set with three of the most beautiful and unforgettable songs, "You Were Meant For Me," "Foolish Games" and the 50-word song that changed Jewel's life, "Who Will Save Your Soul."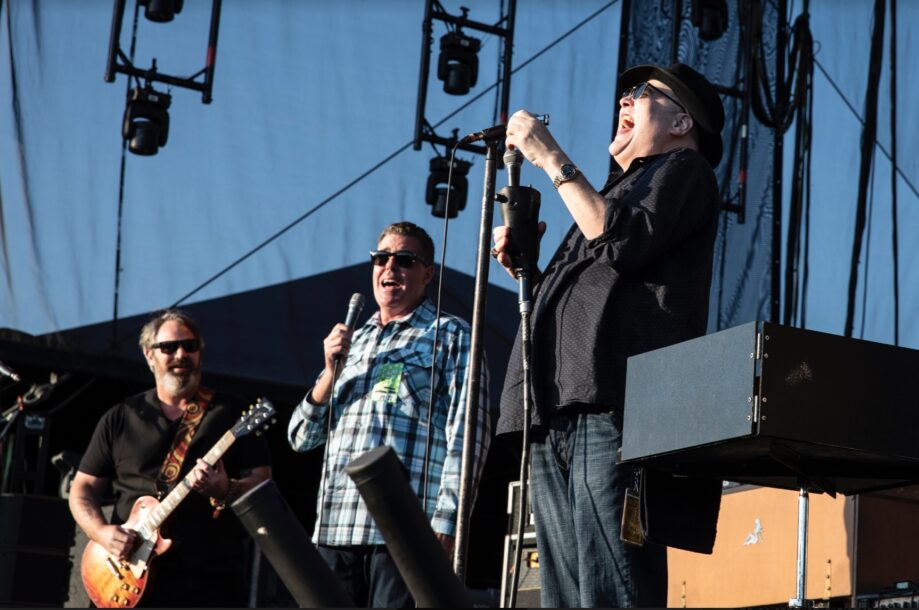 Last up for the night was Train, Pat Monahan (vocals), Taylor Locke (guitar), Hector Maldonado (bass), Jerry Becker (guitar, keyboard), and Matt Musty (drums). Train opened with "Am Gold" and then performed a mini-medely of Steve Miller Band's "The Joker" and "Meet Virginia," during which, Monahan threw t-shirts into the audience, including the one he was wearing and had all the band members sign as they performed. During the next song, "If It's Love," Monahan accepted cell phones from the people in the crowd so he could take selfies for the fans, something you don't see too often, but should.
Train continued with "Get To Me, Running Back (Trying To Talk To You)," and "Play That Song." For the next song, "Bruises," Train was joined by John Popper, for one of the best duets I had ever heard. Train performed "Save Me, San Francisco," and then one of the greatest things I could have hoped for happened. Jewel walked out onto the stage to perform "Turn Up The Radio" and ABBA's "Dancing Queen" with Train. I am now forever changed.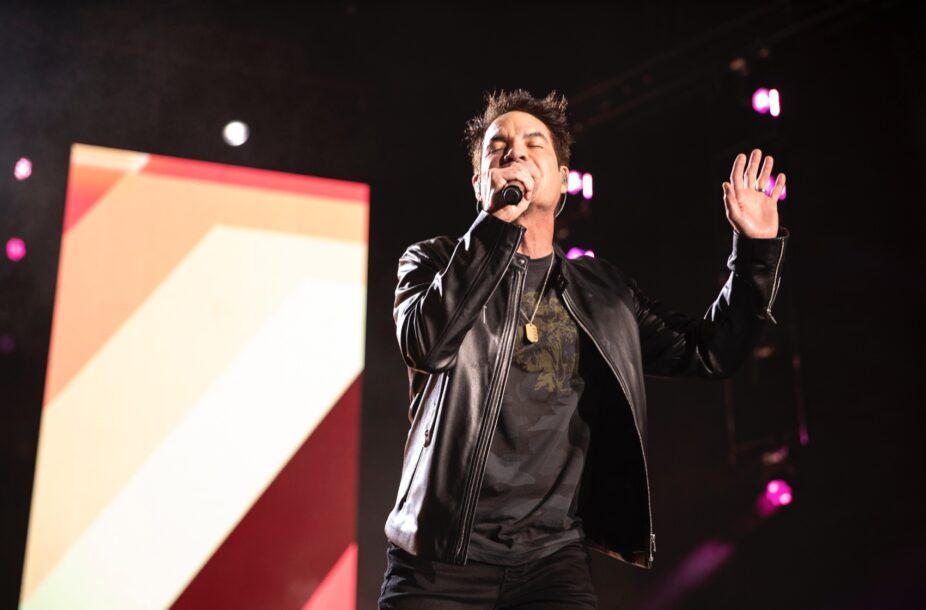 The crowd was pumped and the night continued with "It's Everything," "Marry Me," "When I Look Up To The Sky," "Calling All Angels," "50 Ways To Say Goodbye," "Hey Soul Sister," "Vacation" and closed their set with "Drive By" which melted into Beatles' "Hey Jude."
Obviously, Train was not going to just end the night there. There was one more song that any casual fan of Train would expect. However, before they played that one song, they gave us an incredible version of Aerosmith's "Dream On," which honestly, I was ecstatic about. The final encore was what we were all waiting for, a beautiful song, and the perfect way to close the night, "Drops Of Jupiter."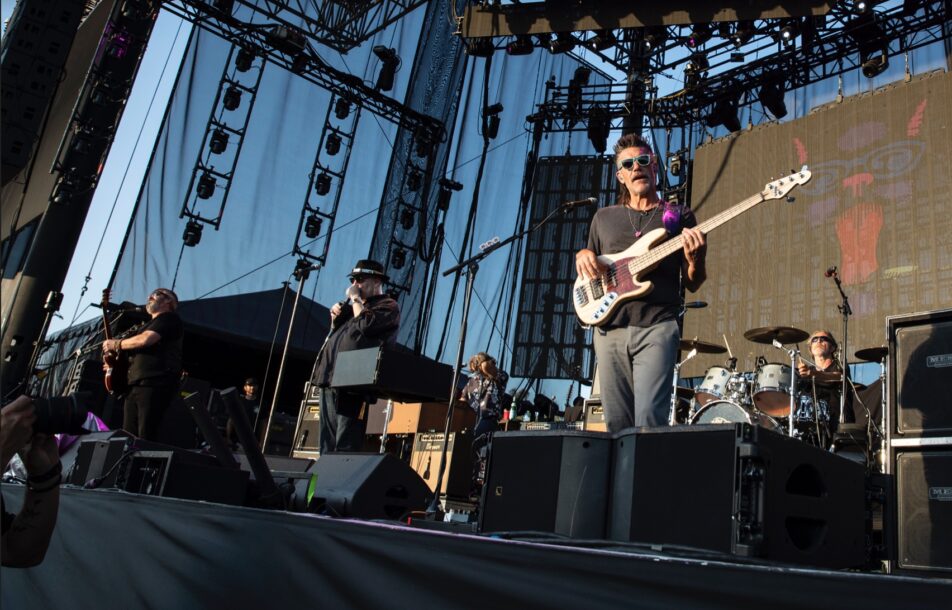 Check out Train on Spotify: