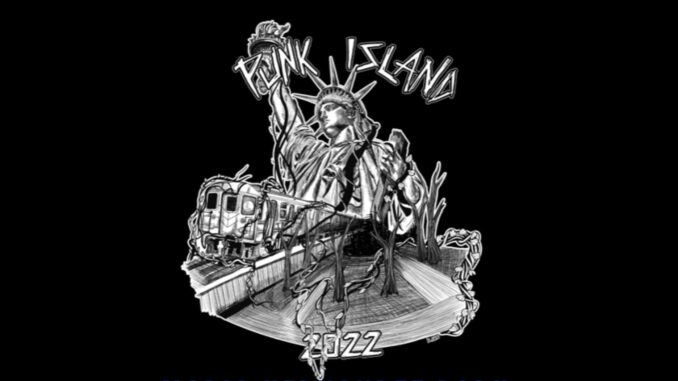 BROOKLYN, NY – Punk Island makes its return July 23 to Brooklyn's Maria Hernandez Park and features Dino Skatepark, Dishonest Escape and Mosey Jones, among additional punk rock notables.
Punk Island will run from noon to 7 pm EST.
"Punk Island 2022 is going to be a little different this year," said the Punk Island organizers. "As a collective, we decided we wanted to come back on a smaller scale and work our way up to what we once had pre-pandemic. We hope you understand and hope to see you in Brooklyn this summer."
The lineup includes, in alphabetical order, Baby B and the Back Up Plans, Boss Selektah Diana, Chumhuffer, Depresión Tropical, Dino Skatepark, Dishonest Escape – DJ *chicklet*, DJ Sugarfree BK, Exit 17, Jerry Ex, Jo Mercado, Kartel, MAAFA, Macho, Moms Against Punk Rock, Mosey Jones, Motel Portrait, NCM, Non-Residents, Pancho Villa's Skull, Paragnosis, Pinc Louds, Ratas En Zelo, RBNX, Shut Up!, Silence Equals Death, Skappository, The Dilators, The Loneliers, Tits Dick Ass, and Winterwolf.
Punk Island NYC will also be hosting an afterparty within walking distance of Maria Hernandez Park. The address of this afterparty will not be made public and honor the good old "Ask a punx" for address.
Punk Island (P.I.) is led by a collective of artists, curators, musicians, and educators whose goal is to bring the vitality, diversity, and intensity of the NYC punk scene into the light of day.
"We are a community of punks who love music, musicians, and the fans, friends, and family that participate throughout the year to keep our culture true to the lives we want to live," the organizers said.
Punk Island's year-round efforts culminate as an annual free, all-ages music festival. As a not-for-profit organization the group is funded by Make Music New York, the collective, and the community.
Follow Punk Island NYC on socials to keep up to date on all the benefit shows that they will be hosting leading up to July 23, 2022. Check out the Punk Island website here.