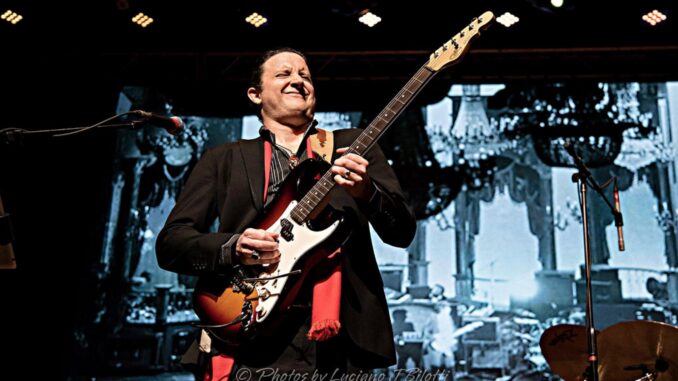 By JOHN DALY
Chris Forte adds to his prolific musical accomplishments with his latest record, Backyard Astronomy, a collection of cool jazz and funk tracks. Forte has blended his love of music and astronomy with spectacular results. There's enough energy and variety here to give all music lovers a true breath of fresh air. 
Much to his credit Forte was able to keep busy during the pandemic by focusing on further developing his two loves: Astronomy and music. The result is Backyard Astronomy and as much as there are a lot of upbeat tracks, Forte also doesn't seem to shy away from some deep feelings.
The record starts with "Searchin'," a celebration of guitar, then the groovy "In A Funk," "The Thrill Is Gone," and the samba-esque "Tranquillo," a favorite, along with the mellow "A Lifetime With You."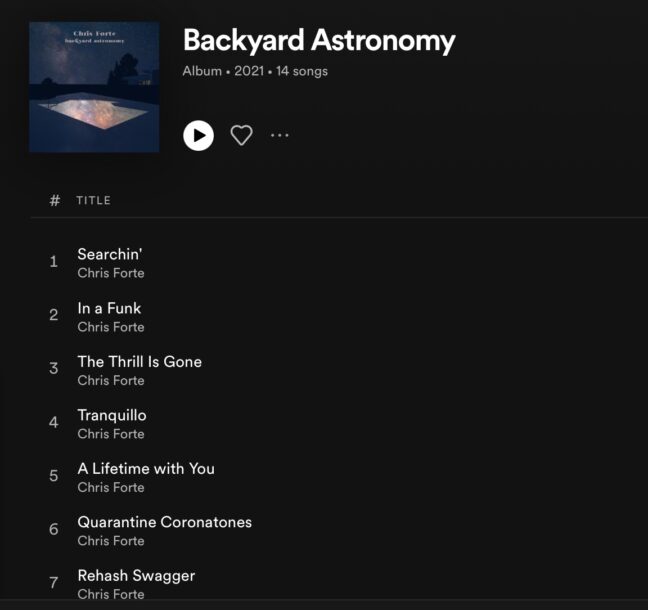 "Rehash Swagger" has a fun, upbeat tempo and is exactly what it claims to be. The organ-style keyboards lend a fun retro style.
"Rhapsody In Blue" gets a new, jazzy spin courtesy of some clever guitar work, reminiscent of the great masters of the 1960s. Forte's collection is punctuated by title track "Backyard Astronomy," an emotional piece that taps into the soul of this fine musician.
Forte is certainly a flexible person who has learned to go with the flow. He's been a working musician for most of his life. His gigs have ranged from a full-time job in the hit play "Tony & Tina's Wedding," to steady shows in the bars of Chicago, and in church. He started playing guitar at 16 and never looked back.
Credits: Chris Forte – Guitar, LaShera Moore – Vocals, Chris "Hambone" Cameron and Matt Becker – Keyboards, Chuck Webb, Brian Ebert, and Mike Zabrin – Bass, Rob Davis and Luiz Ewerling – Drums, and other various guests
Producer: Chris Forte
Official Website: www.chrisforteguitar.com
Facebook: www.facebook.com/chrisforteband
Instagram: @chrisforteguitar