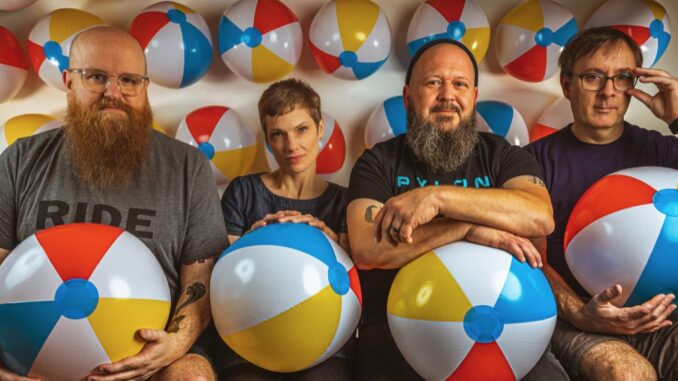 Indie outfit Pohgoh has signed with Spartan Records, which will release the band's upcoming J. Robbins-produced album du und ich this fall. The new album is the band's first release since 2018.
"After releasing things ourselves the last 20+ years through our own label New Granada, it was exciting to hear and feel Spartan's enthusiasm for Pohgoh and the album," said drummer Keith Ulrey. "As a label partner, their passion and drive matches, if not surpasses, our own and we couldn't be happier to be involved with this new label family and experience."
Formed in 1994, Pohgoh cut their teeth in the '90s DIY/indie underground with a small league of female-fronted bands of the era like Rainer Maria and Jejune, only to hang it up three years later, leaving behind a sole, posthumous full-length, In Memory of Bab. That album traveled far and wide, however, along with a spate of singles and comp appearances, creating pockets of rabid fans worldwide and engendering a small handful of one-off gigs for Susie Ulrey (vocals/guitar), Matt Slate (guitar), Keith Ulrey (drums) and new bassist Brian Roberts (of Hankshaw)before the foursome settled back in for the long haul in 2016.
The reunion led to working with legendary punk-scene musician and producer J. Robbins (Government Issue, Jawbox, Burning Airlines), and yielded 2018's 'Secret Club,' a stripped-raw affair that found Pohgoh's '90s college-rock influences intact, and updated by a new maturity and the unique perspectives of lives experienced. Fans new and old shared the tunes, while Pohgoh shared stages with personal favorites like Jawbreaker and Mineral.
Then came the global shutdown. The members of Pohgoh weathered the quarantine with their families — shades of those tough and often lonely times come through most clearly on new track "Weeds" — and reconvened as the world began to open back up, flush with new musical inspiration. They rejoined Robbins at his Magpie Cage Recording Studio in Baltimore with more songs than they'd ever written before going into a new recording project, along with some fresh ideas about how a Pohgoh album should sound.