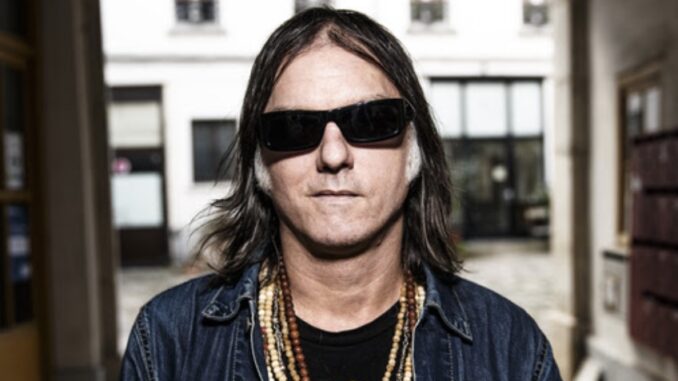 By DAN MACINTOSH
LOS ANGELES – The Brian Jonestown Massacre played some wonderful music at The Wiltern, but the band also tested its audience's patience a tad. Rather than building momentum from song to song, leader Anton Newcombe spent a lot of time between songs tuning and messing around with his guitars.
He was even spotted seemingly giving his drummer visual instructions on how to play a particular song. This may have reflected Newcombe's artistic perfectionism, but it wasn't too entertaining. When the large, seven-piece The Brian Jonestown Massacre was playing in full force, however, this army of mostly guitarists filled the large Art Deco auditorium with swirling, psychedelic sounds.
Some of these selections created a spacey atmosphere, while others out-and-out rocked. Newcombe had a music stand on stage with him, where he could be seen turning pages between songs. He's not what you might call a pretty-sounding vocalist, but his voice nevertheless gets the job done. The band was scheduled to start at 9:15 but didn't get going until nearly ten o'clock. Once again, The Brian Jonestown Massacre made its fans wait. Thankfully, the music performed was worth the wait.
In contrast, opener Mercury Rev thoughtfully paced its short, hourlong opening set. The act is lead by Jonathan Donahue, who was both entertaining and engaging. The act opened with "The Funny Bird," which found Donohue flapping his arms bird-like during some moments. The group included a damn good cover of Bob Dylan's "Love Sick," and also sang "There You Are," which Donahue recorded back when he was in The Flaming Lips. The group played to its melodic strengths with two of the last songs, "Holes" and "Opus 40." This act is just too good to be an opener and left the audience desperately wanting more.
Yes, this evening may have rubbed the more impatient attendees the wrong way in places, but both Mercury Rev and The Brian Jonestown Massacre rewarded this Friday night crowd with an evening of complicated, layered and ultimately enjoyable music.
Brian Jonestown Massacre tour continues:
27-Apr | San Antonio, TX – Paper Tiger w/ Mercury Rev
28-Apr | Austin, TX – Stubb's Waller Creek Amphitheater Mercury Rev
29-Apr | Dallas, TX – Granada Theater w/ Mercury Rev
30-Apr | Houston, TX – The Heights Theater w/ Mercury Rev
02-May | Lawrence, KS – The Bottleneck
03-May | Saint Louis, MO – Delmar Hall
05-May | Nashville, TN – Brooklyn Bowl
06-May | Birmingham, AL – Saturn
07-May | Atlanta, GA – Terminal West
09-May | Asheville, NC – The Orange Peel
10-May | Carrboro, NC – Cat's Cradle
11-May | Washington DC – Black Cat