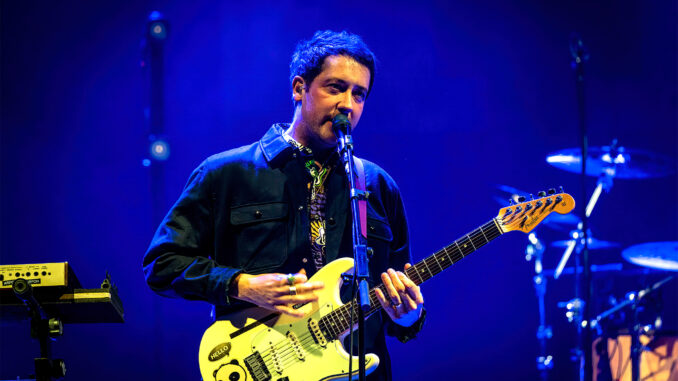 By AVA LIVERSIDGE
Photos by LUIS MORENO
Wombats, the beloved alternative rock trio hailing from the UK, closed their North American tour with a date at The Wiltern in Los Angeles in support of their fifth studio album, Don't Change the World, Change Yourself.
The record, which made group history a few weeks ago as their first number 1 in the UK, straddles buoyant radio-rock-cuts and a hyper-exacting, almost animatronic precision that provides the group much of their lauded intrigue. At the Wiltern, frontman Mathew Murphy wasn't fading from his long weeks on tour but seemed raring to exhibit what seems like the group's undying popularity. Wombats came to fame with the breakthrough record, A Guide To Love, Loss, & Desperation, in 2007; since then, reviews have just kept getting better.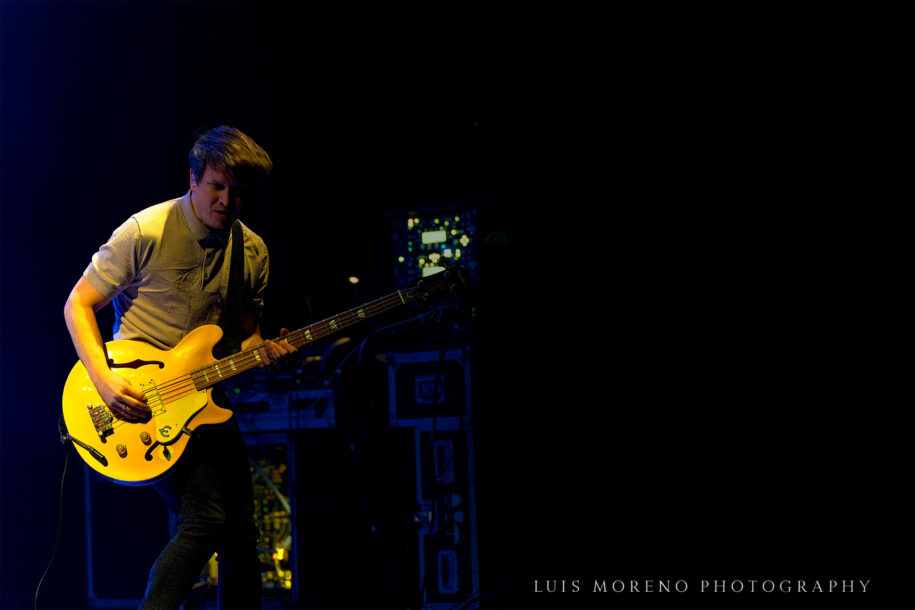 Wombats (a.k.a. frontman Mathew Murphy, bassist Tord Øverland Knudsen, and drummer Dan "the man" Haggis) put on a neat performance. The trio is assembled in a triangle with Murphy and Knudsen splitting center stage. The decision to not put their lead vocalist up-front speaks volumes about the musical endeavor the Wombats took on at the Wiltern. Early on in the tour, the group received criticism for their sloppy and cavalier instrumentals; they evidently got their act together because, by their LA date, the group's sonic coherence and meticulous musicianship were stand-out. Murphy's lyrics are well-beloved and unique in their narrativity, but from the show opener, "Flip Me Upside Down," the deftness with which each member played was most astounding. Wombats make a lot of noise, a lot of very precisely-crafted noise, for being a mere three.
Wombats opened with a rabid three-song run. Singles from the group's latest album, "Flip Me Upside Down" and "This Car Drives All by Itself," introduced the show and featured Murphy's agile guitar abilities; by the second track, Murphy had already climbed atop the giant Rubick's cube drum stand for a guitar solo. But when the group began to play a song off their first smash record, "Moving to New York," the nostalgia-starved audience began to truly tune in. The video game exactness with which the instrumentals were executed paired with tinny, almost plasticky guitar tones infected the audience's excitement with something sanguine.
Up next was "Cheetah Tongue" off their 2018 record, Beautiful People Will Ruin Your Life, followed by the beloved "Techno Fan" from the group's sophomore record, The Modern Glitch. Since Murphy has relocated to Los Angeles, tonight is technically a hometown show for the group, but he's not wistful; if anything, he's rejuvenated. Murphy is a one-man-melody machine, playing two synths and lead guitar whilst keeping up with vocals. His rhythm section is doggedly locked in.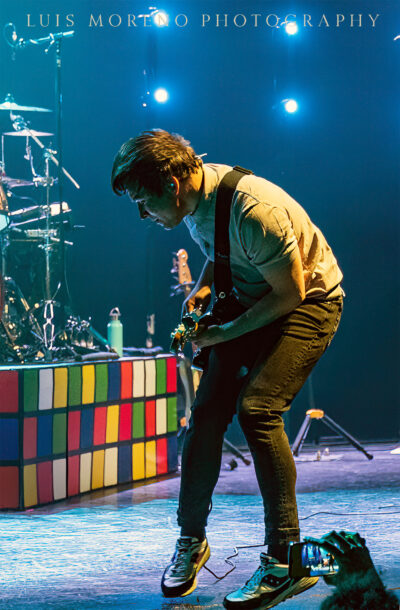 In between tracks, Murphy elucidates some of the methods to his highly-anecdotal songwriting, even relaying a story about taking methadone at an illegal rave in 2010 and leaving with the inspiration for "Techno Fan." Folklore meets cyber-pop continues on one of their latest singles, "Ready for the High," a song that introduces itself with a heavy rock riff driving over a wall of static, before settling into Murphy's falsetto. Again, we are reminded of Wombats' commitment to caprice when a man donning a full Wombat costume prances on stage to play the song's trombone interlude.
The track that best articulates who the Wombats are and how they've progressed is "Everything I Love Is Going to Die, from Don't Change the World, Change Yourself. The track itself is a techno-pop maze, rich with metallic flourishes and verbose percussion. It's introduced by Murphy midway through their set as a song with a depressing title, but that's intended to be liberating. This paradox is at the root of Wombats' triumphant quality– the notion that we can experience joy in existing and accepting the terms and conditions that come attached to that existence. They're plenty ironic, oftentimes sardonic, but the Wombats are never bitter, and this zeal is bubbling amidst their sea of eager fans as the track's title was sung over and over.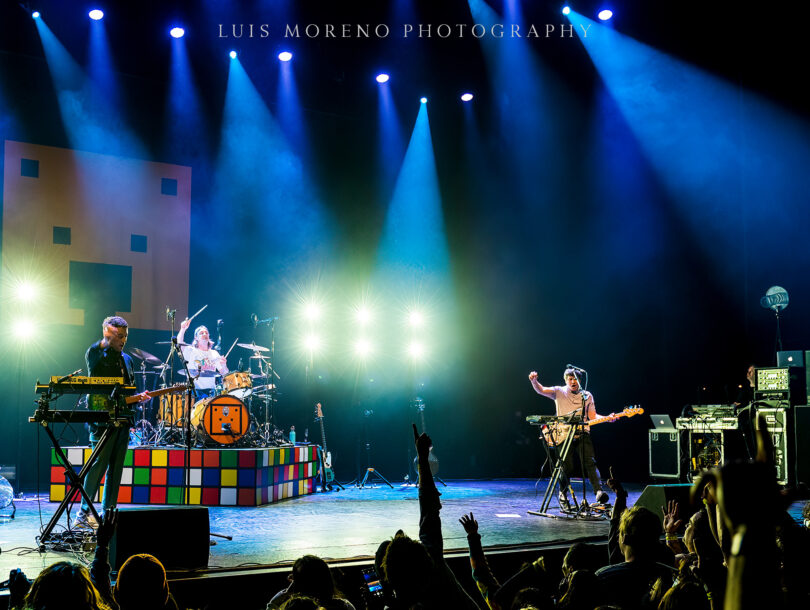 "Kill the Director" and "People Don't Change People, Time Does" fall back into the trio's 8-bit groove with still-more metallic tones emanating from Murphy's handy guitar work. The only use of acoustic guitar arrived on "Lemon To A Knife Fight," though the group still never really "strips-down," even with the acoustic in play. In writing such story-like songs, the audience shares each track with the band, fully immersed in each realized setting. This participation carries into "Worry," a bass-driven track wherein Murphy's acutely focused (though never robotic) presence allows for a particularly cathartic moment when the entire room sounds: "It's not paranoia / if it's really there."
When the trio plays an older cut, like "Fog" off their 2011 record, it seems as though they're not just doing it for the fans but that they're truly basking in the track like it was finally pieced together last week. In the next moment, when the oldie is followed up by one of their newest cuts, like "Wildfire," the group's freshness is palpable in their performance. The vocals are no longer studied, the fog that nostalgia sometimes brings is lifted. What's left is the track's groovy (and unabashedly catchy) riff interspersed with a rare bass solo, intensifying the groove, and crunchy synth that ricochets off Haggis' backing vocals.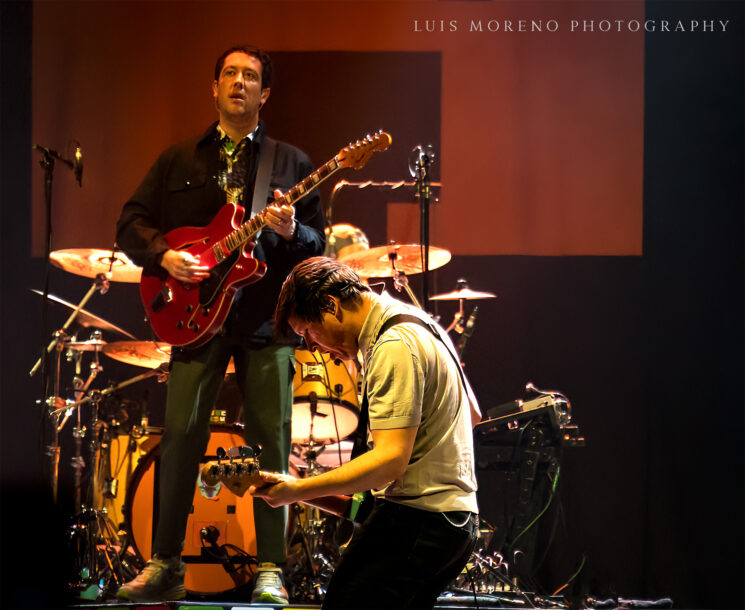 As the show comes to a close, Wombats are not shy in churning out their jauntiest tracks. A group mainstay and house party staple, "Tokyo (Vampires & Wolves)" surrenders itself to a techno bass drop. This was followed by their latest, most upbeat single, "If You Ever Leave, I'm Coming With You,"—a promise, we learned, relayed by Murphy's wife soon after they were married that he found both "endearing and creepy." The set officially closed with"Greek Tragedy," a 2015 track that recently experienced a rediscovering on Tik Tok and garnered the group a whole slew of new fans. The track's feature of fastidious drumming and beautiful use of the complete instrumental break, both a hallmark of D.I.Y. rock and Wombats' discography, made the fan-favorite an apt closer.
For a group that relies so heavily on multi-variate matrices of instrumentals and aural oddities, this three-person troop proved themselves by recreating much of their studio sound. That instrumental deftness and Murphy's painfully self-aware lyricism carry the outfit far beyond cut-and-dry alt-rock. Their set had not one obligatory stripped-down, acoustic track; it was almost as if Murphy's frenetic energy could not be stopped, as if this rumbling rhythm section had to freight-on.
An encore-chant was certainly warranted, and the group came back on for a three-song closer, one of which was their all-time perennial hit, "Let's Dance to Joy Division," which sent the crowd into an elated frenzy. The ever-popular chorus ("Let's dance to Joy Division /And celebrate the irony /Everything is going wrong /But we're so happy") bears a striking resemblance to the themes across "Everything I Love Is Going to Die." It seems the group is not reminiscing on halcyon days, but are looking forward, carrying on in the playfully sardonic but overly joyful niche they've craved for themselves. Murphy even announced the show was the favorite he's ever played in Los Angeles.