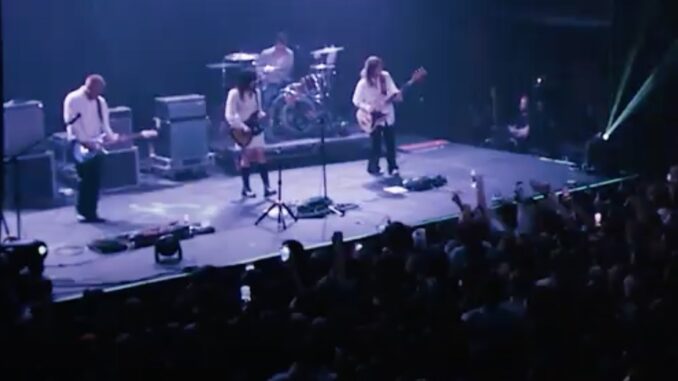 By DAN MACINTOSH
Beabadoobee has received a lot of airplay on SoCal NPR stations of late, so one might have expected a bunch of ragged looking hipsters to attend her Monday night concert in Hollywood. But you'd be so wrong.
Sure, there were a few scenesters out to catch an artist that's been called the possible next Billie Eilish by some. Beabadoobee is just a few years older than the teen sensation, Eilish, and she's also very pretty. But Beabadoobee, a Filipino-British singer-songwriter, attracted a throng of young, wildly enthusiastic mostly Asian girl fans, instead. There is no shortage of energy and love for this rising star.
Beabadoobee mostly plays electric guitar when she sings, and is backed by a lead guitarist, bassist, and drummer. She gets a demerit for incorporating prerecorded keyboard and harmony vocals during her performance. Her talented band could have easily done the job without the added instrumentation and vocals. Many of her songs rely on variably soft and loud dynamics, where the performer can sound both tough and sweet, as happens during the single "Care." Although she appeals mostly to teens, Beabadoobee is not hesitant to drop a few bad words into her lyrics.
Although she anchored her songs with rhythmic electric guitar chords, she did switch to an acoustic guitar to sing the introspective "Tired." Then during the enjoyably jangly "He Gets Me So High," she sang with just a handheld microphone. Beabadoobee is truly special to those in the know and is someone to keep an eye on. The Beabadoobee North American Tour wraps with dates in Toronto, Columbus, Ohio and Pittsburgh.
The hyperactive BLACKSTARKIDS opened the evening with a short, enthusiastic set of rap/pop songs. This rather large ensemble jumped around as much as the audience leaped for joy once Beabadoobee hit the stage. They were followed by Christian Leave, best known as a YouTube star, who performed some legitimately good Rock N Roll.
It's tempting to resist hype. Nobody wants to say they've seen the future of Rock N Roll, only to get it all wrong. Nevertheless, Beabadoobee showed great potential during this fun Monday night.