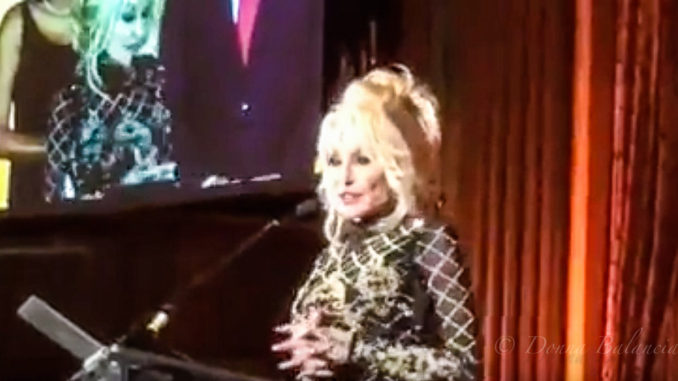 By DONNA BALANCIA
Country song superstar and philanthropist Dolly Parton was presented with the Bill Rosendahl Public Service Award by the Los Angeles Press Club Sunday night.
Parton gave a heartfelt acceptance speech before more than 500 reporters and editors representing broadcast, print and online media outlets. Every year the SoCal Journalism Awards Gala held at the Millennium Biltmore honors those who have devoted their lives to journalism and awards special philanthropists.
"This is one of the first times I have ever been involved with the press where they weren't after me talking about me having an affair or a facelift," Parton said. "The joke's on you. I'm having an affair with my plastic surgeon."
Parton was honored for her work in creating her Imagination Library, an initiative she created to help get books in the hands of children.
Parton said she was grateful to be honored with what she renamed the Bill "Rosen-Dolly" award. She recounted how the Imagination Library came to be.
In the video here, she is introduced by former William Morris agent Sam Haskell.
Watch the video:
Winners for the night included members of the Los Angeles Times, KCET, The Hollywood Reporter, Variety, TruthDig and Los Angeles Downtown News.
CaliforniaRocker.com won First Place for Best Entertainment photo for its image of singer-songer Valerie June.