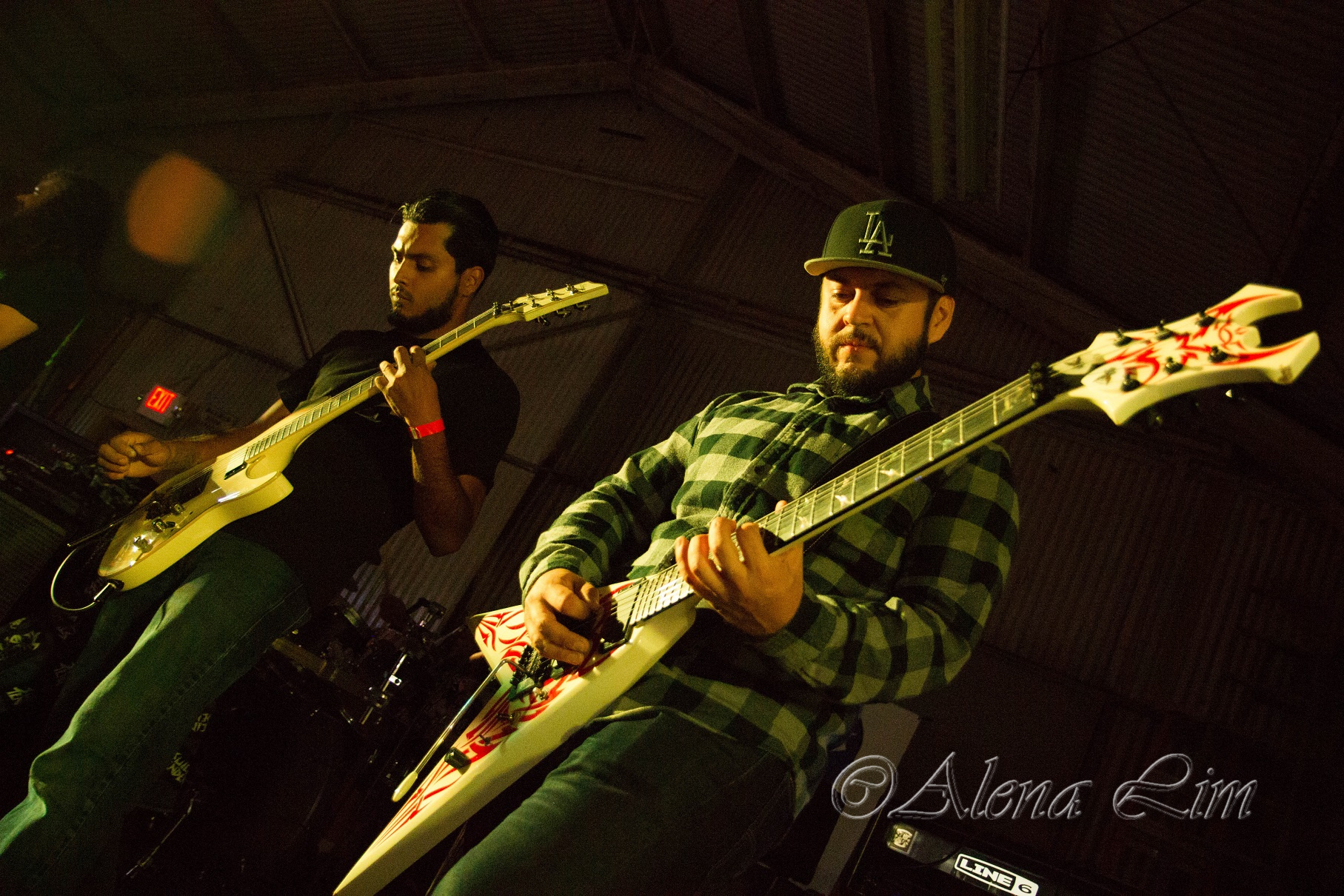 Extensive Review of Pico Rivera Punk
By ALENA LIM
Pico Rivera Hardcore Presented a punk show that ripped the rafters at San Antonio Rose in Vernon.  Suicycos, Fatal Riot, Sin Drogas, Kid Unoriginal, Sirenhex, Destructive Bastards and IxCxS took over the stage and celebrated birthdays, reunions and good times.

Suicycos
Suicycos is a Suicidal Tendencies cover band that started in January 2006. They had their own scene back then in which they called it — and still do call it — Pico Rivera Hard Core. Suicycos have retain their original members since then. They've been active for going on 12 years. They cover the best songs from the best albums preferably from the 80s. All these songs are written by Louichi Mayorga, the original bassist from Suicidal. Suicidal Tendencies started as a four-piece band. Eight years later they became a five-piece. By then, their music had changed to Crossover/Metal.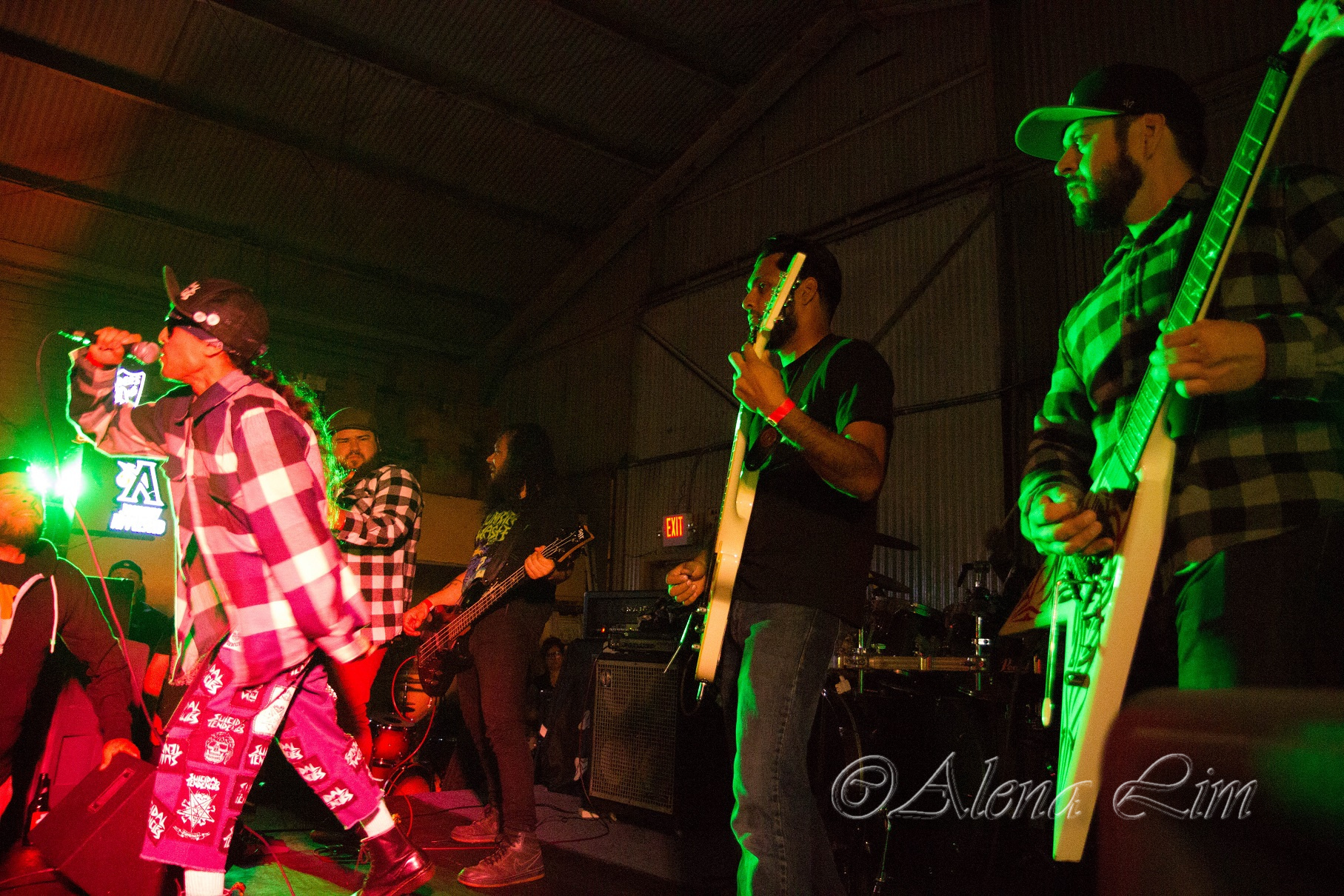 It is sad to say that this is also the last show guitarist Moses will be performing with Suicycos due to personal reasons he can not continue to perform in the future. He has been with the band since 2006. The band does not have any plans on getting a replacement guitarist, therefore will retain a 5 pc. band. When the band first started, it was Ryan, Javier, Ruben, and Omar.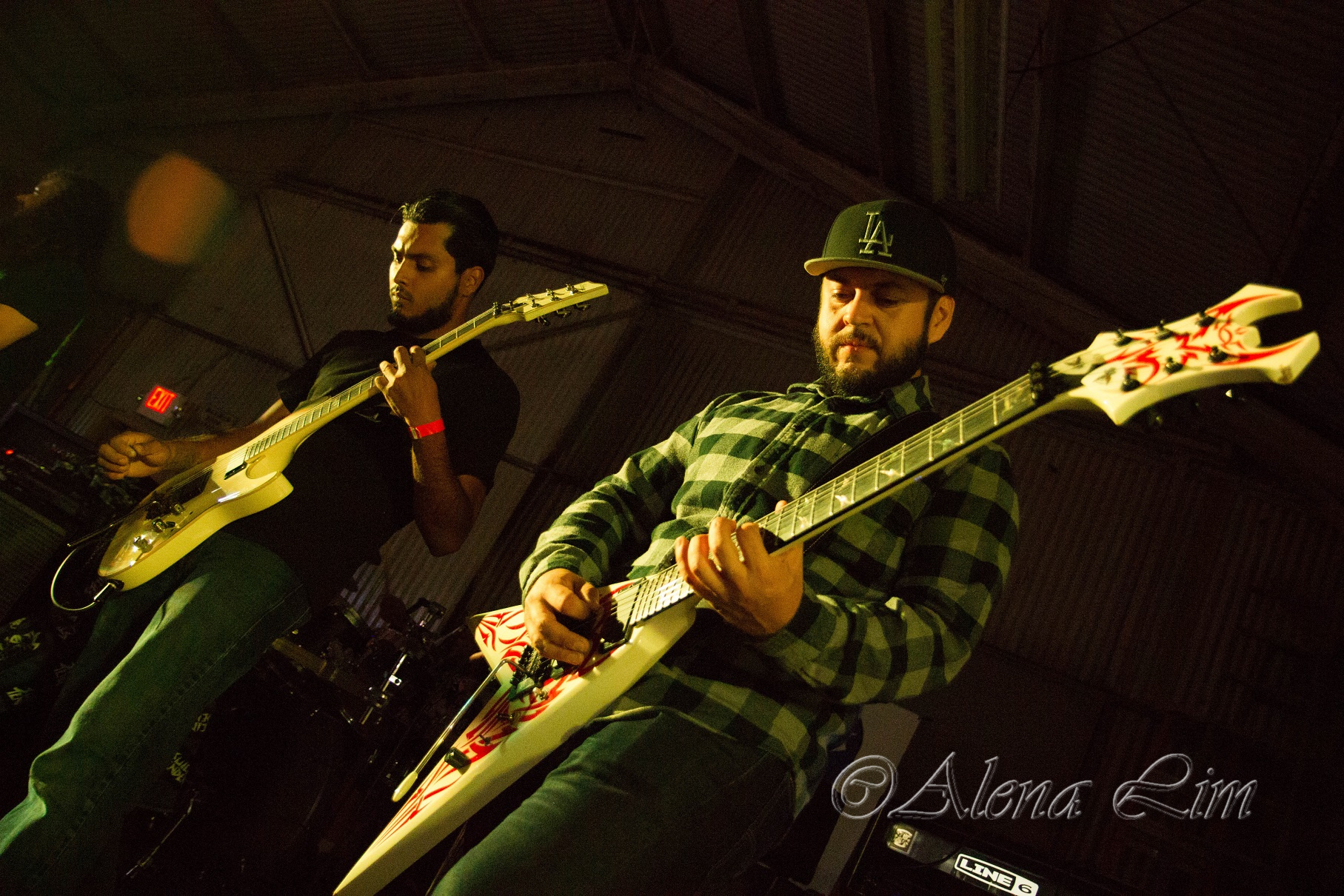 Ryan asked Albert to join, then later Javier ended up moving to San Diego, so they were playing shows with only 4 members. Months later, they decided to bring another guitarist to keep the sound fuller as it was originally so that member was Moses who came along. Ryan has spoken to Javier about returning since Moses is leaving, so on this show, it was their first time playing with all six members. They did it once back in 2009, second time eight years later, and now for the last time.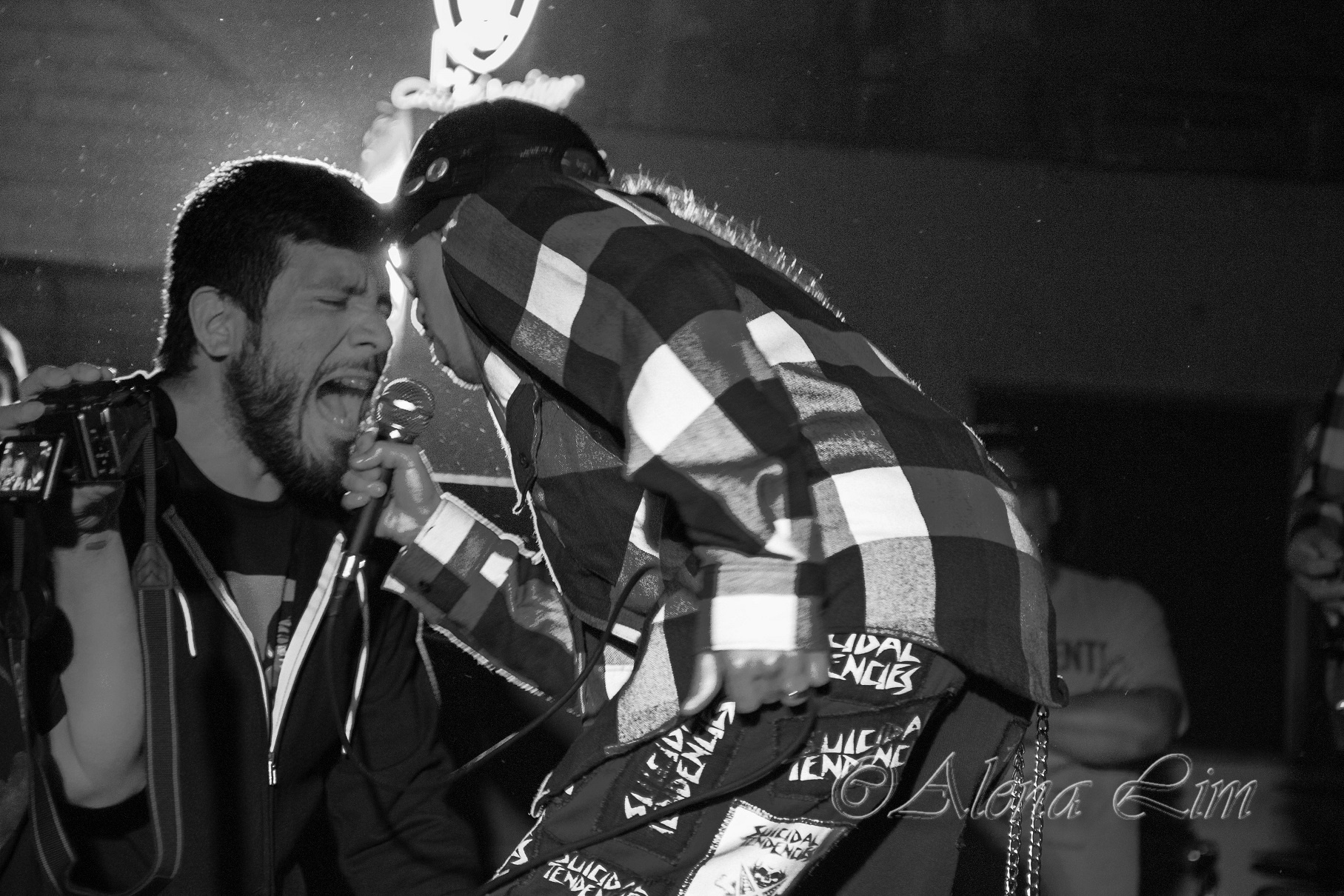 Suicycos opened up the show with the song, "Can't Bring Me Down." My favorite pieces that this band performed were "Suicidal Maniac," "I Want More," and "Subliminal." If you would like to check this band out, their next show will be at the Riff Haus in Fullerton, CA on May 20th at 7pm.
Band members: Band Members: Ryan Lopez – Vocals, Ruben Malpica – Bass, Omar Arellano – Drums, Javier De Dios – Guitar, Albert Medina – Guitar, Moses Alcala – Guitar
Set list: You Can't Bring Me Down; Suicidal Maniac; I Want More; Two-Sided Politics; Subliminal; Trip At The Brain; Possessed; War Inside My Head; Cyco Vision; I Shot The Devil; We Are Family; Possessed To Skate; Fascist Pig; Institutionalized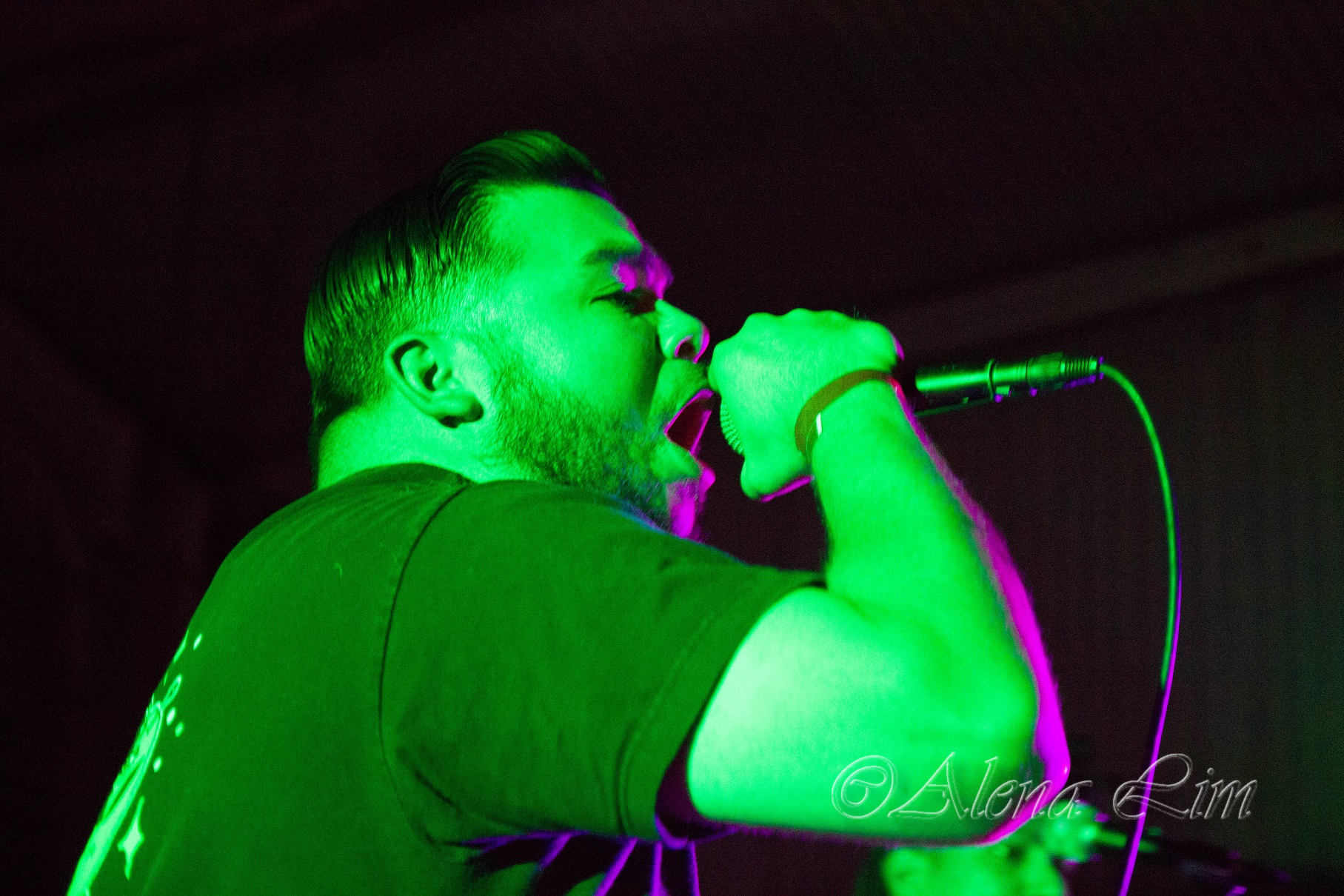 Fatal Riot
Fatal Riot was formed in the early year of 2000. They stopped playing around 2007 and have now begun playing again for about a year. They started off their performance opening with their song, "Live to Die." My personal favorites from their show are "Suicide," "Unholy Water," and "Drugs I Adore."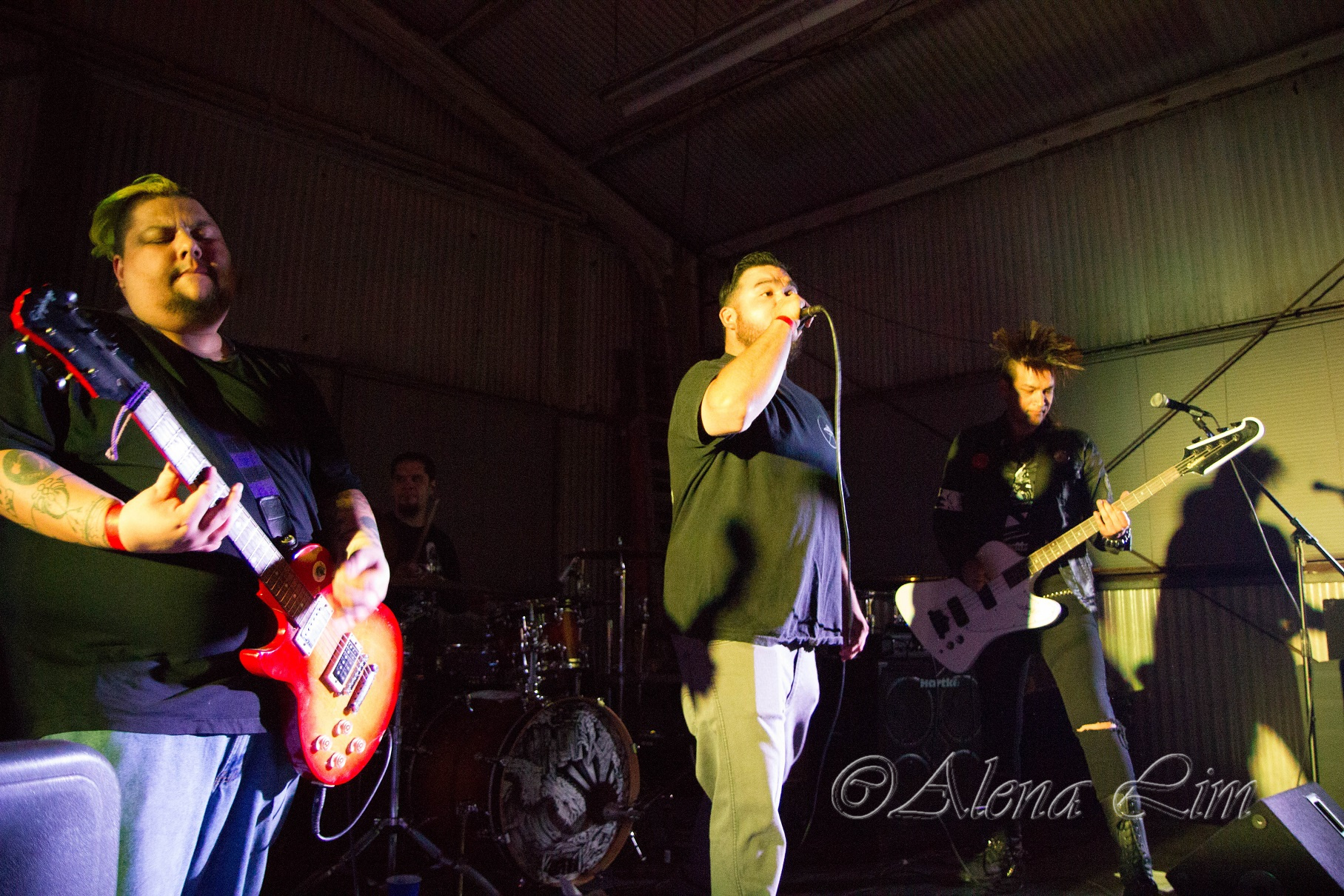 I totally loved the fashion statement Miguel [bass player] was pulling with his unique hairstyle, spiked wristband, and high-top boots with the brand name marked 'Vegeterian Shoes.' The H (guitarist) sports his look with his bright lime-green hair while he was shreddin' away on his guitar. The crowd got so rowdy that one of them almost knocked a giant speaker over that was next to me! Of course, I came out in one piece!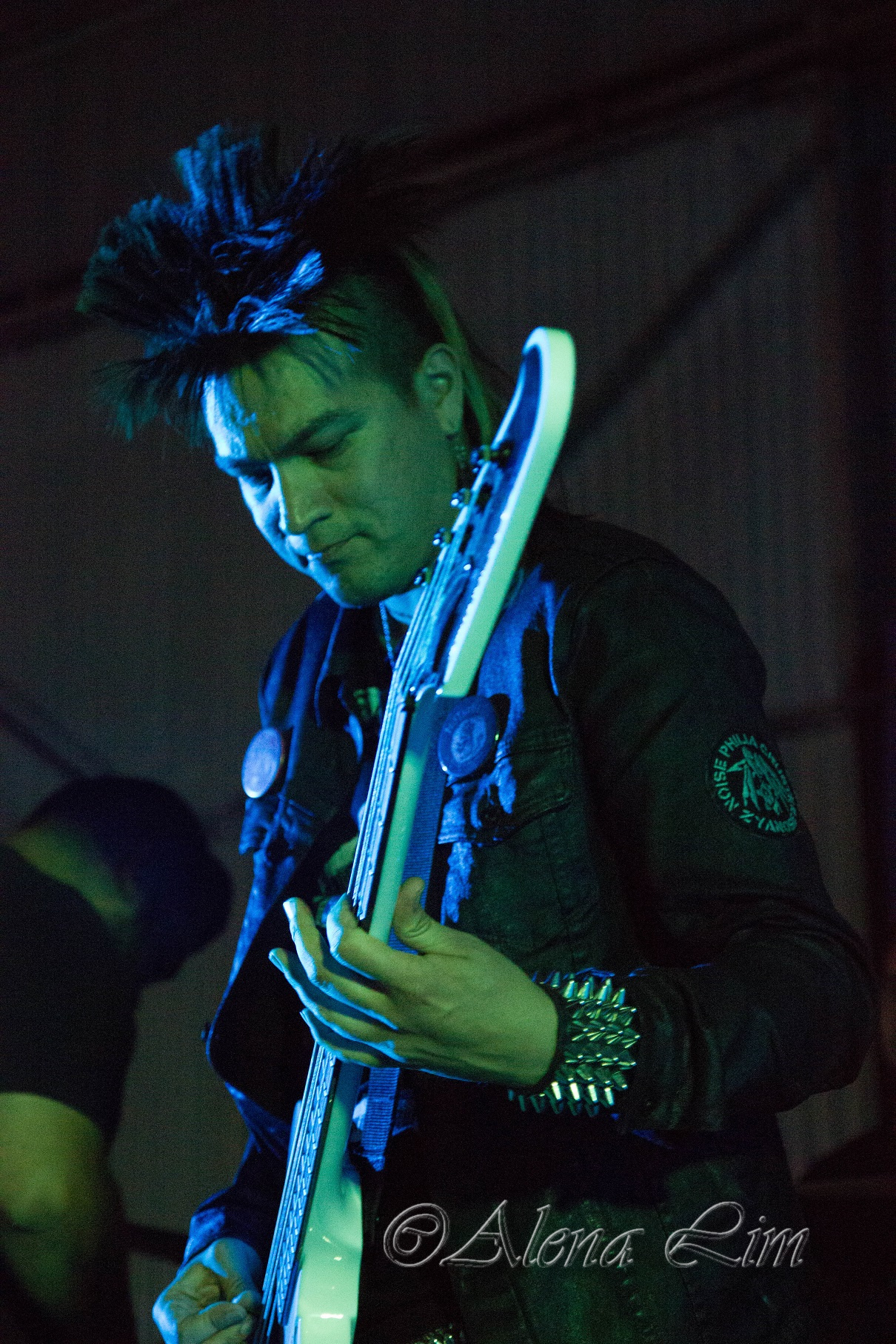 A fan by the name of Santiago said, "To me, this band is heading towards the right direction, playing with well known old-school punk bands. They were putting out CDs and a DVD which I bought. Wish I could have watched this band performed more…."
Fatal Riot doesn't have any new albums out, but their album from 2005 and an EP from last year is available on their YouTube page and SoundCloud.
Band members: Rudy – Drums, Miguel – Bass, The H – Guitar, Robert – Vocals
Set list: Live to Die; Open; Brainwash; Texas; The End Is Near; Suicide; Death Consumes You; Unholy Water; Drugs I Adore; Kuklinski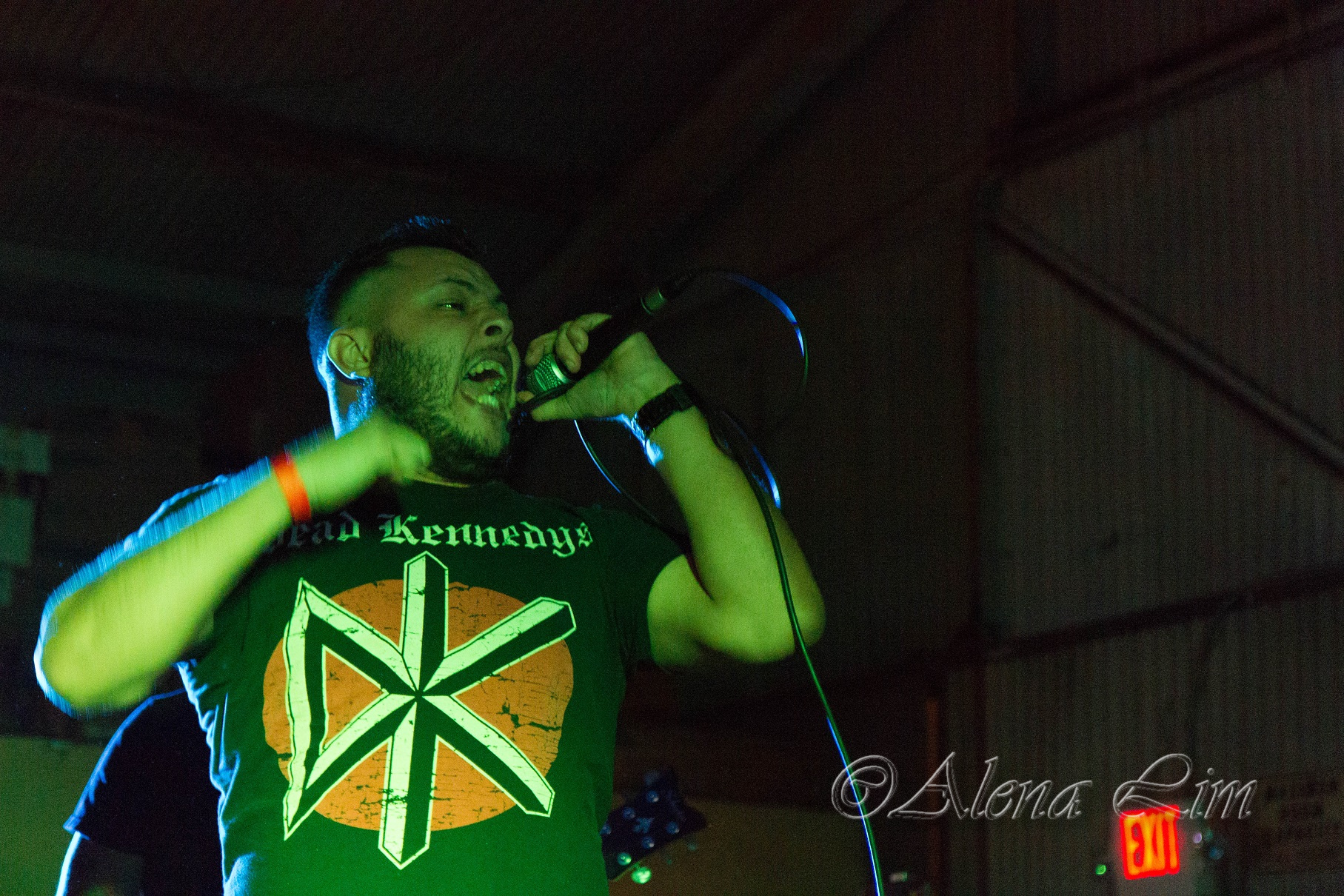 Sin Drogas
Sin Drogas (spanish for drug free or without drugs) formed in 2004. They stopped playing in 2008 because Alex (guitarist) joined the Navy which was the reason why the band broke up. Alex has known 2 of the other members Brian (Vocals) and Adrian (Bass) since 7 grade (1995). Alex met Robert in 2001. Every time Alex came to visit the other members, he would bug them to play together again. Convincing Robert to play again was the hardest part because of his moral beliefs between the name of their band and friends who drank in general.
Sin Drogas opened up with the song, "Sin Drogas." One of the all-time favorites would be, "F*** It All."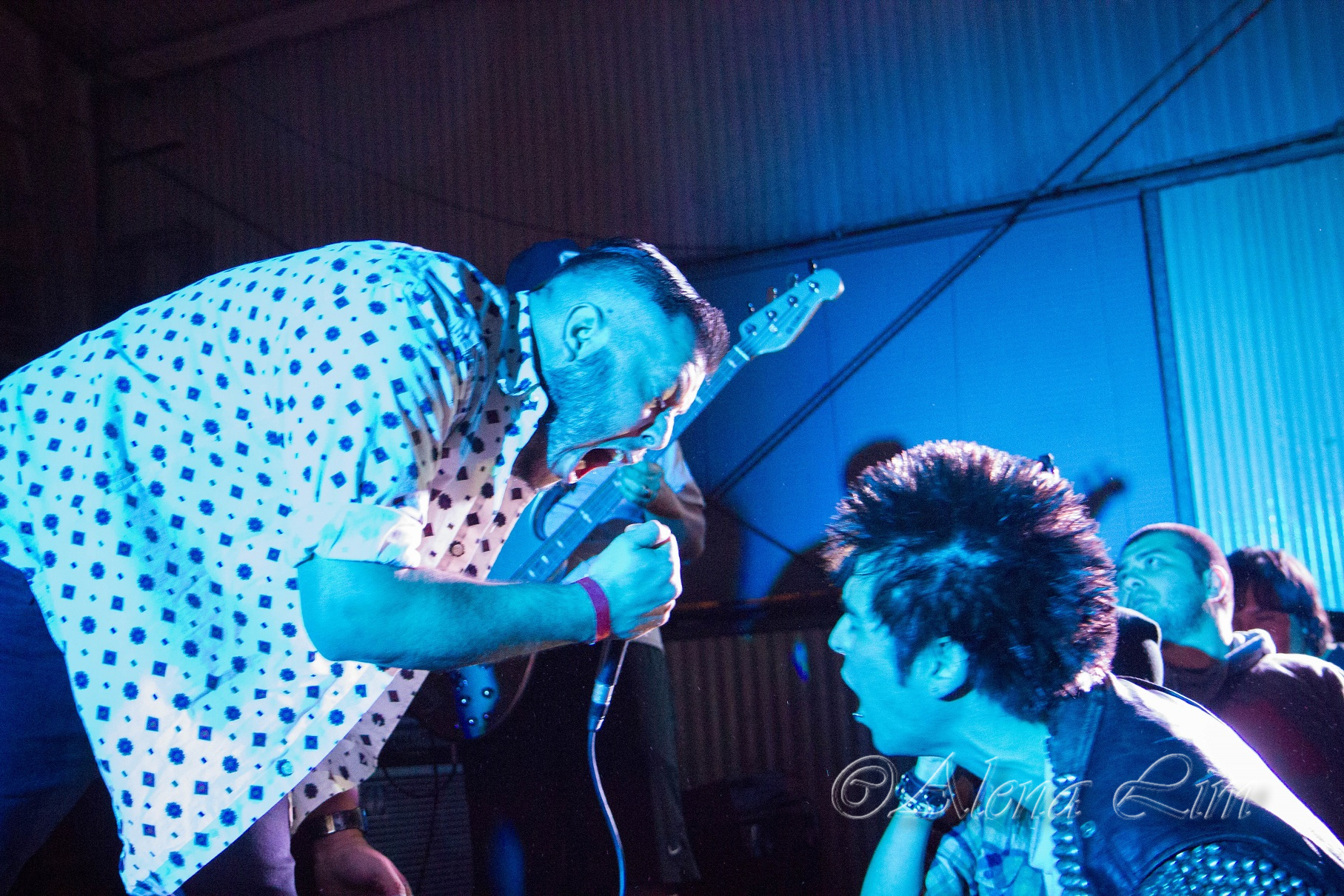 This band coming back together to play for their friend, Meg's birthday was an emotional event for the band themselves as well as their crowd of friends in audience. This is their 10-year reunion which is a very long time that they have stopped playing together. Everyone was pretty excited to watch this band play one last time. Photographers appeared to shoot once the band appeared, and audience packed the San Antonio Rose bar.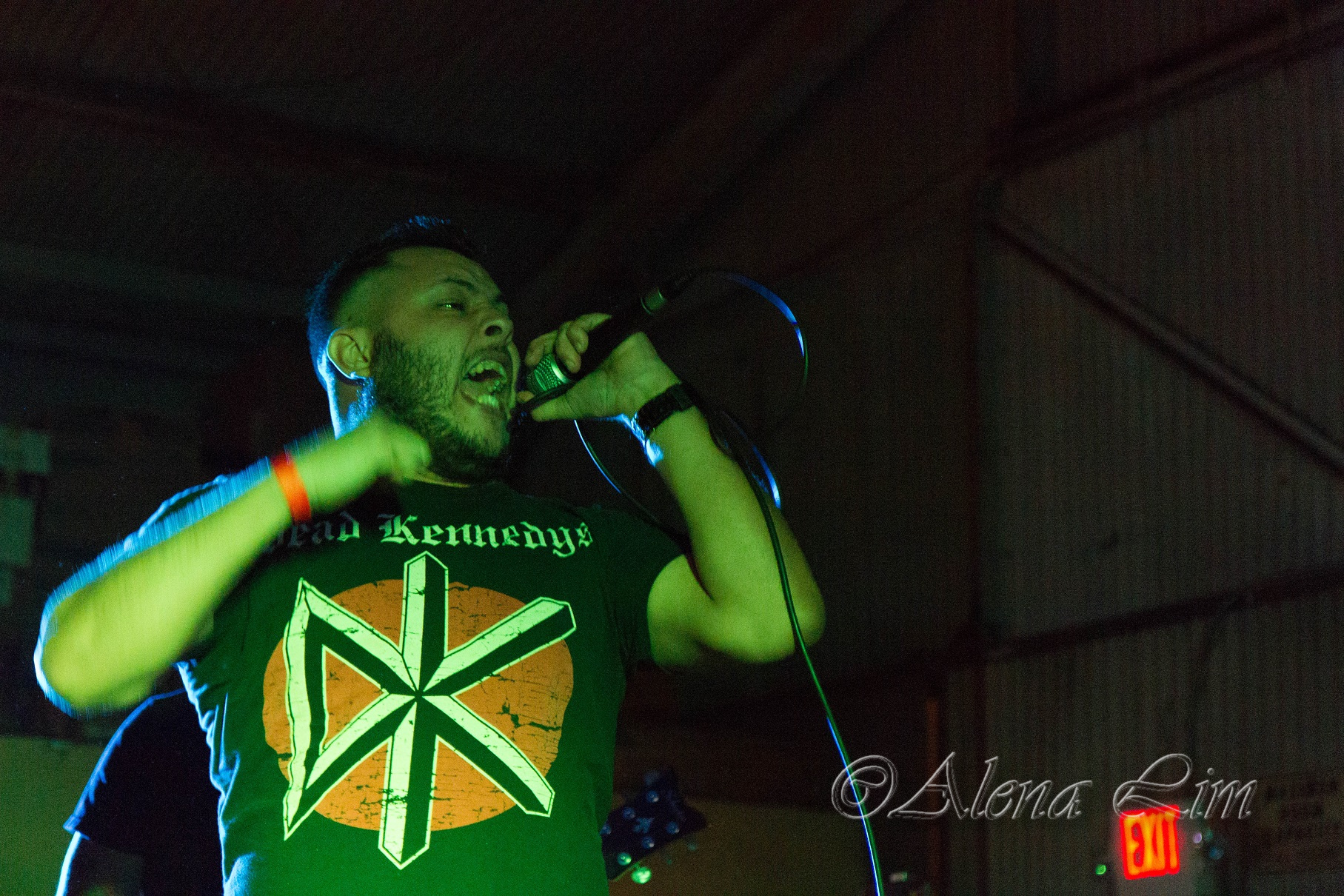 The mosh pit got crazy. Sin Drogas' reunion shows the meaning of true friendship with not just among friends, but that these friends are like family. Considering how long this group of friends have known each other shows the meaning of celebrating a fun-filled reunion night with others who care for each other.
Band members: Brian – Vocals, Alex on -Guitar, Adrian – Bass, Robert – Drums
Inner City Strife
Inner City Strife is another band that's reuniting after 10 years to return to play one last time for their good friends for Meg's birthday. Patrick (vocals) reminds us during his performance that it was like a family reunion. Even though we have aged, gained weight, have wrinkles or have kids, the passion of music lives in the heart. The passion of music doesn't stop people from head banging, mosh pittin' or to stop living your life the way you want.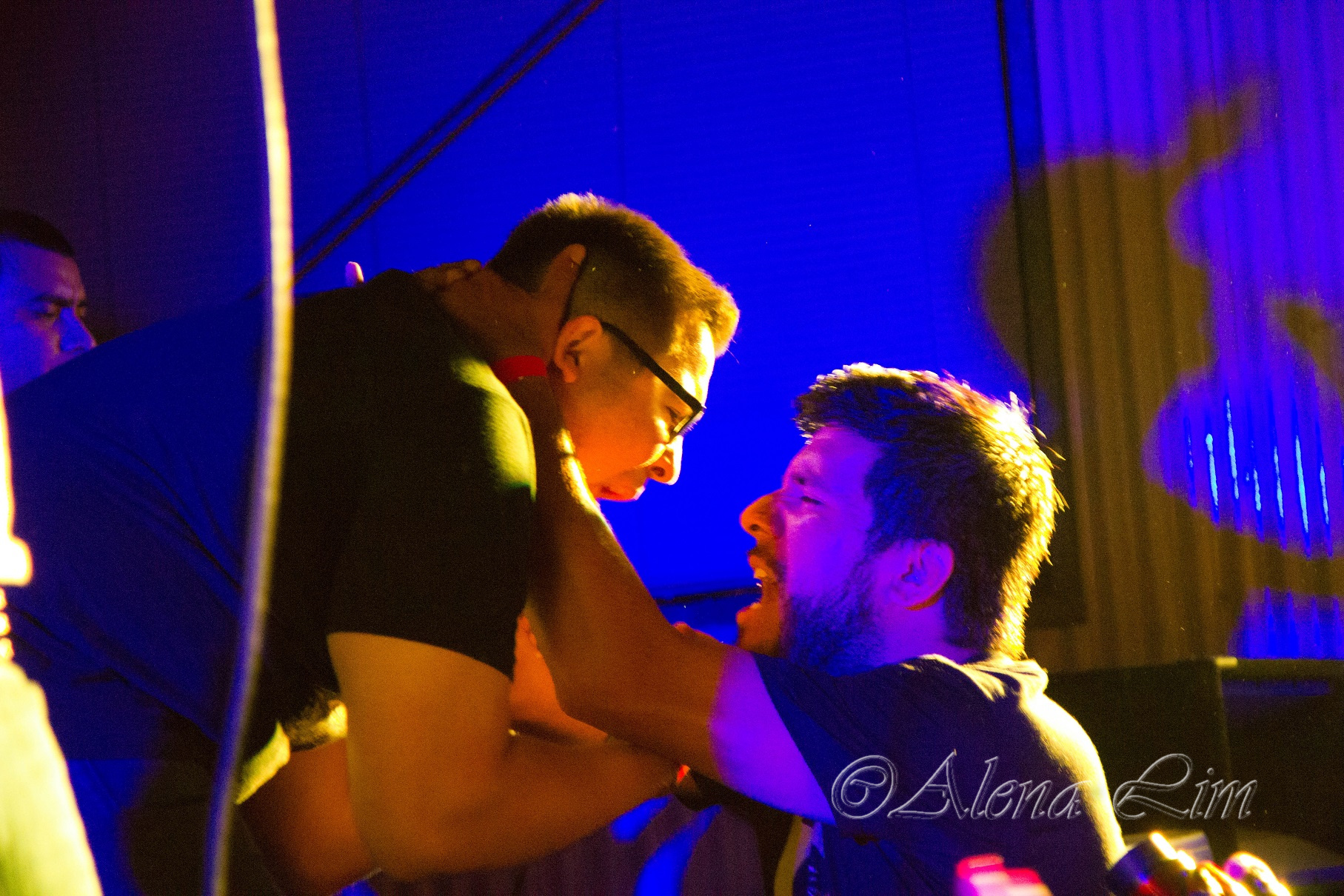 What I enjoyed most about the Inner City Strife show was the interaction between the two vocalists and their audience. You will catch Steven handing the mic to one of the guys in the audience, singing along to their performance while Patrick is handing the mic to the bass player, Steven to sing into.
I was thinking that since the stage was pretty congested, I'm pretty sure they didn't want to over-pack the stage with too many microphone stands, so let's just share the mic with each other shall we? Sometimes Patrick will take a step back in the dark beside Dean (drummer) for some space to breathe while he is singing.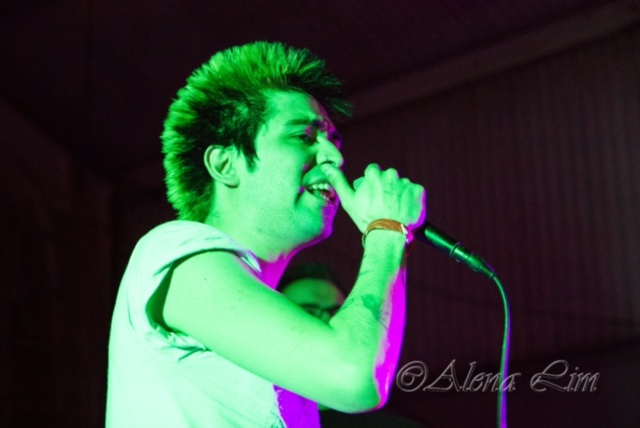 One of the good time favorite songs that Inner City Strife performed was, "Inner City Strife" and "Blurred Vision." Sin Drogas, Inner City Strife, Suicycos, and TCSB who couldn't make it that evening for the show are all long-term friends from El Rancho High School in Pico Rivera, CA which makes up the important part of this show!
Band members: Steven 'MopTop' – vocals, Patrick – vocals, John – guitarist, Steven 'Deebin' – Bass, and Dean – Drums.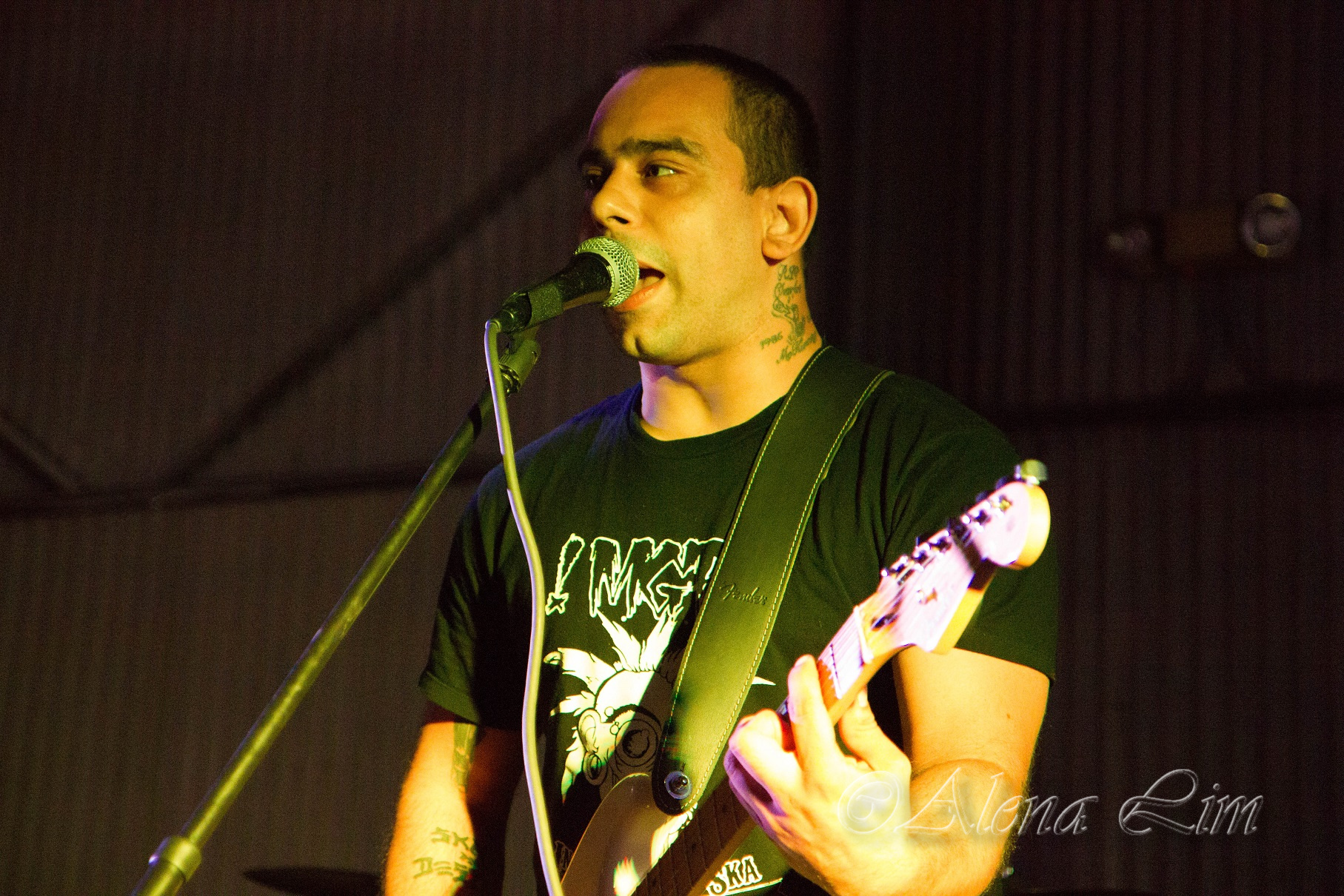 Kid Unoriginal
Kid Unoriginal is a punk rock band formed approximately 6 months ago and are influenced by a huge variety of punk sub genres such as oi, melodic punk, pop punk, skate punk, and a combination of technical/simple ideas.
Kid Unoriginal began their performance with their song, "Life Wave," which is about learning how to cope with depression by making a conscious effort to not live in the past and to see a positive opportunity you can create for yourself in the future. Their 2nd song they performed called, "Party of 8" is a story where drugs that were taken are personified into 8 different characters. It's basically about the journey and the come down.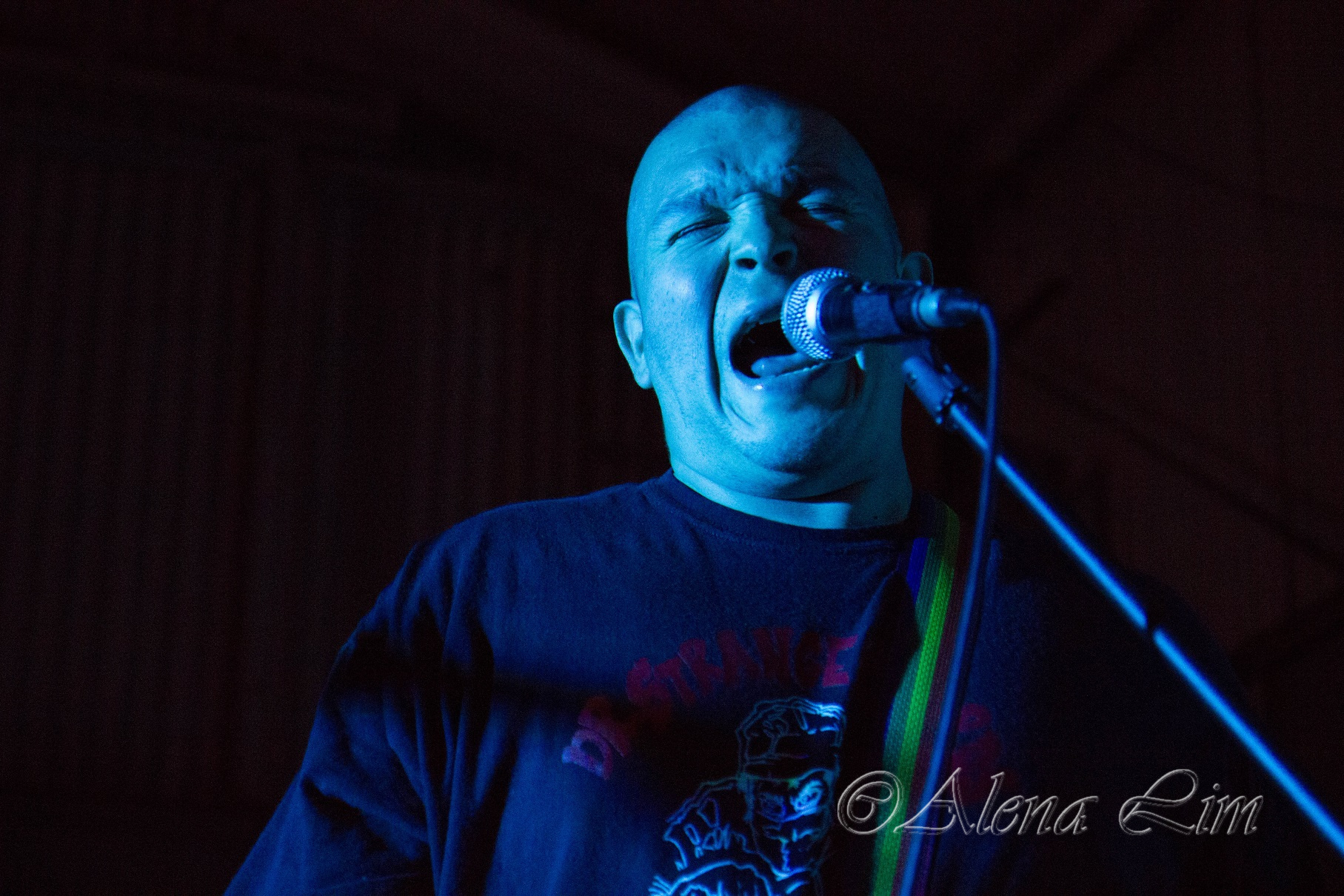 My personal favorite songs from the band such as, "Seasons" is about how times change, but people are enslaved by their behavioral patterns and repeat the same actions over and over. The hook is "seasons how they change, but the sound of your chains remains the same" Another favorite song I enjoyed is their last piece called, "Heroes" which is about finding out your heroes aren't who you thought they were as you start to get older, but rather finding guidance through music instead. Although their show had some technical difficulties with a bad power strip where the speakers & microfones were consistently going out, they kept the show going as if nothing has happened.
Kid Unoriginal is currently working on releasing some demo material and recording an ep in the near future, but no dates have been set yet. For any updates on their upcoming shows, you can go to their facebook @kidunoriginal and instagram @kid_unoriginal.
Band members: Jerm – lead vox, rhythm guitar, David – bass, TC – lead guitar, and Roy – drums 
Set list: Life Wave; Party of 8; Separation of Church and Skate By Nofx;  Seasons; Caution By Operation Ivy; Wasteland; Heroes.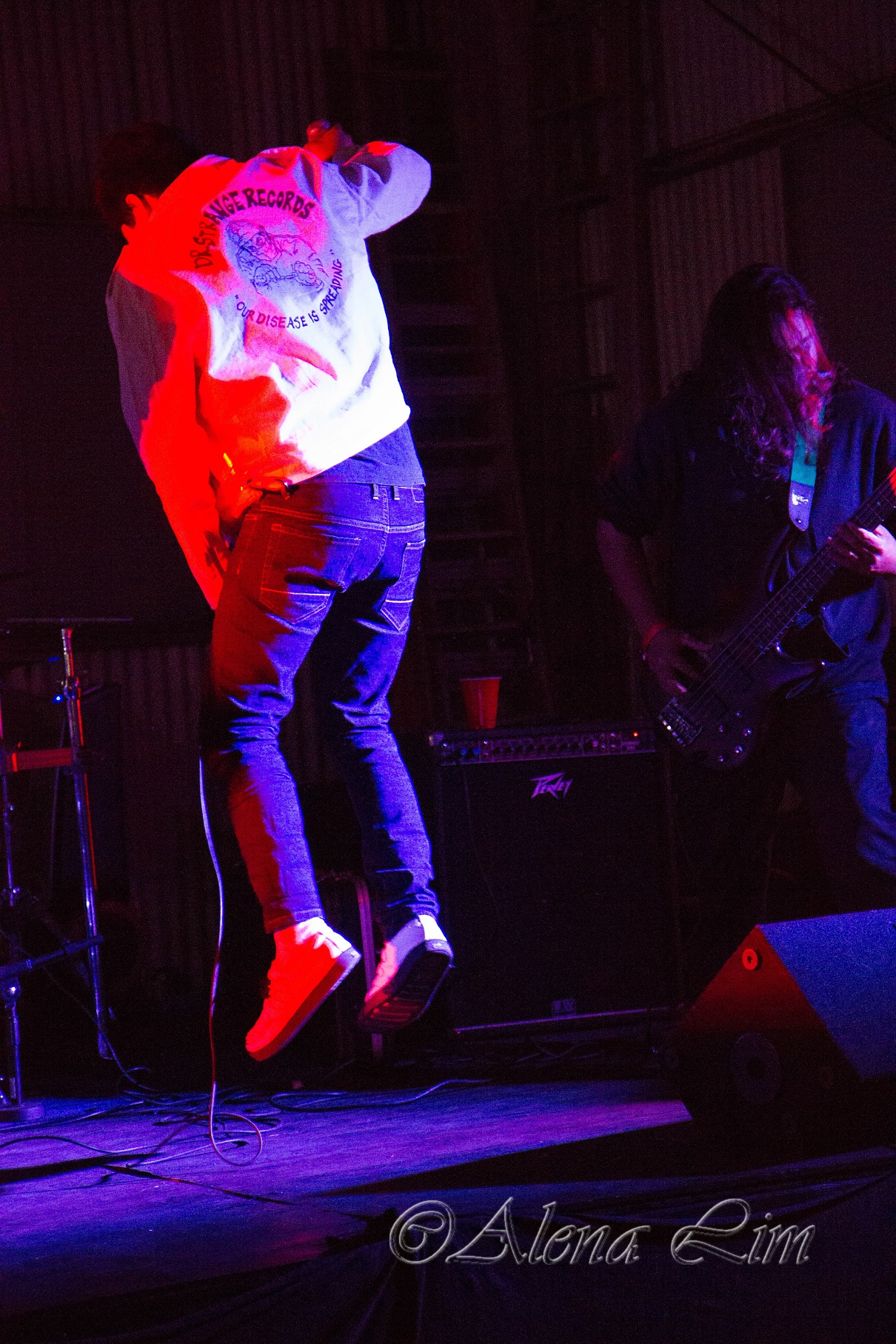 Destructive Bastards
Destructive Bastards was formed in December 2007. They fluctuated from a 4 piece band to a 6 piece. They have also played throughout the US and had the privilege of playing some amazing shows with over 500 fans.
Destructive Bastards hopes to destroy any perceptions you may have of punk music and show what it's really all about. That perception would be that punk doesn't have to consist of simplified 3 chord melodies ranting about government or society though it very well could and there's nothing wrong with that. This band is bringing you a different breed by integrating classical, blues, flamenco, metal, hardcore, and folkloric melodies in to the loud fast and aggressive back drop of hardcore punk. Destructive Bastards is here to give you an auditory orgasm.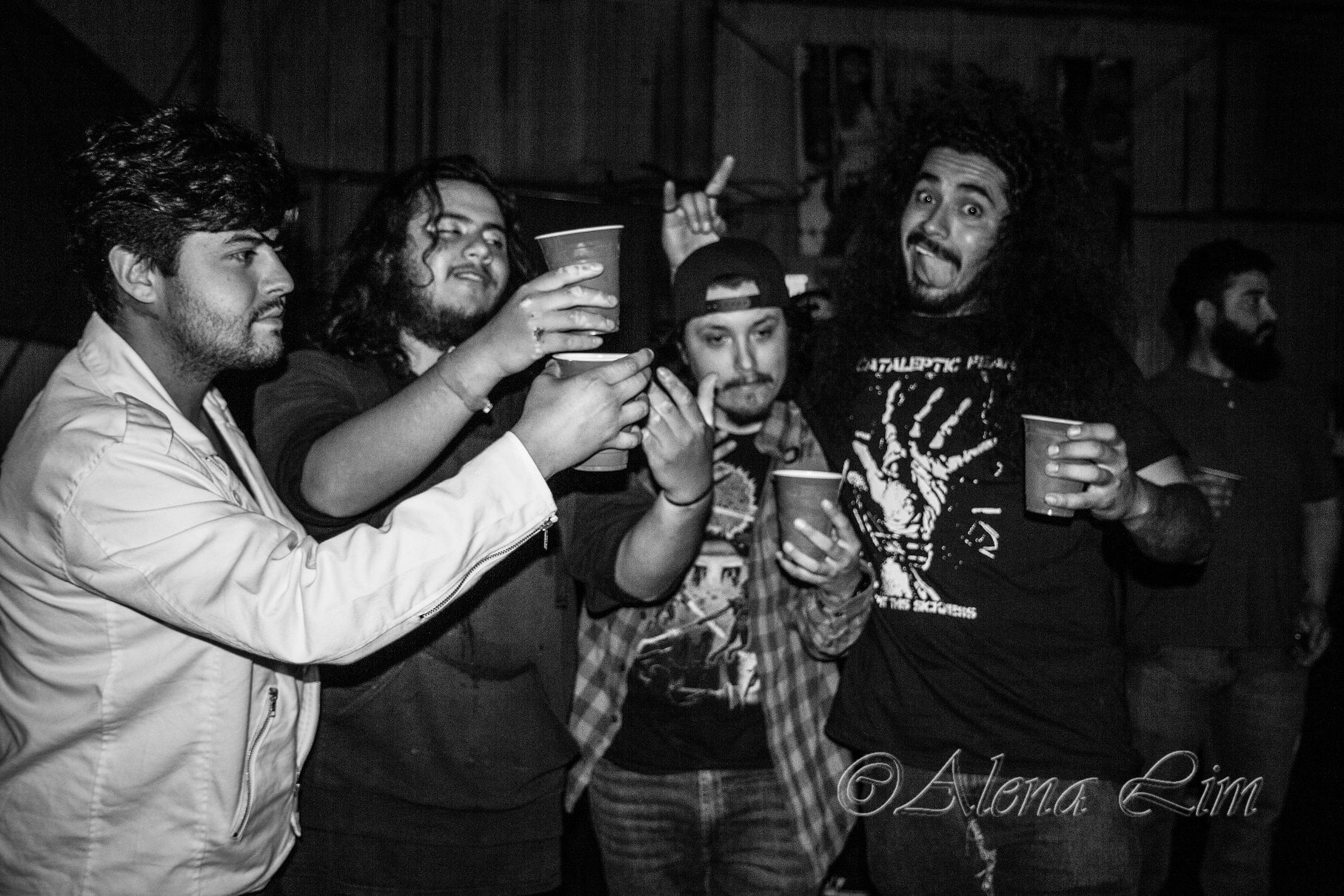 Destructive Bastards ripped the crowd beginning with their song, "Yes." While lead singer, Anthony performs a series of jumping on stage and constant interaction towards his drummer. The next leading vocals, Siena switches off with Anthony on their roles in their songs creating a unpredictable, but interesting scene in their performance. I enjoyed their pieces such as, "Die For a Name," "Going Insane," and "Memories." They finished off their show with their piece, "Punk At Heart."
If you are interested in listening to Destructive Bastard's pieces, you can look up their songs on YouTube. They currently have an EP. Their next performance will be a house party for another birthday event in Pomona on May 20th, Saturday (message them for flyer on their facebook @dbsgvofficial) and Jun 3, Saturday in South Central, LA.
Anthony – vocals; Siena – vocals; Jeremy – guitar; Roy – guitar; Angelica – bass; Steven – drums
Set list: Yes, Lies, Die for a Name, Going Insane, Greedy Bastards, Homeless, i Pledge Allegiance, Memories, and Punk At Heart.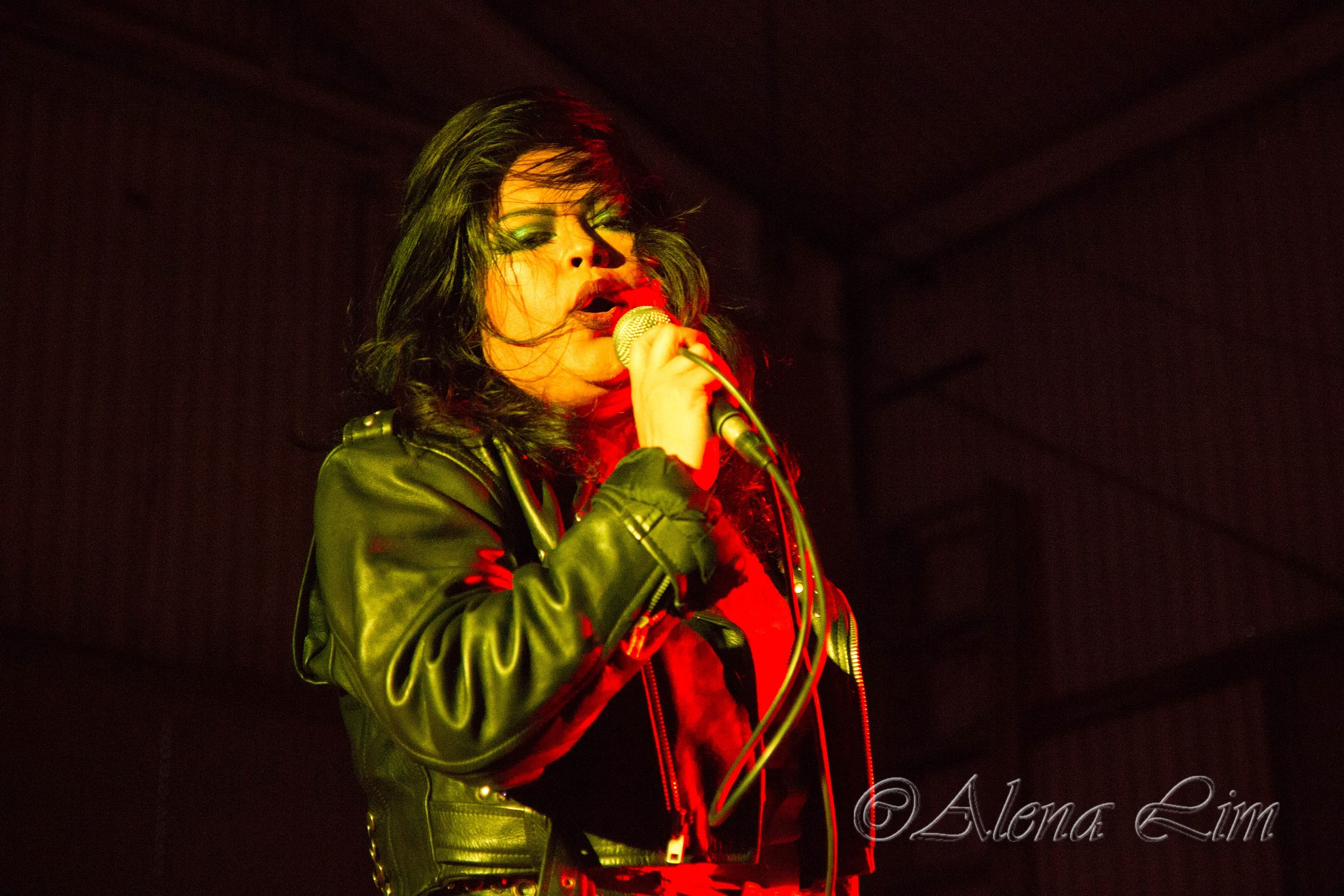 Siren Hex
Siren Hex opened the show with an all-female heavy metal vibe to start off the evening with their song, "Tres Leches." I enjoyed their performance on "Warriors of Our Time" and "Succubus," and finally they finished their show with their final song, "Out Of Control." They have their demo available on their facebook page @sirenhex of "Warriors of Our Time" if you would like to check out their piece. This band has been formed earlier this year on March.
Band members: Luna – vocals; Bee – bass; Mars – drums; Sheep – guitar.
Set List: Tres Leches, Neon Blade, Warriors of Our Time, Succubus, Evil in the Sky, Brujas de Metal, and Out of Control.