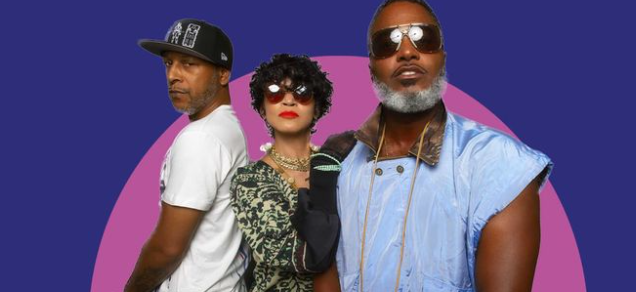 By DAN MACINTOSH
HOLLYWOOD  CA – Although it would be stretching the truth to call this weekend's Hollywood Bowl festival a strictly jazz event, there were jazz elements mixed into various presented genres that were/are clearly not jazz. Therefore, the best thing to do is judge this collection of performances based upon their overall quality, rather than any preconceived category. Doing so leads to the conclusion that – no matter what you want to term it – the Hollywood Bowl Jazz Festival was a creative success.
One of day's most crowd-pleasing highlights was Digable Planets' set. This trio was somewhat revolutionary back when these rappers mixed in live jazz elements to create something entirely new beginning in the late '80s. While technically a hip-hop act, its "Rebirth of Slick (Cool Like Dat)" hit sounded just as fresh from the Sunday Bowl stage, as it did when released in the early '90s. Other standouts in the set included "It's Good to Be Here" and "Nickel Bags."
Another memorable act was Boukman Eksperyans, from Haiti. With a style that mixed indigenous ethnic sounds with rock and reggae influences, this group's colorful outfits and irresistible grooves had attendees – most, probably never having heard of the combo before – getting down to these funky sounds.
Bassist Andrew Gouche's more conventional funky praise and worship music early in the day also added a nice touch, as it felt like we were having a little church on this warm, outdoor afternoon. The afternoon kicked off with Beyond the Bell All District Jazz Big Band, which included guest saxophonist Charlie Young. These young ones (high schoolers!) sounded great, especially when accompanied by a group of vocalists.
Other acts on the bill included the New Orleans jazz of The Soul Rebels, which brought on Big Freedia to rap a few pieces. Butcher Brown, from Virginia, featured talented players, wasting their skills on relatively predictable jazz fusion grooves, unfortunately.
West Coast Get Down closed the festival. This is large ensemble was led by Kamasi Washington, who was also the curator of the day's music. Even he admitted that their set was a little unorganized, even though these guys really shone whenever performing their original music. It was disappointing however, that soul great Leon Bridges was listed as a solo performer in the lineup ad, but only participated as a guest of West Coast Get Down. We would have much rather experienced a full set of Bridges music, rather than, say, Ledisi's good soul music outing.
Once again, this was not a day filled with anything close to straight jazz. It was a mostly R&B day, with jazz and jazz influences mixed into the mix. Nevertheless, it was a good day to celebrate the break in June gloom for some Summer weather and Summer-y music outdoors.