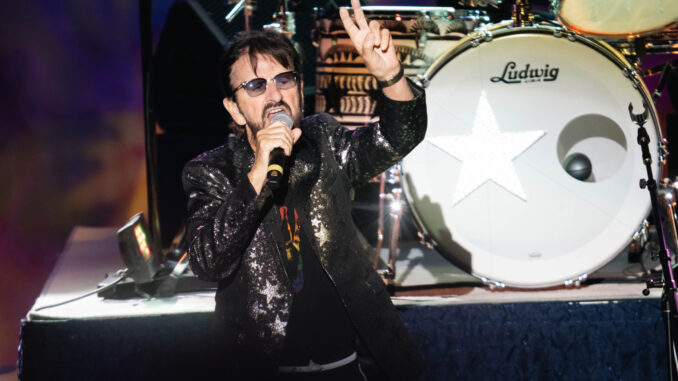 Ringo Starr
Greek Theatre
June 15, 2023
By DAN MACINTOSH
LOS ANGELES, CA – We're happy to report Ringo Starr is still looking well and sounding great at 82 years old, and he brought his All Starr Band out to play at the Greek Theatre.
Starr, the beloved Beatles drummer, dressed in black on a stage adorned with stars and peace symbols. He's been touring with his musician friends (in various configurations) for a long time now, where he alternates between drumming and singing up front at a microphone. The best news of all is he shows absolutely no signs of slowing down.
Yes, it's always a treat to hear Starr perform solo songs and songs he sang with the Beatles. But an added benefit is when his band members are allowed to perform popular songs from their respective bands. The best of these iconic sidemen was Edgar Winter of The Edgar Winter Band. He performed
one of the best rock instrumental songs of all time, "Frankenstein," on which he played synth, drums and saxophone. Winter also rocked the vocal on "Free Ride" and "Johnny B. Goode," dedicating the latter to his brother Johnny.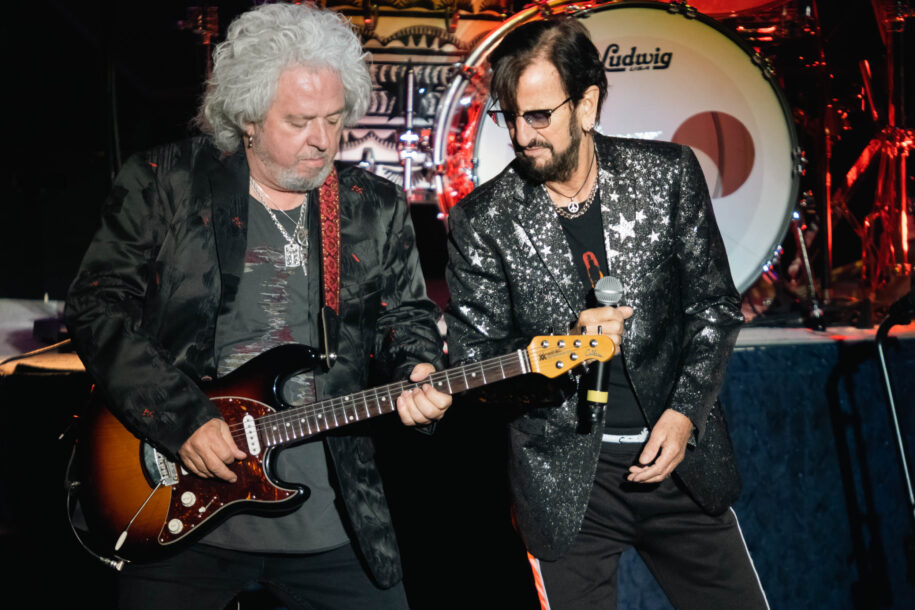 When Steve Lukather took the opportunity to perform Toto's "Rosanna," Winter and Lukather jammed together for an extended outro on the song. It made a good song even better with this extended instrumental portion. Lukather also played "Africa" and "Hold The Line," both hits for Toto. He also handled many of the guitar solos.
When he wasn't in the spotlight for these six string escapades, Colin Hay (of Men At Work) took over lead duties. Hay sang "Down Under," "Overkill" and "Who Can It Be Now?," in that distinctly high voice of his. Hamish Stuart also brought the funk with "Pick Up the Pieces" and "Cut The Cake," two songs from Average White Band.
The talented group clearly enjoyed singing each other's songs. However, Starr is always the star of his own show. He sang Beatles hits, such as "I Wanna Be Your Man" and "Yellow Submarine," as well as solo standouts, including "Photograph" and "It Don't Come Easy." As always, he closed with "With a Little Help From My Friends."
There were no real surprises in this evening's setlist. However, Starr fans don't attend Ringo shows to be surprised. Instead, they see this famous drummer for nostalgia's sake and to keep a little bit of Beatlemania alive and well. Alive it is, because Ringo keeps it going strong with truly enjoyable performances like this one. The only reasonable response to Starr singing "I Wanna Be Your Man" is, a hearty 'Yes, please!'
Check out video by Rockej1954 here: