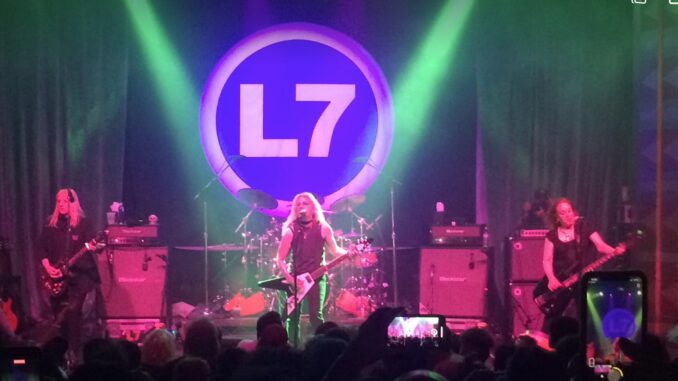 By AMES FLAMES
LOS ANGELES – L7 returned to LA for 2 sold out shows at the Regent. A triumphant return home after touring the US with their Bricks Are Heavy 30th aniversary celebration.
Many of the female artists I have worked with over the years can draw a line of inspiration to this elite all girl group who led the way for so many to follow. From the first note to the last it was pure grunge punk fury. The first half of the set was their Bricks Are Heavy album in it's entirerty. The second half of the set contained choice cuts from their 5 other albums. Their entire catalog was represented with the exception of their debut self titled offering, L7.
There wasn't a moment when the crowd wasn't engaged. All eyes and ears were on the stage through the whole show. It was a very well behaved crowd. Drummer Demetra Plakas seemlessly kept the beat using speed, power, and tasty runs to set the furious pace. Between songs she smiled and didn't look any worse for the wear. Jennifer Finch on bass rounded out the backbone of the songs with muscle, and at times was airborne and never stopped moving.
Donita Sparks crunchy, driving rhythms along with Suzi Gardners masterful screaming leads completed the musical landscape. Donita and Suzi also pulled off some beautifully orchestrated dual leads. Of course Donita was front and center doing a lions share of the lead vocals, but Suzi and Jennifer also did lead vocals on some of the songs that proved they could be just as commanding. Demetra did not sing lead vocals but did contribute back up vocals.
There is also lots of great harmony parts throughout. I just love it when a bands spotlights the talents of all of the members on stage. It's like having four sticks of dynamite that never stop exploding. The set ended with a cover of David Bowie's "Suffragette City," but they dished it up in pure L7 style.
They came back for an encore, but before they played, Donita tributed our own Donnie Popejoy, announcer to the stars in the LA scene, who died in January of 2021, but sadly it wasn't known until a couple of weeks ago. He announced almost every band I worked with in the LA scene. It was like a baptism to be announced by him. That is how I felt when he announced my project, The Torchbearers, at Bianca Butthole's memorial show. She was lead singer of Betty Blowtorch. I actually got emotional as Donita spoke about him and did the intro he would do when he announced L7.
Then the band ended the night with a blistering performance of Fast and Frightning. Something else I appreciated was the fact they had real amps on stage that give the guitars balls, something missing at many major acts you see today that have no amps on stage and go cordless through the P.A. system. Another plus is when two of their crew members joined the band on stage playing acoustic guitar and bongos during Non-Existant Patricia.
When you include your talented crew people it's a good example of using all the bullets in your gun. Plus, being part of the show they will work even harder. I know because as stage manager/tech on the final New York Dolls tour in 2011, I was included by singing backups on Pills, and Sylvain Sylvain (RIP) and I did 2 man guitar. A few times I got to sing lead on Sonic Reducer and Search and Destroy with Cheetah Chrome solo, and dual lead vocals on Down In Flames with his Dead Boys at 40 band a few times, as I assist him when he comes to LA.
There isn't one negative thing I can say about this L7 show, it was more than I expected, and I already had high expectations. Do yourself a favor and buy a ticket to see these girls if they come to your town. You won't be disappointed.