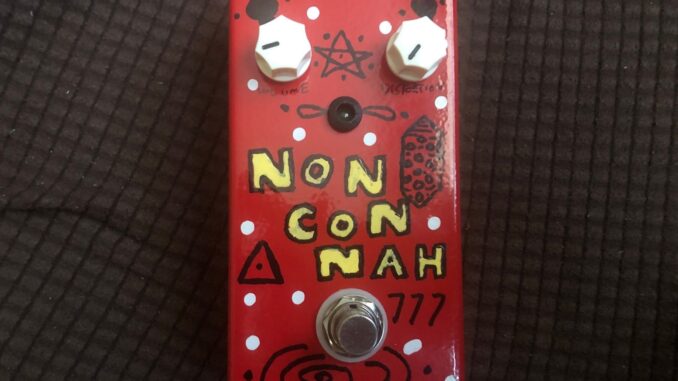 By AVA LIVERSIDGE
Don't Go Down to Lonesome Holler marks the seventh full-length release from Nonconnah, the fringe experimental duo operating in terrain far beyond the avant-garde grade.
Magpie (Zachary Corsa) and Denny Wilkerson Corsa constitute the group, but their true work is in collating and patchworking musique concrète from upwards of fifty collaborating musicians and a sprawling collection of you instruments likely to have not yet reached many a recording studio– highlights include Electric Isarn, Broken roadside upright piano found in Snow Camp, NC, Paint Can, and Toy Laser Guns.
That said, Magpie & Denny's hands-on approach to both self-recording and producing happened beyond the walls of a traditional studio; echoing much of their found-sound instrumentation, Don't Go Down to Lonesome Holler's assemblage occurred in and about an array of abandoned haunts across Tennessee (think: grain silos, graveyards, factories, state parks) between 2017 and 2021. While not the most accessible soundscapes for those in search of easy listening, Nonconnah's projects are truly meticulously-crafted labors of love.
Half field-exploration, half album, Nonconnah's latest realizes an epic amalgamation of spoken word and feverish sonic sludge. The eight-part expedition spans nearly three hours, and, despite the intense instrumental vicissitudes and breadth of collaboration, the record manages to hold its shape from hazy, silver-toned opener, "I-In Brighter Flames Array'd" to the nearly sinister, suspenseful closer, "VIII – Wearied And Cold You Furled Your Wings." Track eight begins with a radio infomercial about the effects of localized amnesia before launching into a corridor of oscillating echoes and warbling electric guitar, a resounding final note that pays homage to the truly immersive aspects of this three-hour Goliath.
Midway through, tracks like "IV – Cemeteries At Crossroads To Confuse Our Dead" and "V – Goodnight, Goodbye, We Perish" force the listener to hone in on the actual implements at play that elicits their vivid sonic structures. The record becomes much more about the process of creation than the end product itself– tapestries of feathery guitar tones and walls of static are evocative of the acts of accumulation and meticulous artisanship required for this manifold culmination. To listen is to engage directly with Nonconnah's curatorial and preservational feats.
Nonconnah delivers a stunning dronegaze saga on Don't Go Down to Lonesome Holler – songs for ghosts and about ghosts. In many ways, this off-kilter record is an ode to the songs and sounds that we hear every day without even realizing it. Magpie & Denny simply repackaged and redelivered the world we already have the privilege of existing in.
Stream the record here.