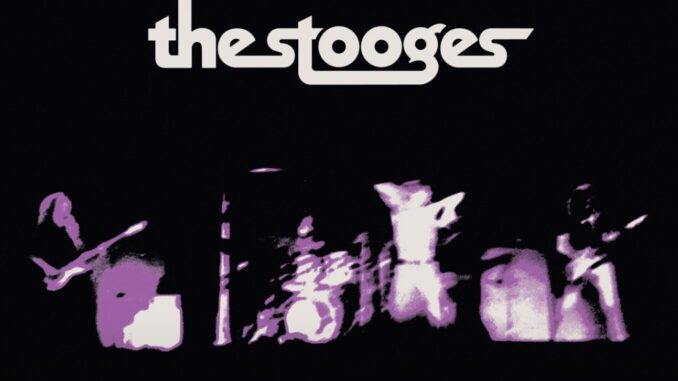 By DAN MACINTOSH
With Live at Goose Lake: August 8th 1970, Third Man Record has released the final performance by the original Stooges. It's perfectly appropriate to make this live performance of the Funhouse album available now, now that that album is celebrating its 50th anniversary. Isn't it hard to believe there is a Stooges album that's already half a century old? Even more surprising, however, is just how fresh and relevant this pre-punk music sounds today. Led by Iggy Pop, The Stooges were on fire that night.
The "original Stooges" description is historically accurate, as this gig marked the last time original bassist Dave Alexander would play with the band. Sadly, Alexander died in 1975. However, in addition to Pop, the brothers Ron Asheton (guitar) and Scott Asheton (drums) represented the main nucleus of the group. Even so, though, it's a true gift to hear this wonderfully noisy rock band in all its early glory.
An aural document doesn't give The Stooges full justice because Pop was (and still is) one of the most visually arresting front men in rock music. With that said, though, the screaming asides and fully engaged tone Pop strikes on opener "Loose," helps do the next best thing to putting you right there in the audience.
One thing you'll notice right away, is that this is a relatively unedited release. Taken from the soundboard, this recording includes the sound of the group tuning-up between songs, for instance, as well as a few short awkward silences. One of things this concert is missing, though, are Pop's funny between song dialogue. For instance, Pop plainly announces, "This next selection is entitled "Dirt," before going into that relatively quiet slow-burner. He sounds a little like a Southern man (which this Michigan guy certainly was not), when introducing the free jazzy (it features crazy saxophone, after all) "Funhouse." This isn't 70s hippie music jazz-accented music, though; it's what Ornette Coleman might have sounded like if he had been inclined to create rock & roll, instead of edgy jazz.
Hearing the funky psychedelic rock of "1970," back in its early stage, foreshadows the eclectic nature of Pop's post-Stooges career. The Stooges influenced much of the punk and hard rock that came after them, but its Pop's vocal personality (and vivid personality in general) that will always find him above the pack. He may have been a younger man at the time, and even engaged in juvenile behavior – both on and off the stage – but artistically speaking, Pop was a full-grown man artistically – right from the start. 
Yes, you can view this release as a historical document in the evolution of all that's great about rock music. Better still, though, this concert album stands up well on its own merits. It may just hold you over until we can all attend concerts in person again. Even then, though, you won't experience live music much better than this gem.