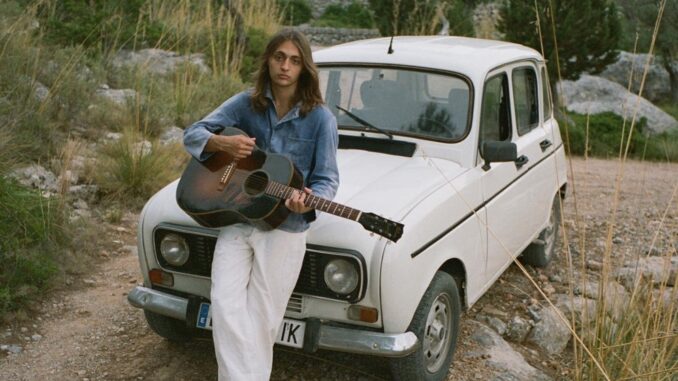 By AVA LIVERSIDGE
Arsun Sorrenti, the 19-year-old energizing a unique neofolk rock scene, just released a new single "Lay Me Down." Despite having only a few EPs and singles in his arsenal of work, Arsun still manages to establish a unique and definitive sound through consistency and self-certainty.
While his following continues to grow, his music is immediately appreciated by all who find it for his signature throaty lull and soft guitar, an act of rebellion against the occasionally calculated sound of his indie-rock peers. Reminiscent of folk singers of the 60s, it is not surprising that Arsun's single has been reportedly directly inspired by Bob Dylan and his mentor, Woody Guthrie, and even early Elvis.
In true singer-songwriter fashion, Arsun continues to write, produce, and finalize his music in an at-home studio with the bare minimum required for his production process. This faithfulness to simplicity and authenticity comes across in the raw and mature sound in his romantic, but not cloying, songs. His return to sung poetry and guitar with a few studio modifications add to the allure of a music distant from the present. His sound is a thing of nostalgia or resurrection of what could've been for those of us who weren't able to know the plume of folk-rock in its glory days.
Arsun's refreshing tone and refusal to cut corners led him and his band, aptly-named ARSUN, to open for Cat Power, an indie-folk performer steeped in southern and blues influence. This brief tour allotted him a steady following ready to spread the word of the folk scene reincarnate.
Now, Arsun resides in the Bronx and spends his days revisiting and reworking lost melodies. One of these being, "Lay Me Down" a hopeful product of quarantine productivity. The single acts as a brief respite from the unromantic state of the world and allow the listener to indulge in the simple yet beautiful turmoils of love and loss. Melancholic electric guitar and hypnotizing piano behind a man's unrequited love lays out Arsun's vision for the future of balladry.