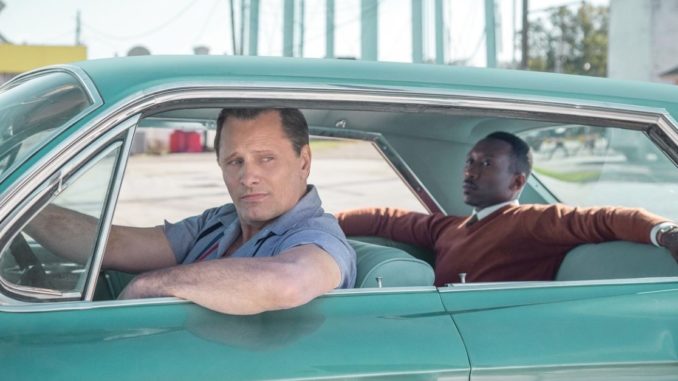 Rami Malek is Best Actor, Gaga Gets Best Song
By DONNA BALANCIA
"Green Book," the story of the unlikely bond between a black musician and his white driver in the deep south in the 1960s, won the Best Picture Oscar in a shocking upset at The Academy Awards Sunday night.
"Green Book," which stars Viggo Mortensen and Mahershala Ali, won the Veritas Award from the Los Angeles Press Club earlier this week. The Veritas Award has been a keen indicator of the best picture winner on several outings.
"Green Book" won three Oscars overall. Ali won the Best Supporting Actor Oscar for his portrayal of Dr. Don Shirley. He thanked his "partner" Mortensen, and even thanked his double, but gave particular gratitude to his grandmother. The film also won Best Original Screenplay.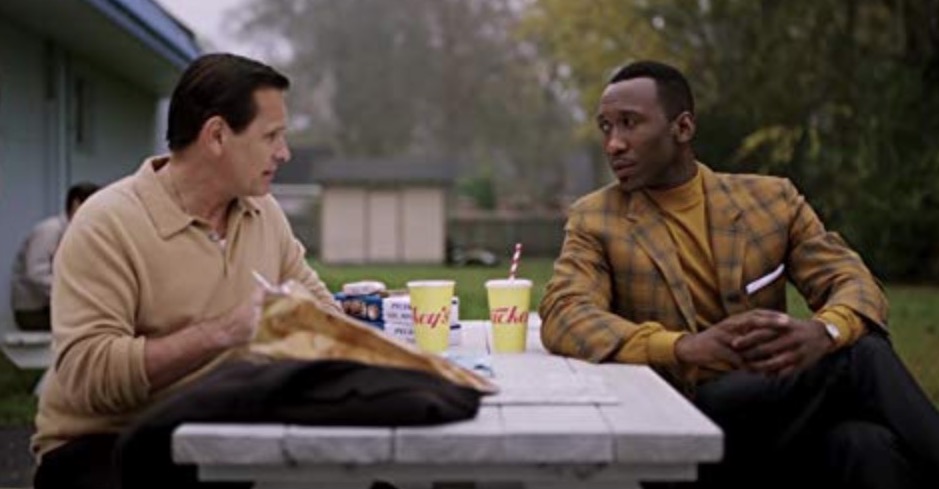 "Bohemian Rhapsody" was the big winner of the night with four Oscars, with Rami Malek taking Best Actor, and the film securing statuettes for sound editing, sound mixing and film editing.
Alfonso Cuaron took both best Cinematography and Best Director for "Roma," which also won Best Foreign Film. 
"As artists our job is to look where others don't this responsibility becomes more important when we're encouraged to look away," he said. He thanked his family, and Mexico. His best directors statuette was presented by Guillermo Del Toro.
Julia Roberts, looking as youthful as when she herself won an Oscar in 2001 for "Erin Brockovich," presented the Best Picture Award for "Green Book."
Favorites Glenn Close and Lady Gaga were shut out for Best Actress with Olivia Coleman taking the statuette for her work in "The Favourite."  "A Star Is Born" was nominated for eight Oscars and won one for Best Song for "Shallow."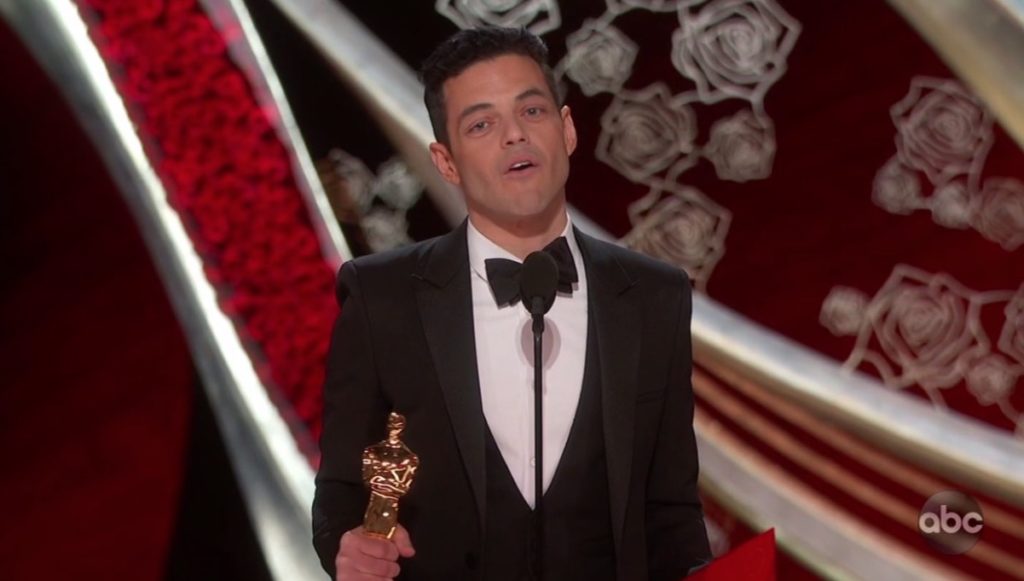 With "Bohemian Rhapsody," Malek thanked everyone at Fox and New Regency, adding "I may not have been the obvious choice but it worked out anyway. To Queen, thank you for allowing me to be a small part of your phenomenal and extraoridary legacy." 
Malek also said his story is not unlike many people in our country. "This is proof we're longing for stories like this. I'm the son of immigrants from Egypt. I'm a first generation American. My story is being written right now.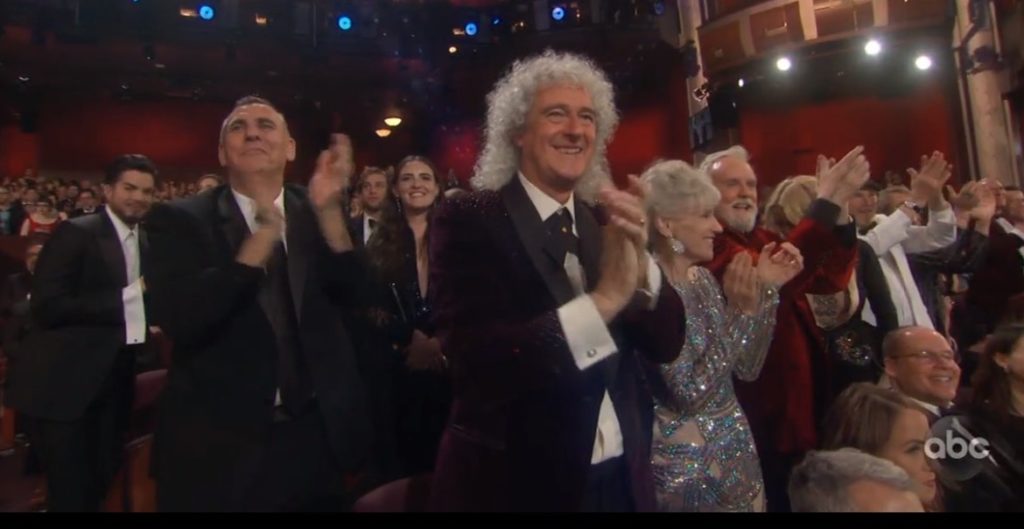 Performance-wise, Lady Gaga and Bradley Cooper captured the night with their heart rending duet of Shallow, which they previously performed live only one other time. The two simply emanate their best friendship every time they perform this amazing work of music. It's clear in hindsight that their Las Vegas performance was a warm up for their live Oscar performance. 
Gaga said upon receiving the Oscar: "I've worked hard for a long time and it's not about winning what it's about is not giving up," Gaga said. "If you have a dream, fight for it." Writing partner Mark Ronson said he was thankful for teaming with Gaga. "She acts, she writes, she sings the song, Lady Gaga we salute you for this."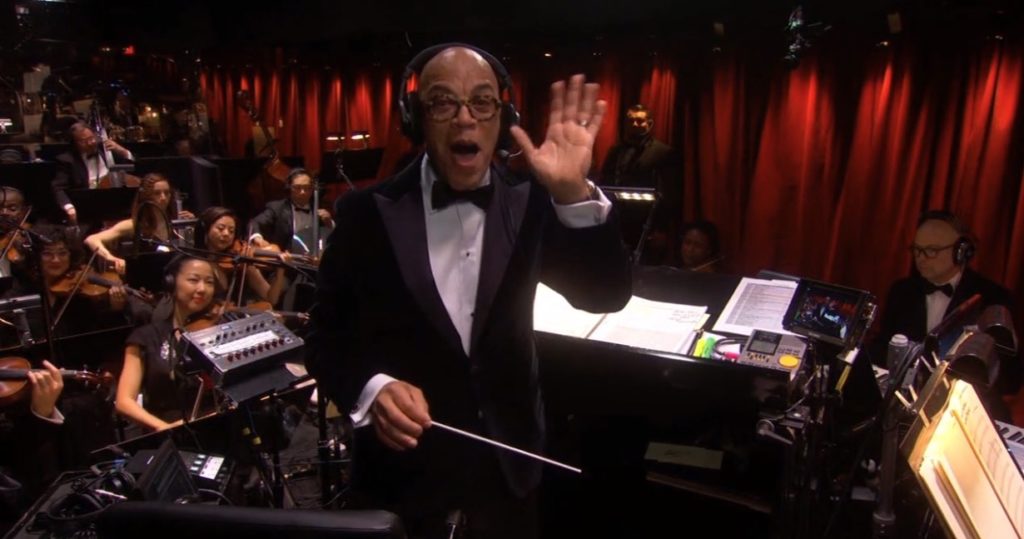 Upon winning its first two Oscars, for cinematography and Best Foreign Film, "Roma" director Cuaron said he was inspired by director of photography Emmanuel "Chivo" Lubezki Morgenstern and films like "Jaws." He dispelled the different genres saying " the nominees prove we're part of the same ocean."
Among the Oscars for Black Panther were Best Original Score (Ludwig Göransson), Best Set Design and Best Costume.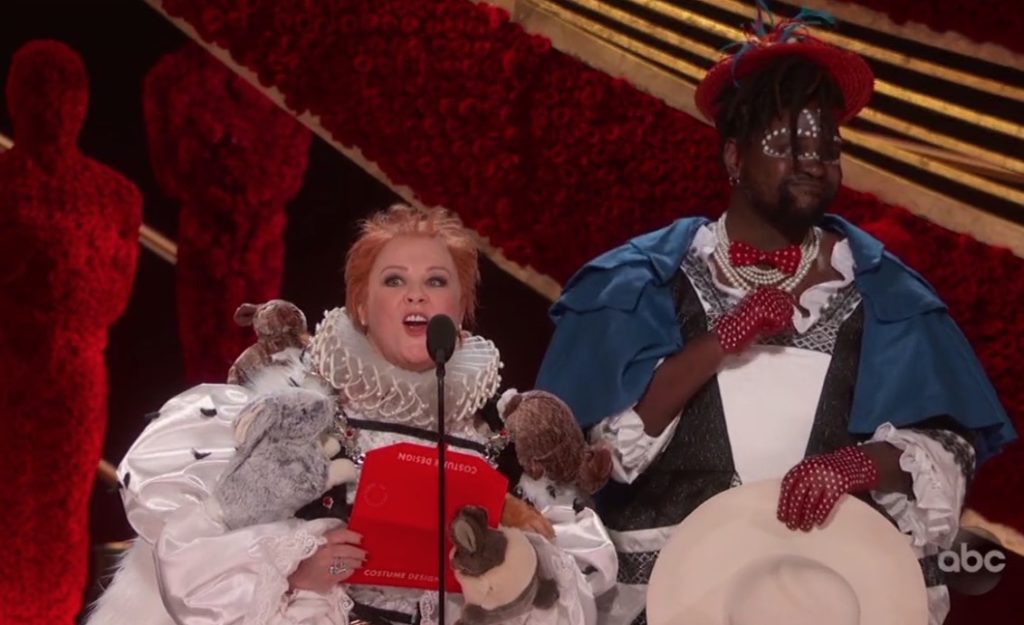 The first two Oscars for "Bohemian Rhapsody" came in the sound catgory, for sound editing and sound mixing. Michael Keaton introduced the film editing category. He said of editors "As an actor they can make things like your performance a whole lot better, trust me." "Bohemian Rhapsody won for film editing. 
"Period End of Sentence" won the Academy Award for short documentary. The Netflix release, which is almost one hour in length covers the stigma of menstruation which virtually ends a girl's education in a region of India, and likely in other parts of the world. The film was made in partnership with The Oakwood School.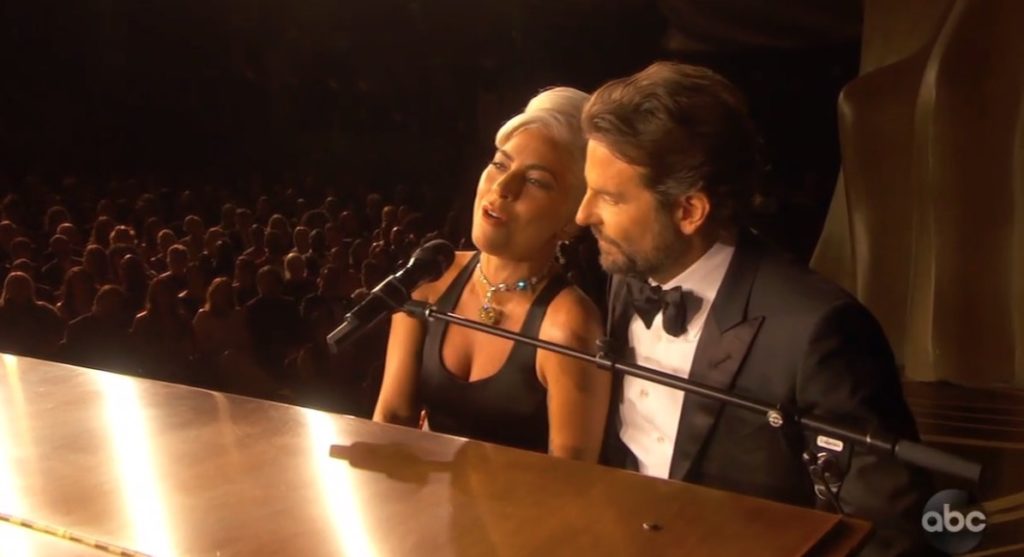 Best Song Nominees Get Star Treatment
Bette Midler, looking stunning, performed "Where The Lost Things Go." "I'll Fight," by Diane Warren was performed by Jennifer Hudson, who cut a slim figure in a black tuxedo-style gown. Kacey Musgraves introduced Gillian Welch and David Rawlings who performed their "When A Cowboy Trades his Spurs for Wings."
Important figures in varying professions were also on hand to introduce clips from the Best Picture nominees. Tom Morello, looking dapper in a tux, introduced Vice, which won its first award of the night for makeup and hair. Venus Williams introduced the film "A Star Is Born." Queen Latifa introduced "The Favourite." Trevor Noah introduced "Black Panther. Laura Dern, the daughter of Bruce Dern and Diane Ladd, introduced a film clip on the construction on the new Academy of Motion Pictures 
The show, though hostless, seemed to go off without a hitch, except when Sam Jackson, in an attempt to give Spike Lee a shoutout, dropped a spoiler for West Coast fans that The Knicks actually won a game. Maybe his gaff was good luck because BlackKlansman won for adapted screenplay.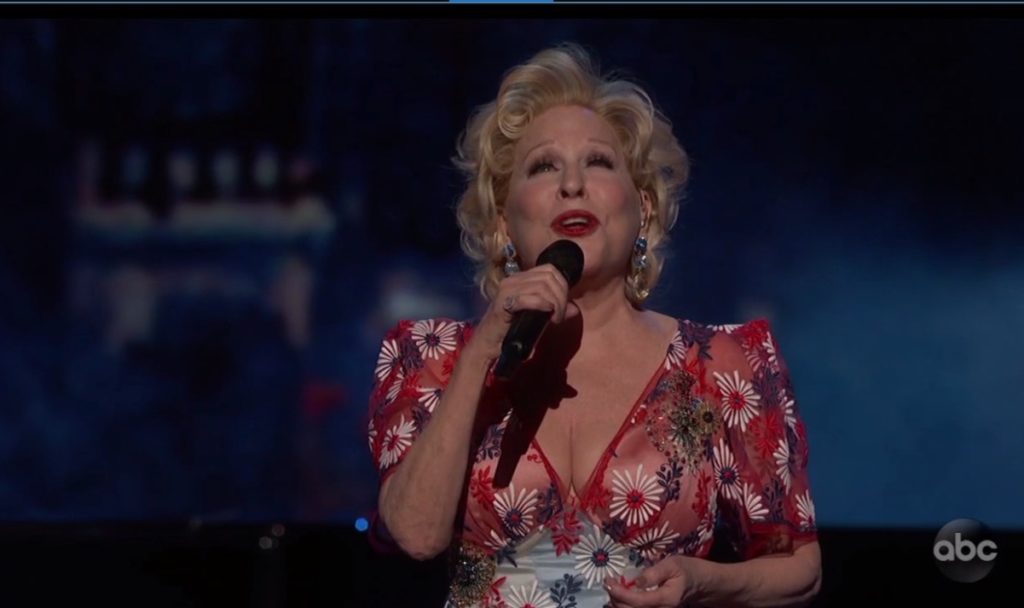 In accepting the adapted screenplay award, Lee said: "The 2020 election is around the corner, let's all mobilize and be on the right side of history, make the moral choice and let's 'Do The Right Thing,'"  
The show paid tribute to womens issues, African American honorees and even NASA even got a shoutout when "First Man" secured the best visual effects statuette.
There were no hosts, but comedians had their opportunities. Mike Myers and Dana Carvey who originated their timeless skit of the Waynes World guys driving in the American Motors Pacer introduced a clip of "Bohemian Rhapsody." Maya Rudolph, Tina Fey and Amy Polar, who each gained fame on SNL, introduced the evening.
Regina King won the first award of the night for supporting actress for "If Beale Street Could Talk."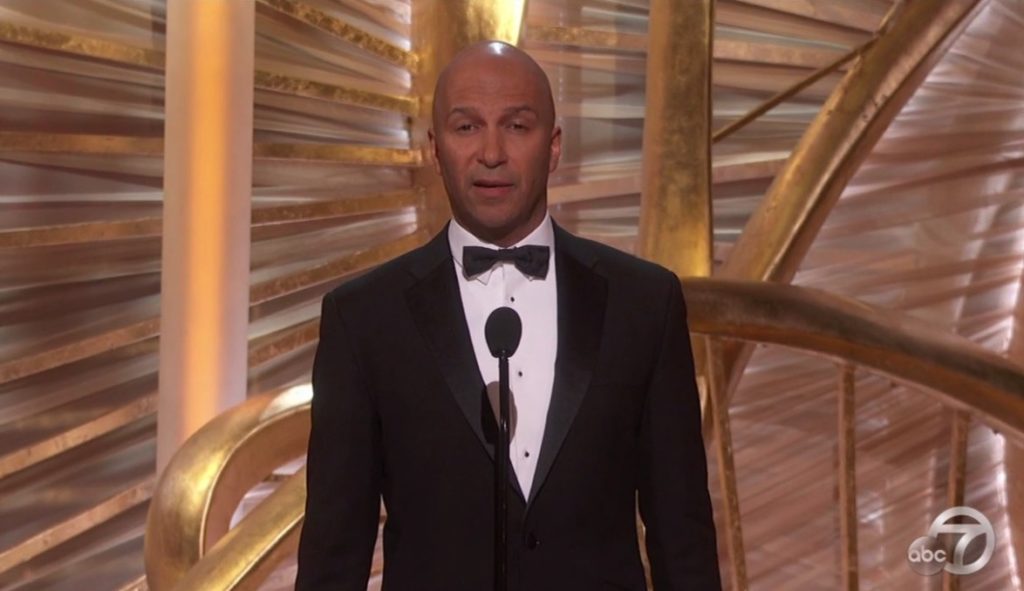 Dame Helen Mirren and Jason Momoa introduced the documentary category won by "Free Solo," which captures the spirit involved in surmounting challenges. She pointed out that "A Hawaiian god and a mature English woman can wear the same color: Pink."
The commercials had a music bent this year with Jack White music playing for Cadillac and the new trailer for the Elton John movie "Rocketman." Wal-Mart commercials and house ads for the TV show "Whiskey Cavalier" ran most frequently.
The "In Memorium" section of the show paid tribute to Neil Simon, Margot Kidder, Elizabeth Sung, Kitty O'Neill, Raymond Chow, William Goldman, Tab Hunter, Nicolas Roeg, Albert Finney, Milos Forman, Stan Lee, Penny Marshall, Craig Zadan, Marty Bregman, publicist Paul Bloch and Burt Reynolds. 
The Complete List of 2019 Academy Award Winners:
Best Picture
"Black Panther"
"A Star Is Born"
"Roma"
"The Favourite"
"Vice"
"Bohemian Rhapsody"
"Green Book" – Winner
"BlacKkKlansman"
Best Actress
Glenn Close, "The Wife"
Lady Gaga, "A Star Is Born"
Yalitza Aparicio, "Roma"
Olivia Colman, "The Favourite" – Winner
Melissa McCarthy, "Can You Ever Forgive Me?"
Best Actor
Christian Bale, "Vice"
Bradley Cooper, "A Star Is Born"
Viggo Mortensen, "Green Book"
Willem Dafoe, "At Eternity's Gate"
Rami Malek, "Bohemian Rhapsody" – Winner
Best Supporting Actress
Amy Adams, "Vice"
Marina de Tavira, "Roma"
Regina King, "If Beale Street Could Talk" – Winner 
Emma Stone, "The Favourite"
Rachel Weisz, "The Favourite"
Best Supporting Actor
Mahershala Ali, "Green Book" – Winner
Adam Driver, "BlacKkKlansman"
Sam Elliott, "A Star Is Born"
Richard E. Grant, "Can You Ever Forgive Me?"
Sam Rockwell, "Vice"
Best Director
Spike Lee, "BlacKkKlansman"
Pawel Pawlikowski, "Cold War"
Yorgos Lanthimos, "The Favourite"
Alfonso Cuarón, "Roma"
Adam McKay, "Vice"
Best Original Screenplay
"First Reformed"
"Green Book" – Winner 
"Roma"
"The Favourite"
"Vice"
Best Adapted Screenplay
"The Ballad of Buster Scruggs"
"BlacKkKlansman" – Winner
"Can You Ever Forgive Me?"
"If Beale Street Could Talk"
"A Star Is Born" 
Best Cinematography
"Cold War"
"The Favourite"
"Never Look Away"
"Roma" – Alfonso Cuaron DP
"A Star Is Born"
Best Animated Film
"Incredibles 2"
"Spider-Man: Into the Spider-Verse" – Winner
"Mirai"
"Ralph Breaks the Internet"
"Isle Of Dogs"
Best Animated Short Film
"Animal Behaviour"
"Bao" – Winner 
"Late Afternoon"
"One Small Step"
"Weekends"
Best Live Action Short Film
"Detainment"
"Fauve"
"Marguerite"
"Mother"
"Skin" – Winner 
Best Foreign Language Film
"Capernaum"
"Cold War"
"Never Look Away"
"Roma" – Winner
"Shoplifters"
Best Documentary Feature
"Free Solo" – Winner
"Minding The Gap"
"Of Fathers and Sons"
"RBG"
"Hale County This Morning, This Evening"
Best Documentary Short Subject
"Black Sheep"
"End Game"
"Lifeboat"
"A Night at the Garden"
"Period. End of Sentence" – Winner
Best Production Design and set Direction
"Black Panther" – Hannah Beachler, Jay Hart
"First Man"
"The Favourite"
"Mary Poppins Returns"
"Roma"
Best Film Editing
"BlacKkKlansman"
"Bohemian Rhapsody" – Winner
"Green Book"
"The Favourite"
"Vice"
Best Sound Editing
"A Quiet Place"
"Black Panther"
"Bohemian Rhapsody" – Winner
"First Man"
"Roma"
Best Sound Mixing
"Black Panther"
"Bohemian Rhapsody" – Winner
"First Man"
"Roma"
"A Star Is Born"
Best Original Score
"Black Panther" – Winner
"BlacKkKlansman"
"If Beale Street Could Talk"
"Isle of Dogs"
"Mary Poppins Returns"
Best Original Song
"All The Stars" ― "Black Panther"
"I'll Fight" ― "RBG"
"Shallow" ― "A Star Is Born"
"The Place Where Lost Things Go" ― "Mary Poppins Returns"
"When A Cowboy Trades His Spurs For Wings" ― "The Ballad of Buster Scruggs"
Best Costume Design
"The Ballad of Buster Scruggs"
"Black Panther" – Ruth Carter 
"The Favourite"
"Mary Poppins Returns"
"Mary Queen of Scots"
Best Makeup and Hairstyling
"Border"
"Mary Queen of Scots"
"Vice" – Winner
Best Visual Effects
"Avengers: Infinity War"
"Christopher Robin"
"First Man"- Winner
"Ready Player One"
"Solo: A Star Wars Story"
Oscar Count:
Black Panther – 3 (set design, costume, best score (ludvig gorenson) )
Vice – 1 (hair and makeup)
Beale Street -1 (supporting actress)
Roma – 3  (Director, DP, Best Foreign Film)  
Bohemian Rhapsody  – 4 (sound editing, sound mixing, film editing, actor)
Green Book, which won veritas – 3 (best supporting actor, best original screenplay, Best Picture)
First Man – 1 best visual effects
BlackkKlansman – 1 best adapted screenplay
A Star Is Born – 1 (best song)
The Favourite – 1 (Best Actress)