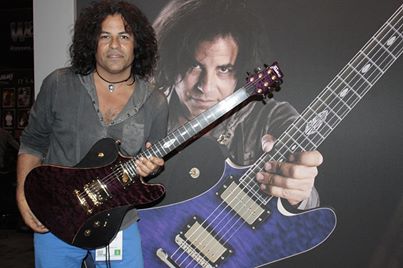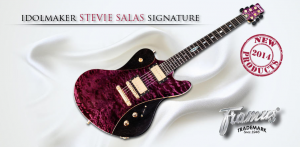 By DONNA BALANCIA — Stevie Salas has worked with world-class musicians but stays true to his humble Southern California roots.
He was selected to play guitar for Mick Jagger, has toured with Rod Stewart and will jam with George Clinton at SXSW in Austin.
"This is my third signature model in 25 years," said Salas, whose extensive work as musical director for 19 Entertainment and the hit show American Idol inspired the name of the guitar.
"People have told me they think it's the most beautifully crafted guitar and that's not because they were talking to me and it's my signature guitar.  It is extremely good quality. I wanted something different, something that wasn't a ripoff of a Stratocaster or a Les Paul."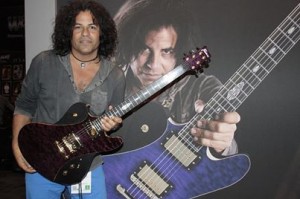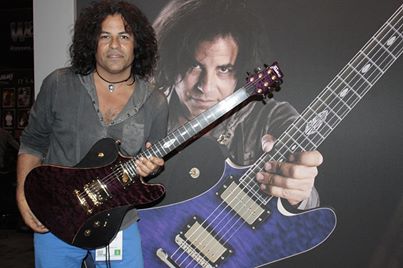 Sleek in its purple and black with gold tone, the Idolmaker, like the Oceanside-born rock star himself, purposeful with quality, and just a little bit flashy. The neck wood is maple, the fretboard is Tigerstripe Ebony with Indian Feather Inlay, a reminder of Salas' Native American heritage.  It is a carved body top, the bodywood is 1-inch AAA Quilted Maple top with Mahogany body.
Particularly interesting to Salas is Warwick's devotion to the planet: The company is known to purchase its wood from sustainable sources.
"A few years ago,  I met Hans-Peter Wilfer, who owns Warwick," Salas said. "I like his views.  Since I have a Native American background, I wanted something that was environmentally friendly."
Salas said he took a tour around the production facilities in Germany, met the head of production, designer Marcus Spangler and was impressed with what he saw.
Check out Stevie's website CLICK HERE
CLICK HERE FOR SALAS at FRAMUS NAMMSHOW