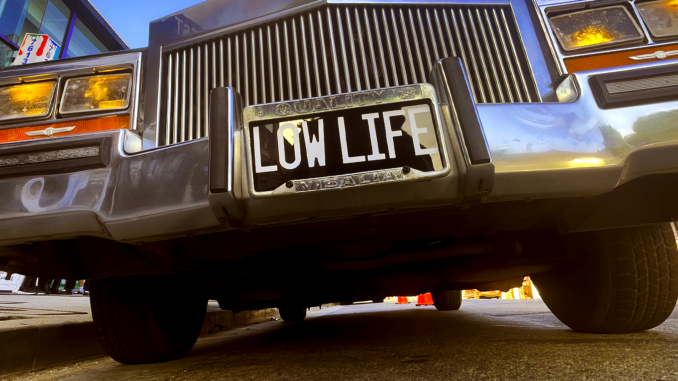 Photos and report by MIMI B.
Stomping in my boots from Beverly Blvd. north to Melrose Ave., I was sharing excitement with staffers about this "activation" with Yungblud and IHEARTCOMIX. The event was to promote "Lowlife," Yungblud's first single since the release of his third album and would launch his new "era."
Crossing Curson Ave. onto Melrose and then smack dab in front of Palais Des Modes shoe store was a 1989 Cadillac Brougham graffitied to hell. Devil horns covered both the front and back hoods of the car, dust covered windows with the title, "Lowlife" smeared on it, and a long line of 20-something-year-olds waiting their turn to sit in the Caddy. LAPD scuttled about, observing both the crowd and car and I was thinking, maybe they, too, wanted to participate as a "low life" for the day?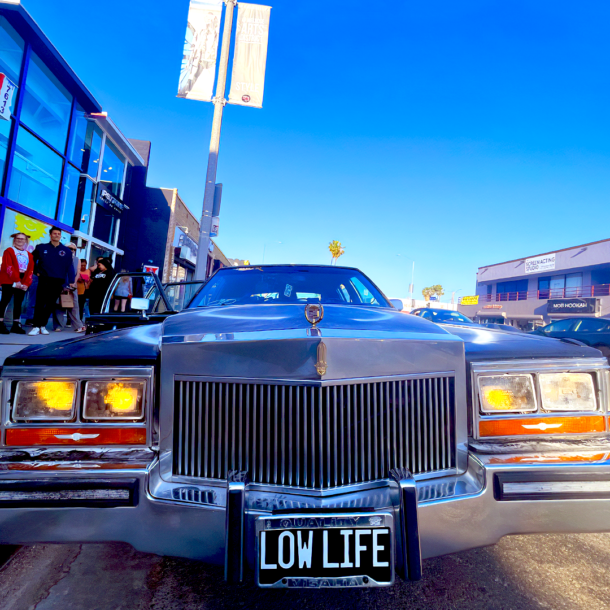 "Lowlife" has a good beat from the snippets I heard. To find out more, I walked up to the car, and immediately met Jenny Tan, a production coordinator who oversees logistics for the agency. She explained to me what their agency is about – IHEARTCOMIX is a marketing agency with a focus on entertainment, lifestyle and music.
"We're a small team but we're true, we're all very diverse and inclusive," she said. "We're helping fans to be immersed in art. I feel like this is an intimate experience. Yungblud showed us that his fans don't want an over-produced event. I think it's great when an artist really prioritizes the fans, the fan experience, and this is the best way to show that."
I got in the car and Jenny showed me how the setup works: In the middle is a big, fat yellow button on top of the center console, where you press it and blasts away the song, "Lowlife." At the top right of the rear-view mirror is a GoPro, filming fans' reactions to the song, which is fun. Down a little is a smaller camera you look into to have your photo taken. And all the way to the right of the console, is a tablet you tap on to have your photo taken, thereby afterwards you input your phone number to have it sent to you. A logo for the song finds itself sitting in the top, right corner of your photo taken to show you your time of being a "low life."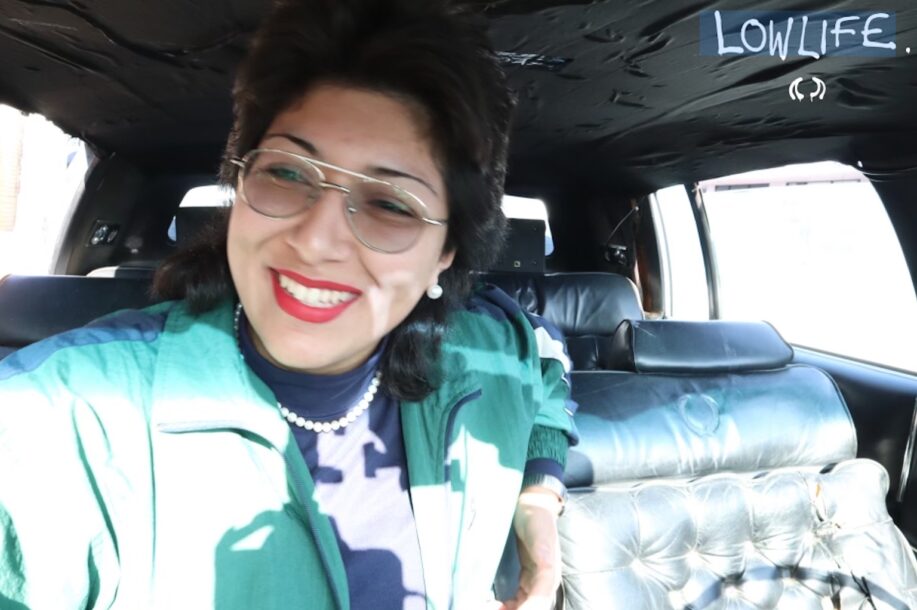 As she was speaking with me, I couldn't help but make a couple of observations about the afternoon. To my right, we had influencers invited by Interscope, standing about, posing for photos and mingling. Photographer Calvin Ma was photographing fans having fun, moments to be shared on Yungblud's socials the following day. When asked why he enjoys his craft, Calvin tells me, "I like photographing people because people are beautiful. Everyone's beautiful, and I want to show them what I see." Other team members were bouncing about making sure that the fans, and the car, were taken care of. And on my left, a long line of followers eagerly waited to experience listening to the song in full within the banged-up, four-door sedan.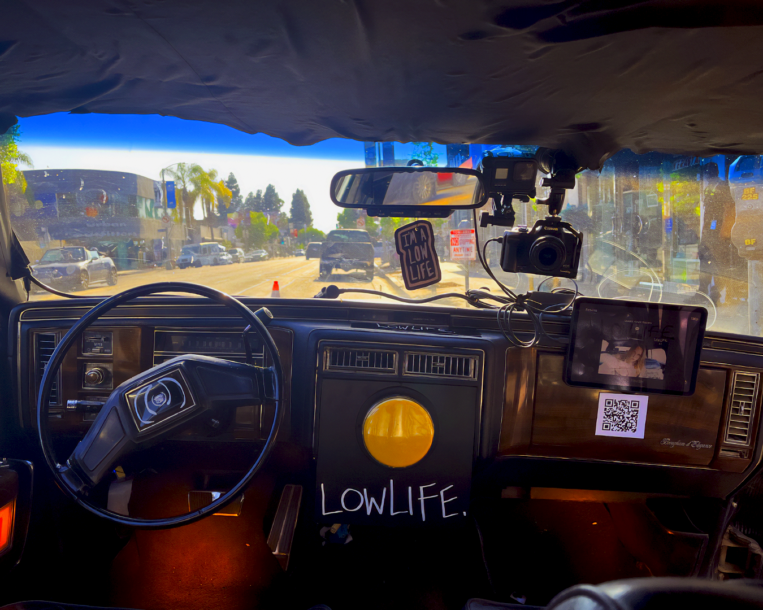 Merchandise was freely given out, as cigarette lighters were being tested and bumper stickers were held up proudly, high above their heads as fans were being photographed. Even a robot delivery cart had to wait to pass, being that there were about 65 people attending for one song. Quickly quoting Jenny's conversation with me, I hear behind me a big, golden retriever barking at the kids taking selfies in the car and playing the music. "I'm deathly afraid of dogs, I'm a cat person." I turn, and on my right is Chris, one of the main social media managers for the agency.
"It's important to bring online communities and fandoms offline, and into real-life spaces," he said. "Music is intimate. It's that moment of vulnerability. The way that people experience it, to have a piece of it that involves them is really special."
And with a glance backwards as I left with some SWAG, I thought, it's not about the new cigarette lighter I can use for my cigarettes, or the air freshener for my nonexistent car. It was a fun event that succeeded in activating the imagination and got everyone excited about Yungblud's new music.
'Lowlife' teaser trailer: