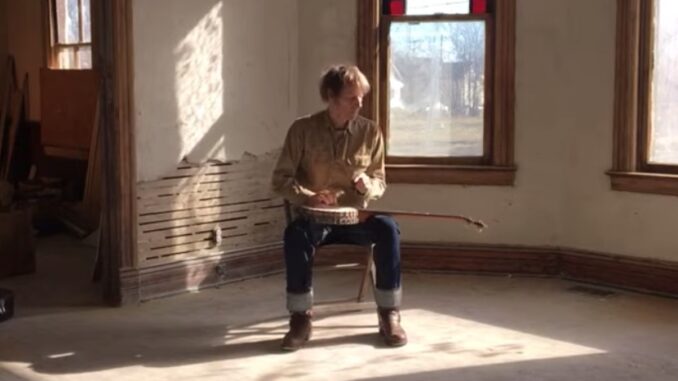 By AVA LIVERSIDGE
There are a lot of musicians in our contemporary age that slap a moment of steel slide guitar on their record and call it "blues-inspired," maybe even the blues. Danny Kroha's Detroit Blues is not that kind of record.
Detroit Blues is strictly a blues and Appalachian roots conglomerate, much like Kroha's first solo record, with evident Detroit groundings. 
Kroha's other garage rock projects, including the acclaimed Gories and Demolition Doll Rods, have long been examples of how the Detroit rock scene was able to embrace blues guidance, but his solo work commits fully to the genre. That's not to say you can't hear the heavier punk tinges throughout the recording (all of the visceral instincts that connect punk and the Delta Blues are played up heavily), but the trace of rock influence must be tracked more tactfully on Detroit Blues.
Unsurprisingly, the record was released on Third Man Records, Jack White's record label, and White has cited the Gories and Kroha consistently as principal influences on his work in the White Stripes and his band's unique melding of punk and Blues sounds.
As Kroha approaches this rock-less record, he still is no stranger to rudimentary, stripped-down production as it was in its resurgence during early 2000s garage rock prime, but Kroha's loyalty to standard blues confronts this minimalism from a grounded, unadulterated manner. Detroit Blues may be a bit of an anachronism in some senses (as is expected when covering century-old melodies), but it is simultaneously an inescapable derivative of Kroha's contemporary understanding of just how an artist can interpret the blues.
Kroha's extensive involvement in the Detroit music scene has served to show the contemporary world just what the blues can be, what the blues can sound like, and the genre's potential and place in the modern music world. Today, Kroha comes full-circle with an important reminder of what the blues was, after years of distorting that image, causing audiences to re-examine their own perceptions, album after album.
The record itself was recorded two years ago, but Kroha is not worried about the delay of his message. In an interview, Kroha reported "it's not time-sensitive music" which fits well with the aural history Detroit Blues recounts as well as speaks volumes about the strictures of the Delta Blues and Americana folk that have transcended generations and genres. That's not to say that this record confines itself to any one structure at all.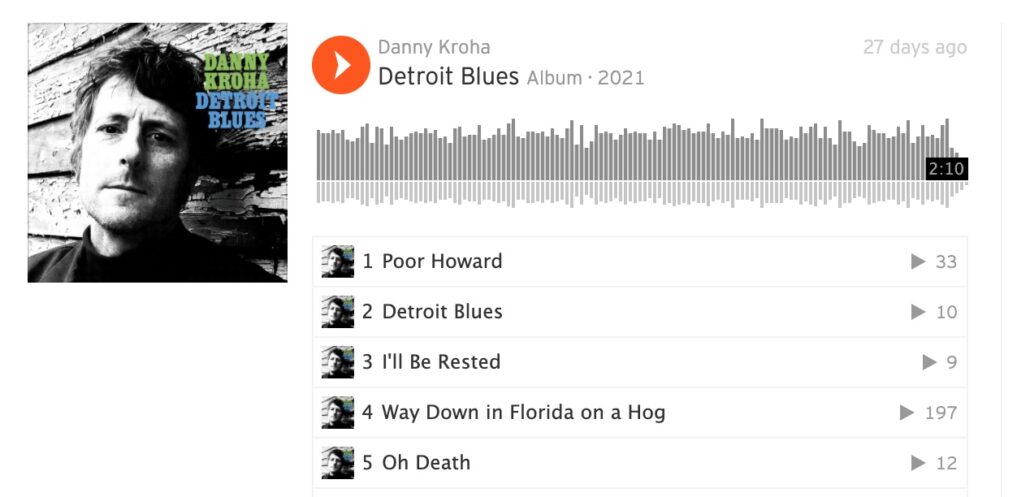 While the record Detroit Blues may be comprised of rootsy folk tune covers, Kroha incorporates plenty of his own interpretation, taking all sorts of artistic liberties with the most consistent and well-loved tracks in the blues and folk standard arsenal.
In fact, Kroha dares to explore variations – which could honestly be considered remixes – of songs reigning from songster era pre-Blues. Tracks that were first recorded by Leadbelly and Mississippi John Herd and, simultaneously, some of the first songs to be recorded, dated back to the 1890s for their time of conception. Kroha is taking 1890-era tracks and remixing them for a contemporary blues-hillbilly melange.
Oftentimes with contemporary roots performers, there is an ultimate effort to reenact exactly what their ancestral performers played, how they sounded, and even what the acoustics sounded like in their recording space, but that's not the spirit of the Blues. Kroha continues to add edge, sludge, and imperfections even in traditional, long-established classics which harken back even more to the Blues establishment that a carbon-copy would.
On "Run Johnny," Kroha makes use of some honky-tonk percussionism to simulate electronic-esque waves, conceiving a return to blues origins forged with the knowledge of contemporary 21st century music production. Improvised percussive transitions in the form of foot-stomping, hand-clapping utility exist throughout the record's guitar breaks; therein lies an anomalous practicality to Detroit Blues.
The single "Poor Howard," a Leadbelly original in recording though its songwriter is generally contested, is certainly a standout track which boasts an acute warmth, something that Kroha seems to have meticulous control over throughout the record. The notable dynamism of his voice can act duly syrupy and surprisingly bombastic according to each track's needs.
One track on the album best epitomizes Kroha's roots-melange ambition: "House of the Rising Sun," one of the most frequently covered songs in the folk catalogue. Kroha manages to take these beloved and ubiquitous lyrics and translocate them onto a Dock Boggs tune, completely changing the sound of the track but effectively retaining the brooding, mysterious mood it's known for. Detroit Blues writes the book on how to again personalize a track that has been recorded thousands of times and actually contribute something to the folk tradition, rather than reproduce and recreate.
If you're looking for any cold-hard evidence of Kroha's honky tonk merit, Detroit Blues does, in fact, feature a handmade one-string bass conceived from a 5-gallon metal bucket that the singer found by some train tracks as one of the only over-dubbed instruments throughout the record. Need more proof? Listen even closer and you'll hear The Diddley Bow.