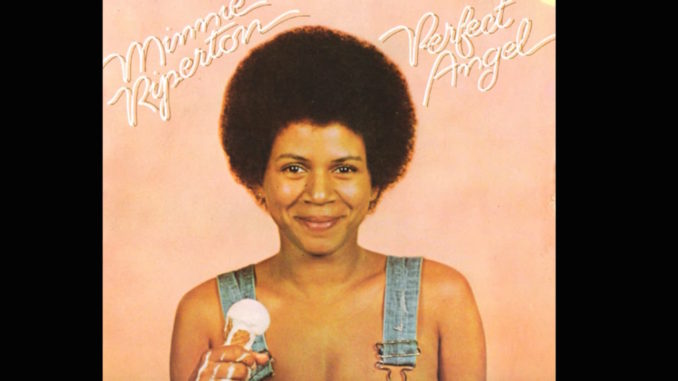 By JOHN DALY
Minnie Riperton, the singer with a the remarkable upper vocal range, topped the charts around the world in 1975 with "Lovin' You."
But the song only scratches the surface of Riperton's remarkable musical career, which began in her teens and ended with her untimely passing in 1979, at the age of 31. And it's only one facet of the extraordinary album from which it emerged.
Minnie's many facets are explored on Perfect Angel: Deluxe Edition, to be released as a 2-CD set, and in standard digital and 96k/24-bit high-resolution audio formats, by UMe on December 1, in celebration of the singer's 70th birthday.
This set brings home the fact that, though not known at the time for contractual reasons, the original album is essentially a collaboration with Stevie Wonder, who: co-produced the album with Minnie's husband Richard Rudolph; arranged the tracks with his band, Wonderlove; played keyboards, harmonica and drums; and wrote two songs.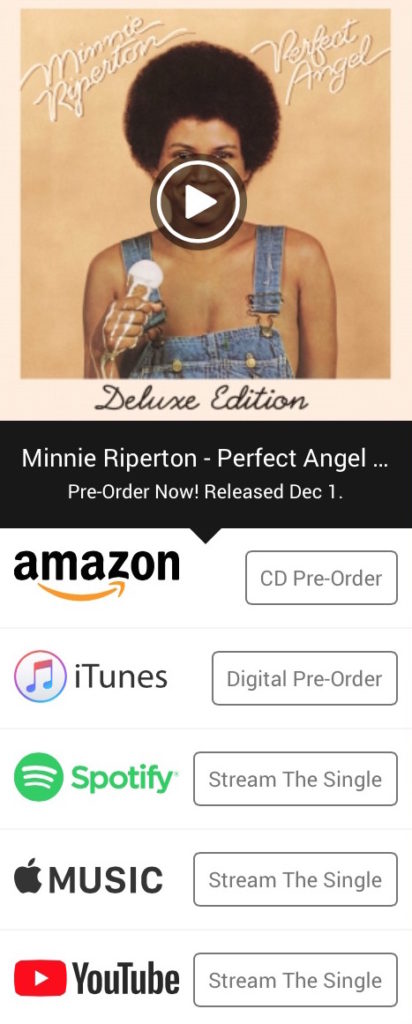 The set offers an excellent representation of Riperton's interpretive gifts and remarkable talent, all the more extraordinary for Wonder's contributions, which were made while he was winning GRAMMY® awards for Talking Book and Innervisions. He was also working on another LP, Fulfillingness' First Finale, which featured Minnie as a background vocalist on that album's "Creepin'" and was eventually issued just weeks after Perfect Angel in the summer of 1974.
Wonder, a Taurus, was credited on Perfect Angel as "El Toro Negro"-the Black Bull.
"Minnie was my dear friend," Stevie Wonder said. "She was an extraordinary, vibrant person with an extra-special voice. I was a big fan of hers before we met and it was my honor to produce the album with Minnie and her husband Richard. Minnie had a positive energy that radiated throughout these sessions and throughout the rest of her life. When Minnie lived, she lived. She continues to live through this release."
"The whole experience was a total surreal experience and a pure joy from start to finish," Richard Rudolph now says of the making of Perfect Angel.  "Working with Stevie Wonder in that intimate setting really was more that just a dream come true. And you can feel the 'wonder' throughout the entire album," Rudolph continues. "Minnie would be overjoyed to know that her music conitues to touch people's lives."
Perfect Angel: Deluxe Edition includes 11 bonus tracks to the remastered original album, making in essence an alternate, extended version of Perfect Angel. Included is a duet version of "Take A Little Trip" with Stevie Wonder; an acoustic version of "Seeing You This Way;" and an alternate take of "Lovin' You," notable for its backing by the Wonderlove band, as the hit single version only used Rudolph on guitar and Wonder on keyboards.
The seven-inch single version, with a synth overdub, plus a countdown by Rudolph not on the original, is also included. A bonus to the alternate LP is a 'Perfect Angel version' of "Don't Let Anyone Bring You Down," with Wonder playing most of the instruments, along with Hubert Laws on flute. The song was re-recorded with the great Stewart Levine and a different band for Minnie's follow-up album, Adventures In Paradise.
Other cuts extend well past the LP's original fadeouts. They feature extraordinary solos and jams by Wonder and his band members, who were 20-year-old Michael Sembello and Marlo Henderson on guitars, Reggie McBride on bass and Ollie Brown on drums, with guests Sneaky Pete Kleinow on pedal steel guitar and percussionist Rocky Dzidzornu. On background vocals with Minnie are Wonderlove vocalists Deniece Williams, a future solo star, Lani Groves and Shirley Brewer, and the songwriter Yvonne Wright.
Also included is a 24-page booket with rare photos and extensive liner notes by Richard Rudolph that take the listener inside the album-making experience. Rudolph also comments on the story behind the album's "ice cream and coveralls" cover shot by Barry Feinstein, who was known for his Bob Dylan images and the LP covers for Janis Joplin's Pearl, Eric Clapton's solo debut and George Harrison's All Things Must Pass, among others.
Riperton was diagnosed with breast cancer a little more than a year after the worldwide success of "Lovin' You" and Perfect Angel. She died on July 12, 1979.
Upon Minnie's untimely passing, Rudolph created The Minnie Riperton Fund for breast and woman's cancers at the Los Angeles based Concern Foundation for cancer research to continue the battle against this tragic illness that took her from us at such an early age. For more information on The Minnie Riperton Fund, go here.
Minnie would have been 70 years old on November 8, 2017, and there's no better way to celebrate this milestone than with this special edition of her most beloved album.
Minnie Riperton 
Perfect Angel: Deluxe Edition Track List
Disc 1
Perfect Angel – Original Album
1.   Reasons  3:26
2.   It's So Nice (To See Old Friends)  4:44
3.   Take A Little Trip  4:08
4.   Seeing You This Way  2:44
5.   The Edge Of A Dream  4:23
6.   Perfect Angel  3:42
7.   Every Time He Comes Around  3:54
8.   Lovin' You  3:58
9.   Our Lives  5:43
Bonus Track
10. Lovin' You single version with countdown 3:36
Disc 2
A More Perfect Angel
1.   Reasons extended version  4:13
2.   It's So Nice (To See Old Friends) extended version  8:46
3.   Take A Little Trip duet with Stevie Wonder  4:15
4.   Seeing You This Way acoustic version  3:26
5.   The Edge Of A Dream extended version  5:06
6.   Perfect Angel extended version  5:09
7.   Every Time He Comes Around extended version  6:18
8.   Lovin' You alternate band version  4:51
9.   Our Lives extended version  9:30
Bonus Track
10. Don't Let Anyone Bring You Down Perfect Angel version 3:43
Facebook:
facebook.com/Minnie-Riperton-793946410735718/
The Minnie Riperton Fund:
concernfoundation.org/minnie-riperton-fund.html