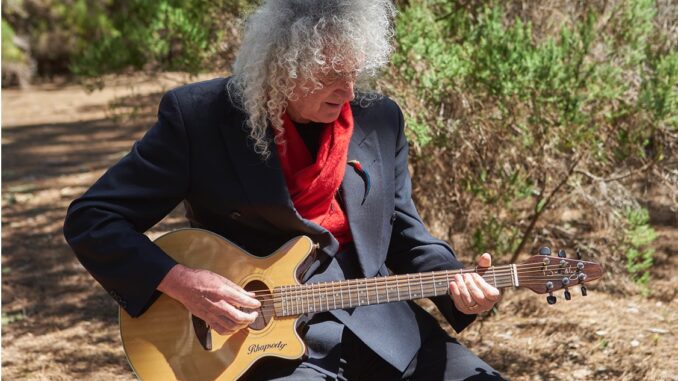 Brian May launched the newly remastered Gold Series re-issue of his 1998 solo album Another World from the historic Royal Observatory in Greenwich, London, accompanied by some brand-new music videos.
Alongside the electrifyingly positive "On My Way Up" and nostalgic cover of Buddy Holly's "Maybe Baby," Brian filmed one video for the title track back in his much-loved Canary Islands. It was in Tenerife where the Queen guitarist studied his Physics PhD at the Teide Observatory, high up in the volcanic landscape, so it only seemed fitting to return and shoot the new footage there, as well as in La Palma, where he has worked on Starmus in recent times, and in the tiny island of El Hierro.
Brian released his fresh "Another World" music video last week and now the extra special Spanish language version called "Otro Lugar."
Brian gave a sneak peek of the new video at his Greenwich Planetarium album launch and shared why he'd chosen to do this interpretation; one that was originally released in its audio form on the 1999 compilation album, Baladas 99, alongside the likes of Robbie Williams and Joe Cocker.
Before showing the audience on the night, producer Simon Lupton – who was leading the Q&A teased – it was: "A real treat in particular for Brian's Spanish speaking fans."
Brian spoke in the native tongue of the Canary Islands, before translating: "This is for you because the Spanish world has always been incredibly kind to us and to me."
Check out the Brian May video 'Otro Lugar' here: