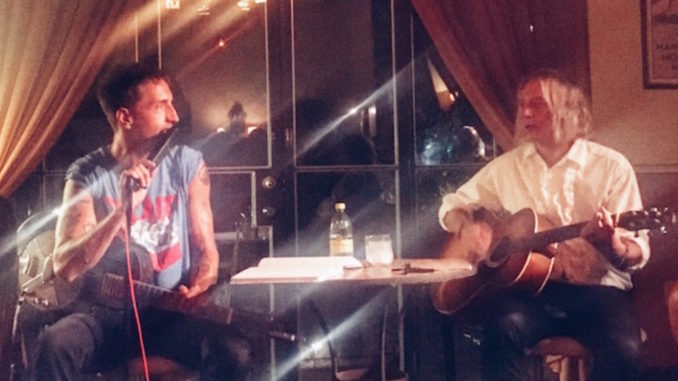 By JOHN DALY
Joseph Arthur and Peter Buck, formerly of R.E.M., have formed the new band Arthur Buck
The pair have just finished recording their debut album which will be released by New West Records.
The collaboration was established after the two musicians met up in Mexico after Buck released the Filthy Friends album Invitation and Arthur was finishing up an introspective solo album near the end of 2017.
They improvised eight songs in eight hours and performed them for a handful of Baja locals near Buck's home. Since their initial meeting, the pair have been working on their debut studio album. Both Arthur and Buck have said that the optimistic and catchy songs differ from their other recording projects.
Joseph Arthur and Peter Buck in Mexico
"It was really spontaneous and kind of magical in its own way, as [being in Mexico] we were kind of disconnected from everything." Arthur added, "All of a sudden it was like I had this musical partner and friend, and that relieved the music of the burden of the self, if that makes sense."
"Being fans of both artists, I was intrigued to hear they had been collaborating," New West Records President John Allen said. "Upon hearing their demos, I was struck by how immediately the songs pulled you in and the hooks stayed with you. We are very enthusiastic about this album and eager to see its release."
Arthur Buck's debut album will be released this year and will coincide with a North American and European tour.