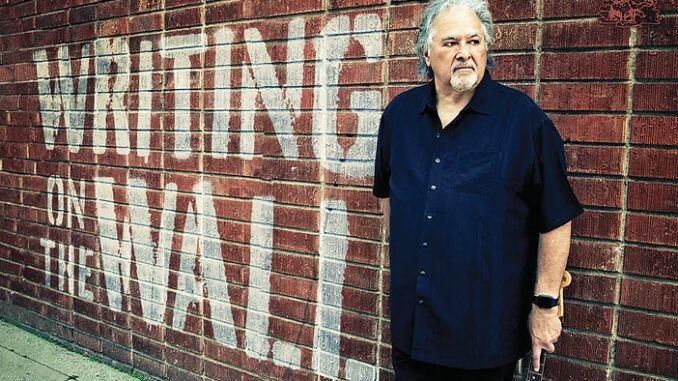 Release – Renowned blues-rock guitarist, singer and songwriter Coco Montoya will release "I Was Wrong," the first single from his upcoming album, Writing On The Wall, via Alligator Records.
"I Was Wrong" is a powerful track from Montoya, written by Coco's friend and occasional writing partner, Dave Steen.
"I've known about 'I Was Wrong' for some time and am a big fan of Dave's songs whether I write with him or not," Montoya said. "When we started recording 'I Was Wrong' and getting into it, I realized that I was channeling my Bluesbreaker days with John Mayall. I wasn't thinking of that when we started, but it just naturally evolved. It felt really good to record this song and approach it from that style."
Writing On The Wall will be released on September 1, and will initially be available on CD and at all digital sites, with the 140g translucent blue vinyl LP to follow on September 29.
Pre-Order 'Writing On The Wall' here.
Coco Montoya on Tour:
9/21 The State Room, Salt Lake City, UT
9/22 Ute Theatre, Rifle, CO
9/24 The Soiled Dove Underground, Denver, CO
9/26 The Zoo Bar, Lincoln, NE
9/27 Dakota, Minneapolis, MN
9/29 Shank Hall, Milwaukee, WI
9/30 Thrasher Opera House, Green Lake, WI
10/1 SPACE, Evanston, IL
10/3 Revival Bar & Event Venue, Toronto, ON
10/4 Fanatics Pub, Lima, NY
10/5 King of Clubs, Syracuse, NY
10/6 Narrows Center for the Arts, Fall River, MA
10/7 The Newton Theatre, Newton, NJ
10/8 Tupelo Music Hall, Derry, NH
10/10 Rams Head On Stage, Annapolis, MD
10/11 The Iridium , New York, NY
10/12 Katharine Hepburn Cultural Arts Center, Old Saybrook, CT
10/13 Amp By Strathmore, North Bethesda, MD
10/14 Sellersville Theater, Sellersville, PA
10/15 Jergel's Rhythm Grille, Warrendale, PA
10/17 Headliners Music Hall, Louisville, KY
10/18 Ludlow Garage, Cincinnati, OH
10/19 Natalie's Grandview, Columbus, OH
10/20 The Kent Stage, Kent, OH
10/21 The Token Lounge, Westland, MI
10/22 The Jazz Kitchen, Indianapolis, IN
10/24 Songbirds, Chattanooga, TN
10/25 Eddie's Attic, Decatur, GA
10/27 Red Dragon Listening Room, Baton Rouge, LA
10/28 Dosey Doe, The Woodlands, TX
10/29 Fort Brewery, Fort Worth, TX
10/30 Antone's, Austin, TX
11/17 No Stinkin' Service Charge Blues Series at World Records, Bakersfield, CA
11/19 The Coach House, San Juan, CA