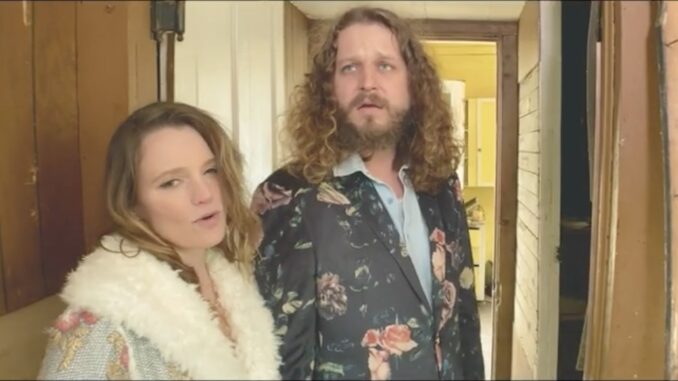 Curated by DONNA BALANCIA
Electric Blue Yonder has released the gorgeous harmony-laden single "Lonely Child," which honors sounds of Marshall Tucker and Grateful Dead all in one.
Electric Blue Yonder is comprised of the real-life couple of Beth Hataway and Johnny Veres. The two Montgomery Alabama natives met during the summer of 2010. Hataway was headed out of her home town, and Veres had returned to make a difference. He embarked on a quest to show her the heart and soul of the city before she left, and they quickly became friends along the way.
Only three weeks before her departure, Johnny realized he loved her so he told her, and they kept in touch even though it felt like they were galaxies away. The distance in their early relationship sparked their interest in travel and living life in an experiential way. They were married in 2015, and together they work to make the world around them just a little bit better, cultivating an arts and music scene in their hometown while still honing their own crafts.
As their relationship grew, Beth and Johnny began shaping their experiences into songs and eventually formed the project Electric Blue Yonder.
They released their first EP, Born of the Sky, in 2017, touring along the way. As their songwriting and orchestration expanded, they brought in Russell Thomas Bush as a core collaborator along with a rotating cast of musicians.
In 2020 they released their first full-length, Between Space and Time, which proved to fans and critics that they have what it takes to withstand just about anything, so long as they're doing it together. They're gearing up to release a new full-length on September 29 called Mourning Sounds.
Beach Bums Drop 'Whatsinsideyourhead' off LP 'BEACHxBUMS!'
Beach Bums have released a new music video for "Whatsinsideyourhead," off their BEACHxBUMS! LP, which is out now via Lolipop Records on digital platforms. 
Beach Bums are self-described as MYCORE this young genre defying band mix are true blend of Hip Hop, Punk and Thrash Metal. Beach Bums! are Jonathan Horsley, Elijah Alamo and Joe Contreras.
"BEACHxBUMS! was created in a time of deep reflection," the band said. "It's a record for people from all walks of life. It was created during a unique time that was new to all of us, considering the pandemic, spread out rehearsal times and weird availability while managing to be creative. It's a record for people from all walks of life."
With Beach Bums continually being asked what their genre is, the musicians created a wide variety of crossover/genre blending music with fans from black metal, hip hop and bed room pop. Follow Beach Bums on Twitter | SoundCloud | YouTube | Instagram
Grand Collapse Returns with Single 'Without Let or Hindrance'
Grand Collapse will release the album Empty Plinths and shares a first preview with the single "Panic Room.
The band said: "On the inside of a British passport it reads: 'Her Britannic Majesty's sectary of state requests and requires in the Name of Her Majesty all those whom it may concern to allow the bearer to pass freely without let or hindrance, and to afford the bearer such assistance and protection as may be necessary.'
"For a Country that is so actively hostile to anyone coming here, including refugees, I find this statement astounding," Cal said. "British identity, which is steeped in Empire, is a pathetic shell of itself and watching these tossers hold on desperately to the tyranny of the past is cringe worthy. This is a thrash monster, pure and simple. Full mosh mode!"
Empty Plinths, the band's third full length album is coming out on August 6.
Social links: Facebook and Instagram
Black Note Graffiti Drops New Single 'Alone'
Black Note Graffiti has released the single, "Alone" off their latest album Volume lll Rise/Fall available on vinyl. The band will hit the road with lots of tour dates on the way.
Black Note Graffiti is Gabrielle Bryant (vocals/keys), Kris Keller (guitar/vocals), Kurt Keller (drums), Ricardo Ortiz (vocals/guitar) and Adam Nine (bass).
"Alone" was the first track we ever wrote and recorded the entire song in the studio" said Keller. "It was an exciting and awesome experience."
Black Note Graffiti is excited to offer their latest release Volume lll Rise/Fall on vinyl where you can purchase here.
"I absolutely love vinyl," Keller said. "I have collected it for years and the experience of spinning records is like nothing else. I think vinyl has become essential for a bands merchandise, because it connects you with your fans in a different way. To actually hold the record, read the liner notes and have art connected to the music is an amazing experience."
Volume lll Rise/Fall was produced by super Producer/Engineer Chuck Alkazian (Pop Evil, Soundgarden, Tantric) at legendary Pearl Sound Studios (Asking Alexandria, Eminem, Filter).
Kayma's Debut Single "Onsitelover" an Online Affair
Introducing Tel Aviv's hottest new act: KAYMA. Fronted by the commercially successful multi-instrumentalist/producer Ori Toledano (known for writing and producing music for some of the world's largest brands under the pseudonym Snowstar.Company), KAYMA is an edgy pop project with an irresistibly catchy Top 40 feel.
His debut single "Onsitelover" (out today via Northern Transmissions) explores our relationship with the digital world through the story of a couple, bonded by a fatal attraction. The music video explores the couple's urge to connect as they attempt to find sync, only to be ripped apart. In the series of steamy vignettes, we see their seduction, chemistry, and codependency mirror the ways in which we interact with the internet, and moreover – how inextricably it has bonded to our lives.
"The song is basically an affair we're having with the online world in the form of seduction," KAYMA said. "The video encapsulates the interaction we're having with it through the relations of a couple that experience the distraction, engagement and the disorientation after the act."
Aidan Bissett Releases 'Stay High' a Carefree Summer Track
Aidan Bissett is back with an infectious new summer bop, "Stay High." As a relationship ends, he yearns for a carefree escape – "I don't wanna feel I just want to fly…We can party all night all night." 
Download / stream "So High" HERE. Directed by Dillon Matthew (Conan Gray), the clip finds Bissett high atop a cliff, overlooking the ocean. Alone and unobserved, he performs the song with abandon, exulting in the summer sun and a sense of freedom. 
Following the release of the official video for Bissett's "More Than Friends" earlier this month, streams of the track spiked, hitting five million on Spotify alone. Wonderland said, "Meet the newcomer we love that you need to know – if you're not one of the 8 million fans he already has – Aidan Bissett" in this "New Noise" feature, which praised his combination of "smooth and soulful beats with meaningful words and true to real-life experiences." "More Than Friends" was included in BuzzFeed's recent round-up of "62 Songs You've Definitely Listened To At Least 15 Seconds Of On TikTok This Year," underscoring how ubiquitous the track has become since its release last November.
Just Tommy Dances the Blues Away with Pharrell Williams 'Happy' Cover
After releasing his stunning version of Pharrell Williams single for "Happy", Just Tommy has followed it up with an incredibly fun and unique video worthy of this infectious groove that is out now. 
The singer-songwriter from Tempe, AZ., has an innate ability to inspire and motivate through action and his video for "Happy" is no exception.
"The major inspiration behind the "Happy" video is that I just wanted to put some happiness out there," Just Tommy said. "I feel like the world could use some more of that right now. It's the same reason behind why I decided to cover the song, but I had to do the song before I could make the video. It's the whole "chicken/egg" thing."
"I decided I wanted to make a video with choreography, professional dancers, an epic pillow-fight and for an all-ages audience," Just Tommy said. "From there, Levi and his team helped me develop the concept into what became the finished video. I'm really excited to share it with you all. At the end of the day, my goal is for the video to inspire people to find their happy."
Mano Le Tough Releases 'Together'
Mano Le Tough, the Irish producer and DJ has released "Together," from his forthcoming album, At The Moment, out August 20th on DJ Koze's Pampa Records. 
Following "Aye Aye Mi Mi" and "No Road Without a Turn," "Together" is energetic and club-ready. It's about a feeling of rave nostalgia, which is reflected in its instrumentation. Oscillating synth is layered over a thumping beat, and the track shortly after transforms with filtered vocals and bright, staccato sounds. 
"I wrote 'Together' just before the pandemic hit, after watching a Sven Vath video at Love Parade and thinking about the passing of youth and those moments lost in time," says Mano. "When the pandemic arrived it made the tune hit harder on an emotional level. It's about togetherness and equally about separation."
Listen to Mano Le Tough's "Together"
Another Lost Year Re-Releases 'Alien Architect'
After a year and a half absence from the spotlight, ANOTHER LOST YEAR return with a new label, re-release bundle pre-sale and tour dates.
Five years after the success of their breakout LP Alien Architect, Another Lost Year have partnered with Godsize Records to produce an extremely limited bundle for their fans. 
In addition to the award winning full length, produced by ALY and Jose Urquiza (The Attic Recording Studio), the bundle includes physical releases of all 3 of the band's EP series The Revolution – a collectable reprint of Part 1, the first version of Part 2 ever available in physical form, and the all new Part 3. Along with the 4 releases, included is a signed and numbered postcard featuring the re-imagined 5th Year Anniversary Artwork for Alien Architect, inspired by the original art.
The package is available now at www.godsizestore.com.
Kendra & The Bunnies Drops 'of Summer'
Psychedelic Folk Americana Singer/Songwriter Kendra Muecke. She is a published author, actress, and poet who is on a mission to spread mental health awareness and the importance of human connection through music. 
Her recent album of Consideration gets a new counterpart, of Summer, out now.
Follow Kendra & The Bunnies on Instagram.
Chestnut Grove Releases 'The Album'
Female fronted roots rock and retro, Chestnut Grove, from the greater Philadelphia area, released a new LP, The Album, and played a sold out record release show at Ardmore Music Hall.  Check out the stream of the Ardmore Music Hall show here.
The Album was recorded at BarnSound by producer Derek Chafin and features eleven original songs alternating lead vocals by singers James Daniels and Dee Gerhart.
The members of Chestnut Grove have been together since high school and are nearing their thirtieth birthdays – the sonic themes on The Album reflect this period of growth with lyrics that discuss how difficult it is to cope with getting older, the pain of losing friends and the sting of romantic breakups.
Singer-Songwriter Kjersti Long Covers 'Elenor Rigby'
 Kjersti Long (pronounced, 'care-stee.') has released a cover of "Elenor Rigby" by The Beatles.
This 14-year-old singer-songwriter recently released "Not Your Princess," for fans, radio waves and streaming services, in multiple versions: Rock-Pop, Pop, Club Radio Mix, and an Extended Club Mix-so that fans will be able to get a version that speaks to them.
She challenged herself and made a special remake of the 1966 Beatles hit, Elenor Rigby. Which is a dark, lonely and very intriguing story that Paul McCartney told through his writing, experience and music. Kjersti's version is (attached) is a unique arrangement that is perfect for current times.
Americana Band The Delevantes Return With A Thousand Turns
On the precipice of brothers Bob and Mike Delevante helping define a new collective genre of music,  The Delevantes along with contemporaries like Lucinda Williams, Wilco, Son Volt, the Jayhawks, and Whiskeytown—were right in the middle of it all when the term "Americana" started getting thrown around in regards to music. 
Now, after two decades since their last album, The Delevantes find themselves releasing new music into a thriving international scene of the roots-meets-rock-meets-country sound they helped pioneer. On September 17th, Bob and Mike are releasing The Delevantes' A Thousand Turns, a full-length album produced by The Delevantes, long-term production partner and founding member of E Street Band, Garry Tallent, and multi-instrumentalist, Dave Coleman. Fans can hear the album's first single, "Little By Little," right now and pre-order or pre-save A Thousand Turns right here.
Grace Pettis Confronts Love and Friendship with 'Landon'
Grace Pettis has just released a new video, "Landon", from her current album, Working Woman.
"Landon", is a deeply personal, true story-song written as an unabashed apology from the artist to her gay best friend for not being there when he came out right after high school. The Indigo Girls were so behind the song that they agreed to sing on it.
Growing-up in a small town in Alabama, Pettis grew up in a homogenous community steeped in a traditional Christian faith. Deconstructing bias with each masterfully poetic lyric, Pettis puts her own youthful, "traditional" values under the microscope, and the result is a transcendently beautiful testament to the power of change, forgiveness, and the inner strength that comes from standing firm in who you are.
"Landon needed somebody to be on his side," Pettis said. "He trusted me. And I let him down. Instead of listening and responding with love and acceptance, I replied with a lot of canned answers taken from my Christian belief system, what the church taught me to say. Years of soul-searching, prayer, and information gathering led me to a very different place. I knew that I had wronged Landon in a way that I could only explain in a song."
The rest of the credits include an all-female/non-binary team as well, including co-writers, the photographer, and the graphic designer. Featured artists include Indigo Girls ("Landon"), Ruthie Foster ("Pick Me Up"), Dar Williams ("Any Kind of Girl"), The Watson Twins ("Never Get It Back"), Gina Chavez ("Mean Something") and Mary Bragg ("Paper Boat").
Atlanta Outfit Lowertown Releases Video for 'The Gaping Mouth'
Buzzy Atlanta-based duo Lowertown have just released the official video for their new single "The Gaping Mouth," the title track from their highly anticipated forthcoming EP. 
The Zachary Bailey–directed video (Jean Dawson etc.) is as eerie as it is mesmerizing. The Gaping Mouth EP is due out September 16 on Dirty Hit.
Lowertown is comprised of 19-year-old bandmates and best friends Olivia Osby and Avsha Weinberg, who have quietly built a following. From ad hoc, folky lo-fi soundscapes to more lacquered offerings, Lowertown's unique brand of indie music is at once nostalgic and futuristic, chaotic and orderly, wise and young. Olivia, the self-taught singer-songwriter, and Avsha, the classically trained multi-instrumentalist, achieve success in their music through their symbiotic collaboration style, imbued with joy and respect.
After a recording stint in London, the duo is back with their first new music together since they released Honeycomb, Bedbug last year. The Gaping Mouth EP thematically revolves around living in a void, influenced by the isolation experienced by Olivia and Avsha during the pandemic.
"It's our most honest and interesting work to date," says Avsha of the new EP, who challenged himself to experiment more than on previous projects. "Most of our songs in the past have been sad songs, but this is our most mature work."
whiterosemoxie releases ITACHI feat. midwxst
"Forever" by whiterosemoxie continues the trend of double singles with  a remix of "ITACHI" that features hyperpop, digicore artist midwxst and the previously released "Beeline" ft. Tom the Mail Man and.
midwxst gives the already eclectic "ITACHI" a fresh take with his incendiary vocals, placing an emphasis on moxie's musical innovation. The chemistry between the two is sonically undeniable.  With the added vibe/beat on an already lively track, whiterosemoxie welcomes yet another euphonious multifaceted hit.  "Beeline" ft. Tom the Mail Man brings fans a vulnerable and emotion filled track. The opening repetitive arpeggiated chord loop alludes to the sentiments of the monotonous and emotionally draining relationship.   FOREVER double single will be accompanied by a music video day of release, directed by the Detroit collective Hivemind.
Additionally, whiterosemoxie makes a debut performance tonight at the Detroit Piston's Draft Party.  Featuring past players and Detroit tastemakers, moxie is continuing to make a lasting imprint in the scene.
With his accolades stacked to the top, moxie is definitely claiming his spot and working his way to stardom. moxie was chosen to participate in YouTube's Global artist-driven ad campaign, one that garners an estimated 3 billion impressions. Past campaigns have featured stars such as Dua Lipa, DaBaby, Tones & I, Omar Apollo, Beabadoobee, and many more.