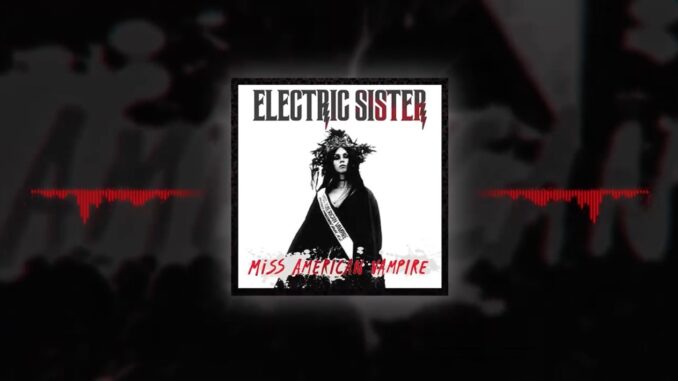 By JOHN DALY
Oakland heavy metal band Electric Sister was not joking when it claimed it brought back The Lost Art of Rock N Roll, with its aptly named 2011 album.
Electric Sister has now returned with a hard-hitting and driving single called "Miss American Vampire," a beautifully produced record on Essential Oil Records that brings out the best of all players on board.
The track features Thadeus Gonzales on vocals; MyKill Ziggy and Jason Kay on guitar; Eddie Colmenares on drums; Nicholas Hernandez on bass and Eddie Colmenares as producer.
Gonzales' voice is one of the better frontman vocals to come along in quite a while. He possesses an impressive range and has an Alice Cooper style that carries the song across interesting musical terrain. There is a familiarity yet distinct modern spin on "Miss American Vampire," which gives all fans of metal or hard rock a sigh of relief because obviously the genre is thriving.
With "Miss Ameican Vampire," Electric Sister has taken a bite out of the heavy metal genre and it's easy for fans to swallow. The band has live chops as well. When musicians were allowed to perform live, Electric Sister played up and down the West Coast opening for Danko Jones, Zeke and Lords of Altamont.
Following the release of The Lost Art of Rock N Roll," the band took a short hiatus. Band members have each had to overcome some rough times, and those experiences can almost be heard in the music.
Electric Sister is a welcome respite from the mindlessly repetitive sounds so prevalent in wanna-be metal groups today. The group has reassembled and continues its push as a prominent player on the scene.
Check out Electric Sister on the official Electric Sister website; on the band's Facebook page; on Twitter and on the Electric Sister Instagram page.
Electric Sister – Miss American Vampire