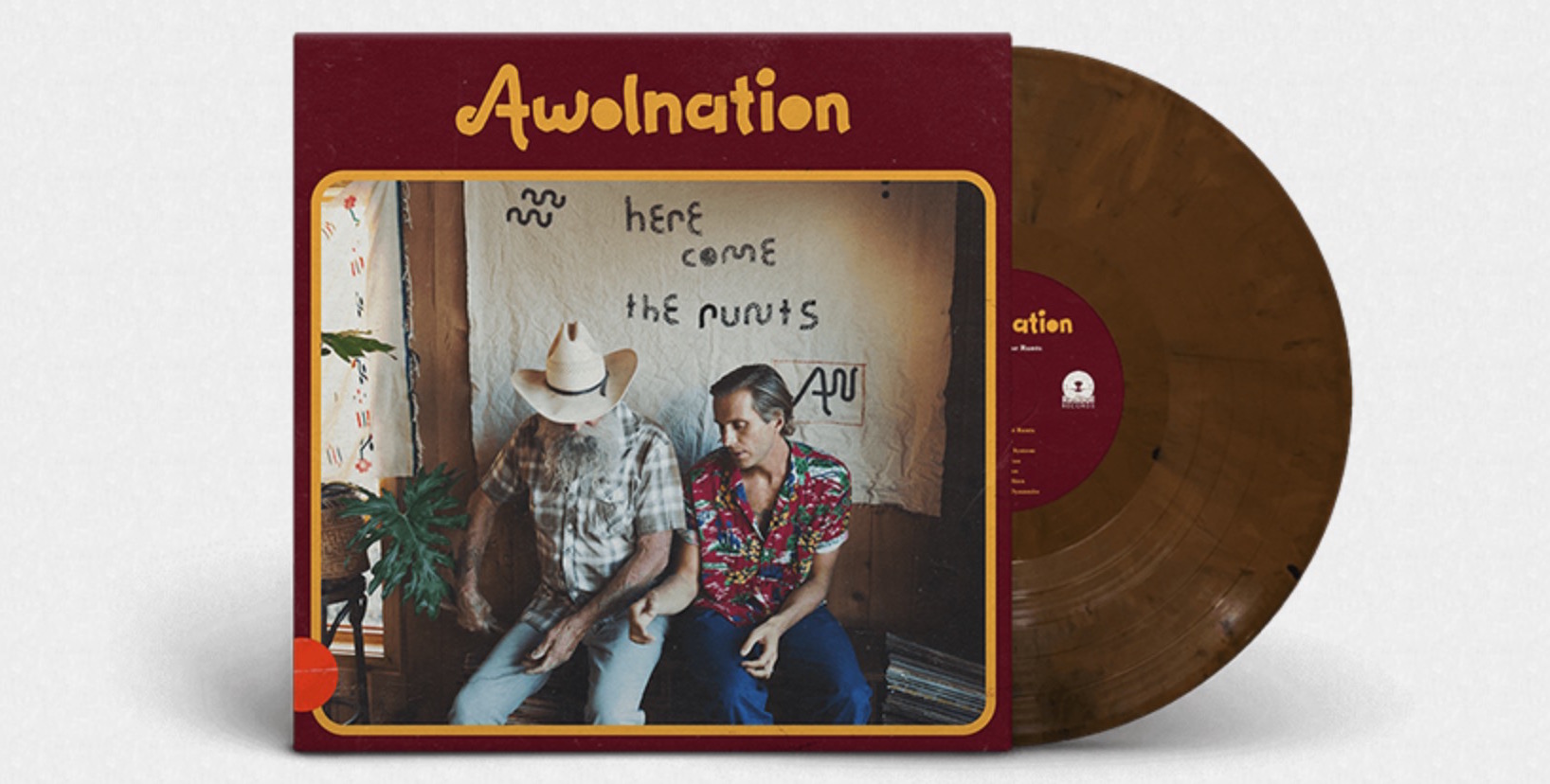 AWOLNATION Plays The Wiltern March 16
By JOHN DALY
AWOLNATION will release its third studio album, Here Come The Runts, on Feb. 2, 2018.
Here Come The Runts can be pre-ordered at awolnationmusic.com and fans will receive instant downloads of "Seven Sticks of Dynamite," and current charted single "Passion." Stream "Seven Sticks of Dynamite" here.
AWOLNATION plays The Wiltern in Los Angeles on March 16 and The Fox Theater in Oakland on March 13.
Serving as a follow-up to the platinum-certified debut album Megalithic Symphony, and 2015's Run, included No. 1 hit "Hollow Moon (Bad Wolf)" as well as "I Am" and "Woman Woman."
AWOLNATION's third undertaking features Aaron Bruno once again at the helm producing, writing and recording.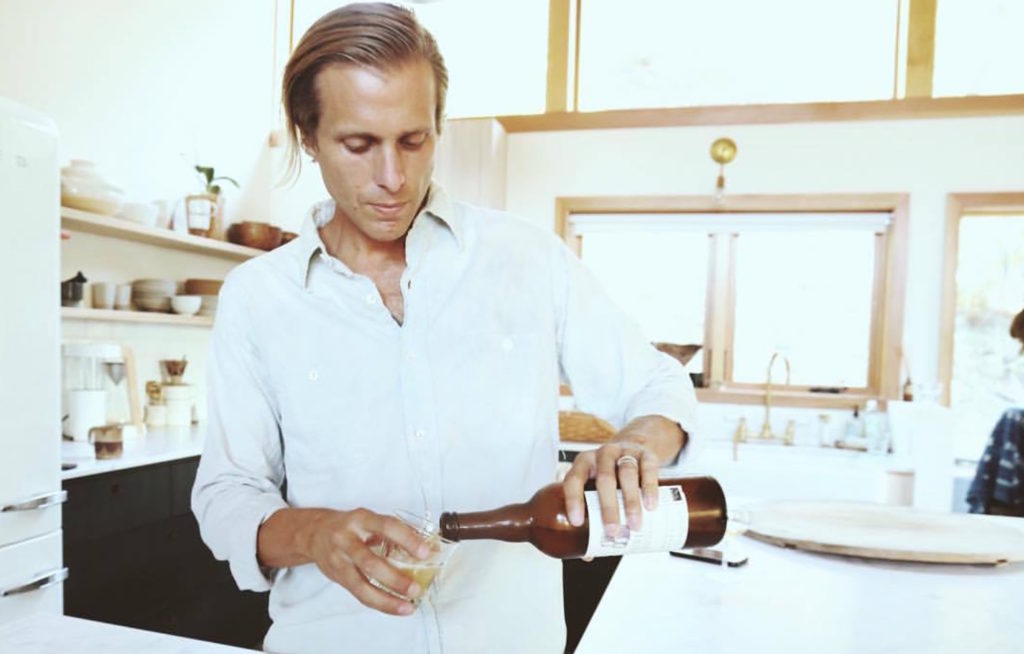 Aaron Bruno of AWOLNATION Talks Pop
"With this record I really wanted to make a rock n' roll/pop album," Bruno said. "And I say 'pop' how I grew up listening to it, in the sense of Dire Straits or Born In The U.S.A or The Cars or Tom Petty."
Bruno spent 2016 crafting the album in his home studio nestled in the coastal mountain range separating the Pacific Ocean and the suburbs of Los Angeles where he grew up. The secluded location is reflected throughout the album.
Bruno is accompanied on the record by drummer Isaac Carpenter, lead guitarist Zach Irons and keyboardist and programmer Daniel Saslow.
"The record definitely has a feel to it that seems parallel to the vibe of this mountain and the land," Bruno said. "It's like a non-GMO record. There's no fake shit on there, none of the vocals are tuned. It's all real playing."
In support of Here Come The Runts, AWOLNATION will be embarking on a headlining tour with support from Nothing But Thieves on February 11th in Toronto, and touring the States until mid-March before crossing the pond for a European/UK run throughout the month of April. A full list of dates can be found below. Tickets go on sale on Friday.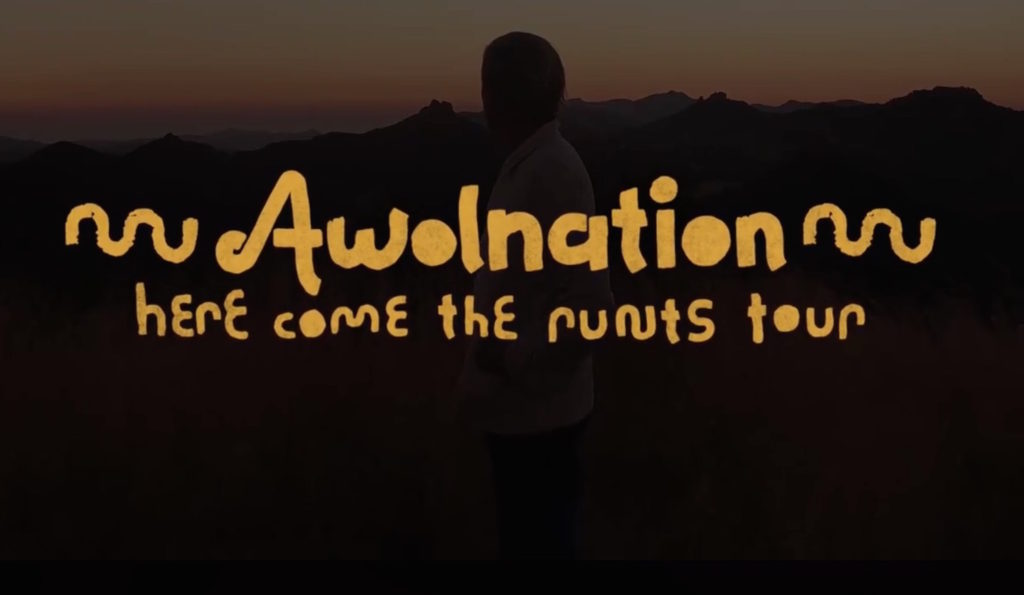 Here Come The Runts Track List
1.      Here Come The Runts
2.      Passion
3.      Sound Witness System
4.      Miracle Man
5.      Handyman
6.      Jealous Buffoon
7.      Seven Sticks of Dynamite
8.      A Little Luck…And A Couple of Dogs
9.      Table For One
10.  My Molasses
11.  Cannonball
12.  Tall, Tall Tale
13.  The Buffoon
14.  Stop That Train
AWOLNATION On Tour
2/11 Toronto ON @ Phoenix Concert Theatre*
2/13 Detroit MI @ Fillmore*
2/14 Chicago IL @ Aragon Ballroom*
2/16 Columbus OH @ Express Live!*
2/17 Cleveland OH @ House of Blues*
2/18 Rochester NY @ Roc Dome Arena*
2/20 Boston MA @ House of Blues*
2/22 New York NY @ Terminal 5*
2/23 Philadelphia PA @ The Fillmore*
2/24 Silver Spring MD @ The Fillmore*
2/25 Charlotte NC @ The Fillmore*
2/27 Atlanta GA @ The Tabernacle*
3/01 Houston TX @ Revention Music Center*
3/02 Austin TX @ Stubb's Waller Creek Amphitheatre*
3/03 Irving TX @ The Pavilion at Toyota Music Factory*
3/04 Kansas City MO @ Arvest Bank Theatre at The Midland*
3/06 Denver CO @ Fillmore Auditorium*
3/07 Salt Lake City UT @ The Complex*
3/09 Seattle WA @ Showbox SODO*
3/11 Portland OR @ Crystal Ballroom*
3/13 Oakland CA @ The Fox Theater*
3/16 Los Angeles CA @ The Wiltern*
4/06 Paris France @ Les Etoiles
4/07 Frankfurt Germany @ Gibson
4/09 Zurich Switzerland @ Dynamo
4/10 Lausanne Switzerland @ Les Docks
4/11 Milan Italy @ Santeria Social Club
4/12 Munich Germany @ Backstage Werk
4/14 Vienna Austria @ WUK
4/15 Prague Czech Republic @ Roxy
4/16 Warsaw Poland @ Proxima
4/18 Berlin Germany @ Kesselhaus
4/19 Hamburg Germany @ Uebel & Gefahrlich
4/20 Amsterdam Netherlands @ Melkweg
4/22 London UK @ Scala
4/25 Dublin Ireland @ Academy
4/27 Moscow Russia @ Glav Club
*w/ Nothing But Thieves
North America Only
AT&T priority pre-sale ticket access begins Tuesday, Nov. 7 at 10 a.m. in select markets via the AT&T THANKS program. For more info go to att.com/frontoftheline.
Every online ticket order includes a physical copy of AWOLNATION's forthcoming album Here Come The Runts, scheduled to be released Feb. 2, 2018.