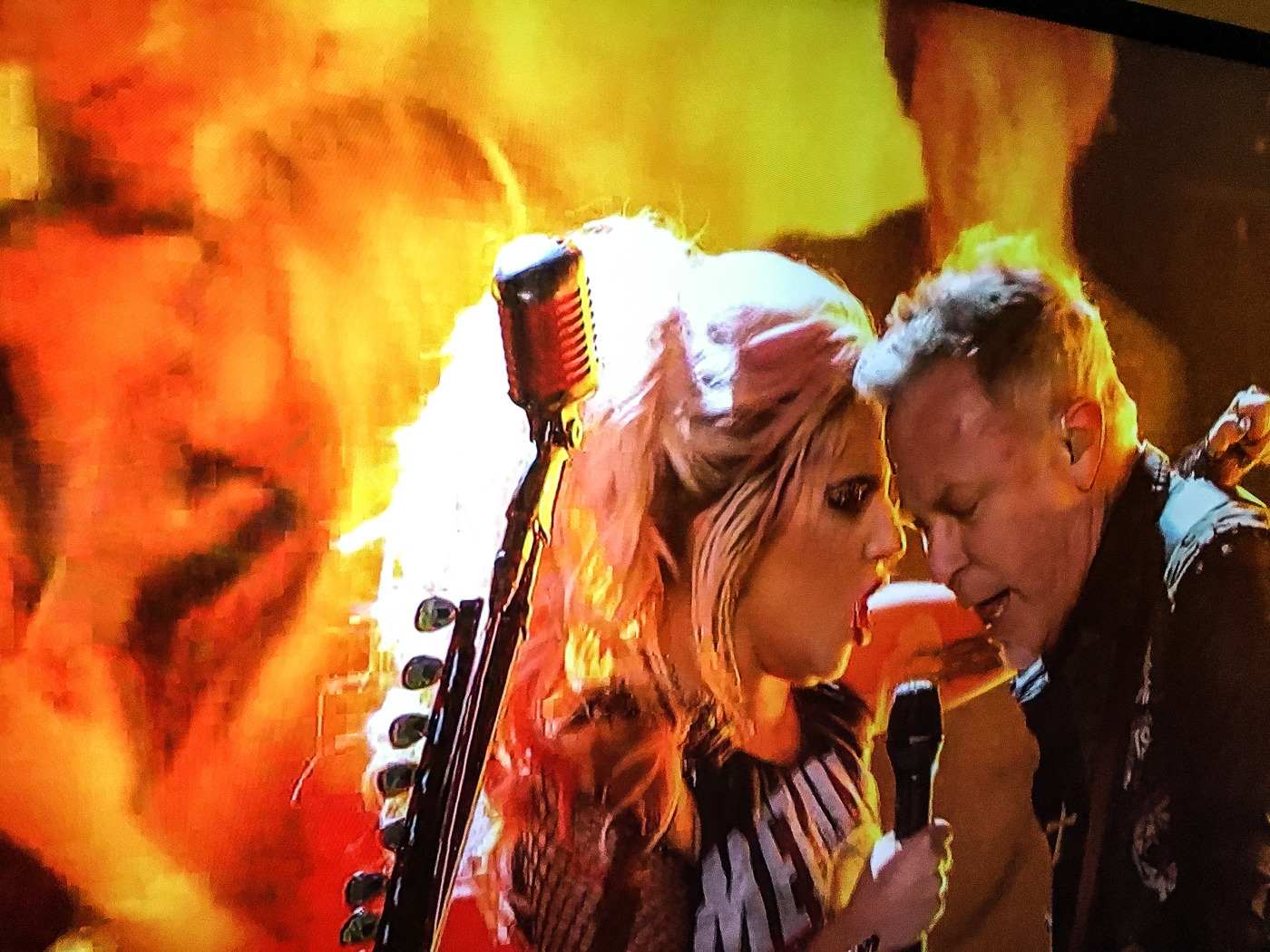 By DONNA BALANCIA
David Bowie and Adele were the big winners of the night and Lady Gaga teamed for a wild duet with Metallica at the 59th annual GRAMMY Awards Sunday night.
It was an unusual show, highlighted by strong if not uneven performances as evidenced by Adele's George Michael tribute that false started — and then restarted — so she could get it right.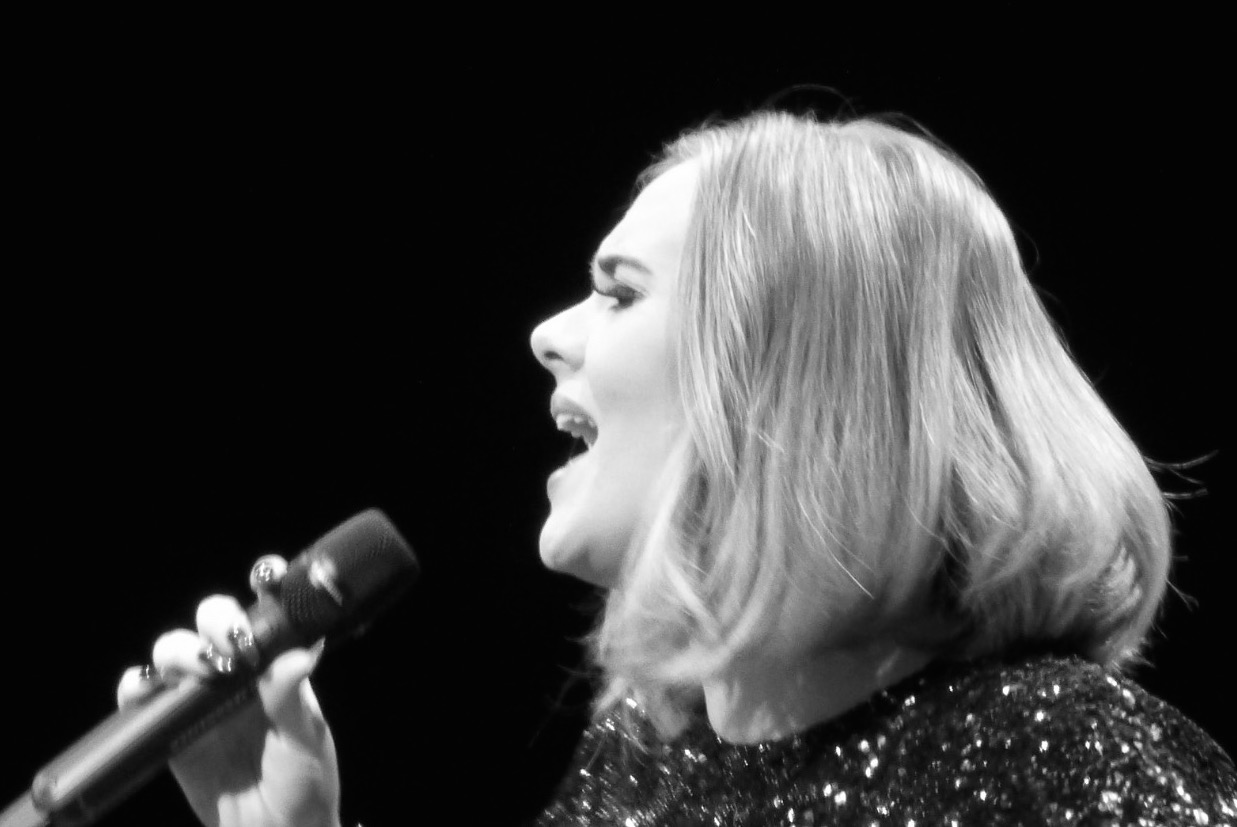 Clumsy Comedy by James Corden
The show kicked off with a peculiar mix of clumsy comedy and great music as host James Corden followed Adele's flawless opener performance of "Hello," by falling down the stairs to the stage.
21 Pilots took their pants off and told this story: "This story starts in Columbus, it was a few years ago before Josh and I were able to make money making music. I called him up to come over to grandma's house watch the GRAMMYs and as I looked around I noticed everyone was in their underwear. We said, 'If we go to the GRAMMYs, or ever win it, we should receive it just like this.' Not only is this amazing, but I want people watching everywhere to know they could be next. "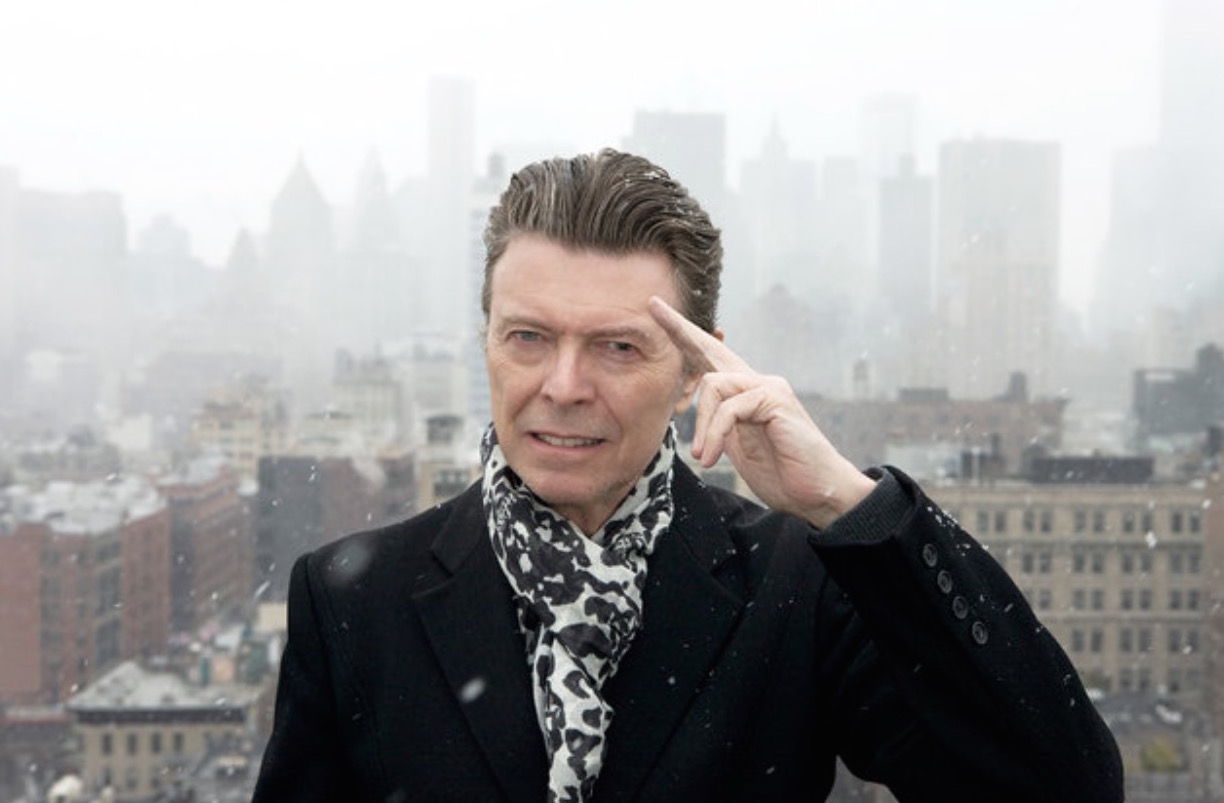 Pregnant Beyonce Performs
And a pregnant Beyonce stunned the audience with a slow and technologically enhanced performance of songs "Love Drought" and "Sandcastles" from Lemonade. While some criticized the performance, the audience gave Beyonce a standing ovation and her adoring husband Jay Z applauded affectionately.
Katy Perry introduced her song "Chained to the Rythm" an apparent political statement as her normally colorful set was subdued black and white.
But the props of the night go Lady Gaga and Metallica who put on a firey performance despite James Hetfield's mic blowing out.  Gaga showed she could do Ultimate Jam Night at the Whisky A Go-Go as she can hold her own against any metal performer. She wrapped her frontwoman duties with a stage dive into the audience.  Later in the night, Metallica played the Palladium in Hollywood.
Bowie's Blackstar won five awards, and that tied with Adele, who swept all five categories in which she was nominated.  Drake and Lalah Hathaway each took two statuettes.
The band 21 Pilots weren't the only newcomers to take home a statuette. The Chainsmokers won for Best Dance Recording, Maren Morris won Best Country Solo Performance for "My Church," and Cage The Elephant took home Best Rock Album.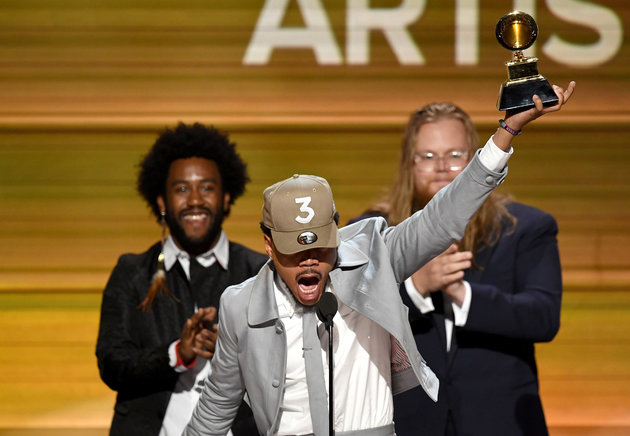 Chance The Rapper
Chance the Rapper, who won the first award of the main show — it was the second GRAMMY of the day for him — seemed at a loss for words. When he won Best Rap Album, he had been sporting a hat with the number 3 on it. Chance the Rapper is the first recording artist to win a GRAMMY that was distributed through streaming. Drake took home two awards.
Paris Jackson, who appeared in good spirits following her bombshell accusations that her father Michael Jackson was murdered, introduced a notable duet betwen The Weeknd with Daft Punk "I Feel It Coming."
By comparison to all the other acts, Ed Sheeran exemplified the state of music affairs today by performing solo with his looper pedals and guitar, singing "I'm in Love With Your Body."