By BOB BUSBY — WEST HOLLYWOOD — On a recent memorable evening Lake Street Dive the jazz foundation-turned-R&B Pop quintet led by power siren Rachael Price delivered a fabulous smile-inducing performance to a sold out audience with high expectations at West Hollywood's Hotel Cafe.
The Hotel Cafe is one of Los Angeles's smaller music venues, darkly lit, cozy and intimate via a stage only two feet high; it's a wonderful place to see live music.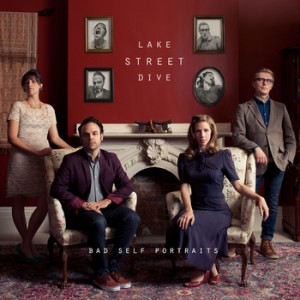 Lake Street Dive is already garnering seemingly universal critical praise, and when you experience a live performance, it's easy to see why.
Throughout an hour-long set, performing mostly songs from their new album Bad Self Portraits the music — much of it very much reminiscent of Bonnie Raitt's wonderful output mid to late seventies — was spirited yet disciplined from these accomplished musicians hailing from Boston's New England Conservatory.
With so much of today's music reliant on copious amounts of technology, Lake Street Dive titillates with a decidedly sparse presentation: An upright bass, an electric guitar playing chords sans solos (on half the songs replaced by a trumpet), and a simple drum set.
Consummate skills displayed included an unintended highlight which occurred via a malfunctioning guitar mid-song.
With no rescue techie to rush onstage trumpet/guitar player Mike Olson quickly unplugged, crossed through the band and offstage to retrieve another guitar, returning the same route while his bandmates continued harmonizing, all watching his activity.
Olson plugged in, tuned up – band is still singing mind you – and resumed playing at which point the room exploded with applause. The song ended and Price complimented him with how impressed she was by this unflappable feat.
Much attention has been deservedly placed on Price's admirable chops. Truly something to marvel at she has the ability to effortlessly raise hairs and the roof which happens frequently. However, on virtually every song she is complemented and supported by spot on tight joyous harmonies from her band mates bassist Bridget Kearney, drummer Mike Calabrese, and Olson – think Mammas & Pappas fused with Jackson 5 soul – that had the audience, of note most of whom were twice the age of the performers – hooting and roaring their approval.
As the set proceeded to its conclusion with the encore and only cover Wings' Let Me Roll It performed with the warmly-received opening act The Congress, there was a sense of lucky to be there witnessing an immensely talented group up close and personal, definitely poised for much bigger things – they already have my vote for a Best New Artist Grammy nod. Next time around it's doubtful we will see them again in such a small venue.
The Congress Thrills In Opening Slot for Lake Street Dive 
Presumably all who attended, knew what to expect from the headlining Lake Street Dive and as detailed above were happily fulfilled. However, there was an added surprise bonus provided by the opening act The Congress, a Denver-by-way-of Richmond, Va. band.
The foursome that took the stage first — a dicey proposition especially supporting an act with as much juice as Lake Street Dive — played to audience members who had never heard of them, but who, by set's end were applauding with great enthusiasm.
Their set consisting mostly of their own compositions, a blend of R&B, Southern Rock, and Soul was entertaining from the get go.  I knew we were in for something special when their second song was Curtis Mayfield's People Get Ready which these four young Caucasians all, pulled off marvelously.
A feat amazingly surpassed a few songs later doing Roberta Flack's Killing Me Softly. That type of soul seems to emanate from the bass player Jonathan Meadows who looks like he could star in a rugged outdoorsman reality show.
Speaking with him later I found a gentle soul and sweet guy but man he plays wicked melodic funky bass lines up and down the entire fret-board and can soul sing your ass right out of your chair. On guitar Scott Lane's solos somewhere in-between Southern Rock, R&B, and Blues (think Elvin Bishop) ripped and proceeded to get better with each song and he can sing as well. Rounded out by keyboardist Chris Speasmaker on piano and organ, and Mark Levy on drums.
Called onstage by Lake Street Dive to perform a song together mid-set as well as on their encore, the resulting six part harmony soared. To say these boys won the audience over, would be an understatement. Their Facebook page shows a recurring theme of comments of coming to see Lake Street Dive and leaving as an additional fan of The Congress. I concur and highly recommend checking them out.